Everyone Needs "Sex Education"!
Written by Kyla Killackey. Published: January 28 2019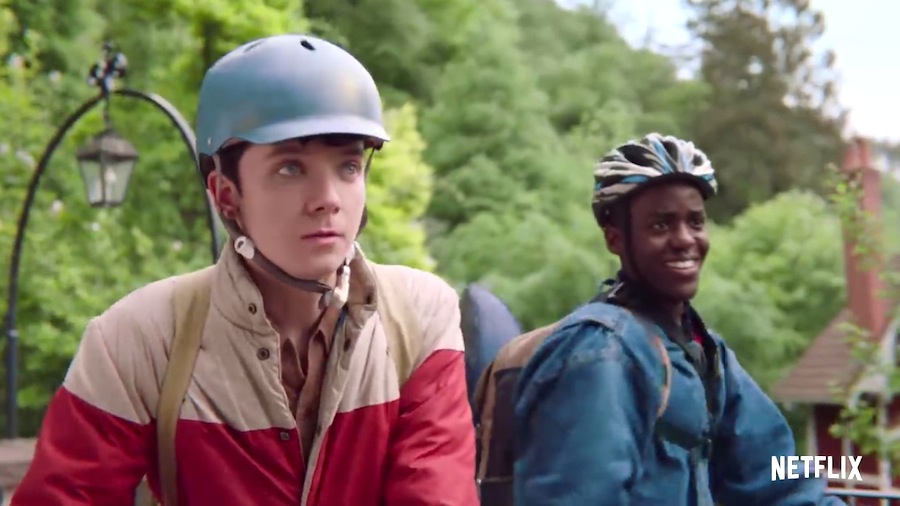 Here's the tea: "Sex Education" is the most important show out there right now and you need to be watching it.
I will admit that I got off to a bit of a shaky start with "Sex Education". It comes on very strong (and that's putting it mildly), but if you stick with it through a few uncomfortable bumps in the beginning, I promise you will thank me for it.
"Sex Education" starts with Otis (Asa Butterfield), an awkward teen boy whose existence is made all the more embarrassing by his sex therapist mother, Jean (Gillian Anderson AKA my lord and savior), who has no shame when it comes to discussing sex -- or having it -- with many different men. Joining Otis on his messy ride through adolescence is Eric (Ncuti Gatwa), his wonderfully flamboyant best friend, who's adamant they expand their social circle (and by circle, I mean just the two of them), as they begin another year of high school.
Soon enough we meet Adam (Connor Swindells), the dimwitted school bully who also happens to be the Principal's son. Unfortunately for Adam, he is having trouble finishing more than just his homework... A few plot points bring Otis and Adam together, and Otis ends up lending his advice to the situation, which, although having no actual sexual experience of his own, turns out to be very helpful. Apparently growing up in a house full of explicit paintings and sex-help books has rubbed off and made him an expert on problems of the bedroom.
And then there's Maeve (Emma Mackey), the social outcast hiding a less-than-ideal home life. Ever the entrepreneur, Maeve sees her fellow students' need for Otis's expertise and decides it's the perfect way to make some extra cash. With a bit of convincing, Otis gets onboard and together they open a sex clinic for their peers. Then things get interesting, but you'll have to watch for yourself to find out how.
I can remember the exact moment when I realized this show was something entirely different than anything I had ever seen before. I won't spoil it for you, but there is a school assembly scene that made me feel every emotion I have ever had all at once. I was confused about what made it so different, but after binging it twice just to be sure, I think it's this: "Sex Education" is effortlessly funny and full of real representation and feminism and heartbreakingly real, and it does all of this without exploiting anyone or falling into any clichéd tropes. There are raunchy scenes but never at anyone's expense, and they tackle all the unclarity and misconception around sex with intricacy and intelligence and a sense of humor.
I came to "Sex Education" because I was sick, and it was the first thing on Netflix, but I stayed because it is a world I want to live in -- and mostly for Eric. Eric is one of two out gay guys at the school, and he is proudly and extravagantly so. He is also black and from a quiet immigrant family with a father that worries about him but never asks him to change. He is a faithful friend, has a wonderful wardrobe, and is one of the most intricate and accurate portrayals of a real teen that I have ever seen. Eric broke my heart and put it back together again, and I miss him every moment of the day.
In fact, all the characters in "Sex Education" are intricately written, each one distinct and multilayered and so integral to every storyline that you end up loving all of them despite their many flaws, even Adam.
I watched all 8 episodes in 2 days, told everyone I knew to watch it, and then immediately started it over again. My one criticism is that 8 episodes isn't even close to enough. So please, I beg of you, give "Sex Education" a chance, and get ready to feel all of the things.
(Image via Netflix)
- Kyla Killackey, YH Contributing Writer