Newest "Wednesday" Trailer Introduces Us To More Of The Kooky Cast!
Written by Amelia Gorman. Published: October 15 2022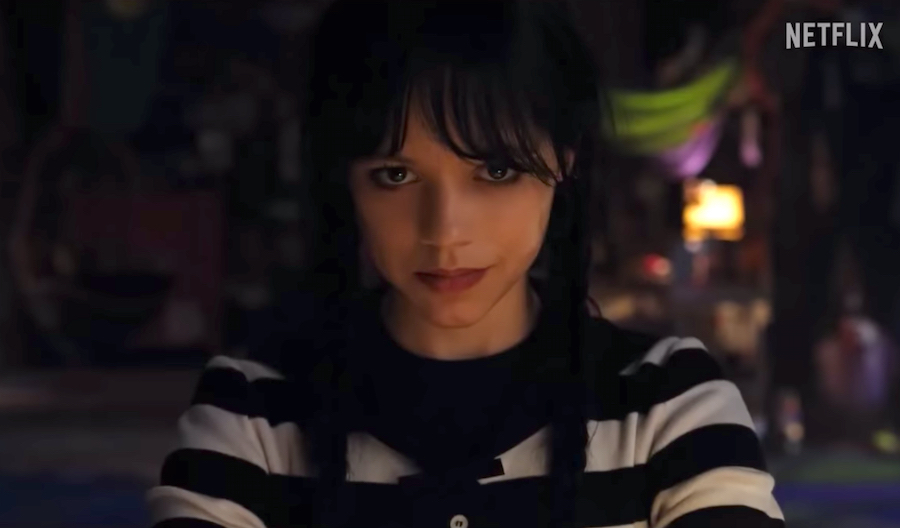 (Netflix)
We recently got the first full-length look at Tim Burton's new Netflix series "Wednesday" at New York Comic-Con 2022, and hype is real! We've known for a while now that our fave young actress, Jenna Ortega(Scream, "You"), will be taking on the titular role of the cynical Wednesday Addams, joined by Luis Guzmán as Gomez Addams, Oscar-winner Catherine Zeta-Jones as Morticia Addams, and Isaac Ordonez (A Wrinkle in Time) as Pugsley Addams. But up until now, the rest of the cast remained a mystery. Thankfully, with the premiere of the trailer at NYCC, we have some more insight into who will be joining the cast and what iconic (or new) roles they will be filling!
1. Christina Ricci as Marilyn Thornhill
Famously known for her own iconic portrayal of the brooding Wednesday inBarry Sonnenfeld's The Addams Family(1991) and Addams Family Values (1993), Christina Ricci's casting in the newest adaption sparked some major buzz and conversation around what role she would be filling. The NYCC Wednesday panel revealed that Ricci will be portraying Ms. Thornhill, a professor at Wednesday's new high school, Nevermore Academy! We can't wait to see the dynamic between the former and newest Wednesday Addams!
(Netflix)
2. Fred Armisen as Uncle Fester
The casting of Uncle Fester had remained completely unknown until NYCC, and had sparked tons of speculation on who would be joining the cast to complete the Addams family! Lucky for us, the hilariousFred Armisen ("SNL", "Portlandia") will be joining the cast and taking on the role of the bizarre but loving Uncle Fester! (It remains to be seen, though, if this version of Uncle Fester will be Morticia's uncle like on the TV show or Gomez's brother like in the movies.)
3. Gwendoline Christie as Larissa Weems
Gwendoline Christie ("Game of Thrones", "The Sandman") joins the cast as the Principal of Nevermore Academy, Larissa Weems. Extensive details about Christie's character have yet to be released, but rumor has it the headmaster is holding a long-term grudge against Morticia Addams, and it's safe to assume this will cause some problems for Wednesday!
(Netflix)
Some other actors joining the cast include Emma Myers (Girl in the Basement) as Enid, Joy Sunday (Dear White People) as Bianca, Naomi J. Ogawa (Skylines) as Yoko, Percy Hynes White (The Gifted) as Xavier, and Georgie Farmer (Evermoor) as Ajax — all classmates of Wednesday's at Nevermore — plus many, many more!
Along with the exciting cast announcements, we also got an official release date for Wednesday at NYCC: November 23! We don't know about you, but we're for sure counting down the days! In the meantime, though, make sure to check out the official website for Nevermore Academy to learn more about the spooky and mysterious school, meet more of the students, and even submit your own application for Nevermore enrollment!
See you in November!