New Details About HBO Max's Upcoming "Gossip Girl" Reboot!
01-08-2021 by Andi Ortiz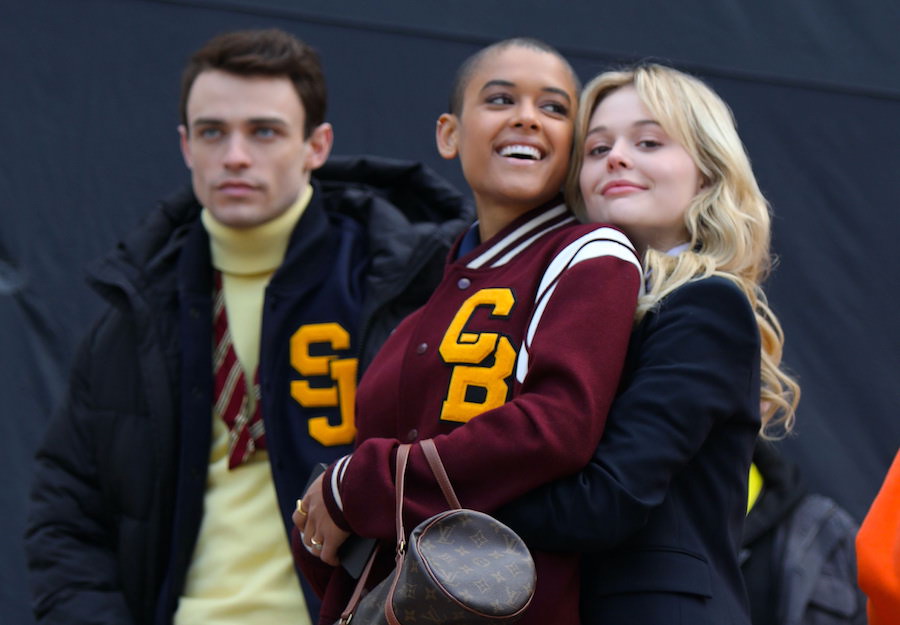 ( © Jose Perez/Bauer-Griffin/GC Images/Getty Images)  
Hey there Upper East Siders, Gossip Girl here…
…Well, almost here. It's been 9 years since we officially said goodbye to "Gossip Girl", but now it's time for her triumphant return. After delays created by the COVID-19 pandemic, HBO Max's "Gossip Girl" reboot has officially been spotted filming on the streets of New York.
We still don't have an official premiere date, but we do know that the series will drop some time in 2021. And slowly but surely, we are getting new details on the series... but the keyword here is "slowly".
Here's all we know so far:
1. Who's In It?
Like the original series, this "Gossip Girl" reboot is set to have a huge ensemble cast. Of course, the one and only Gossip Girl herself will return, with Kristen Bell set to reprise her role as the series' all-seeing narrator.
Naturally, we're getting a whole new set of Constance and St. Jude students – 9 to be exact. And, thanks to a New Year's Instagram drop, we have some vague idea of who they are. (And, unlike the original series, there's far more diversity this time around.) There's Julien Calloway (Jordan Alexander), Monet de Haan (Savannah Smith), Luna La (Zión Moreno), Max Wolfe (Thomas Doherty), Audrey Hope (Emily Alyn Lind), Kate Keller (Tavi Gevinson), Otto "Obie" Bergmann IV (Eli Brown), Akeno "Aki" Menzies (Evan Mock), and Zoya Lott (Whitney Peak). Then there'sLaura Benanti, whose character has yet to be revealed in this series.
Each character was given a one-word descriptor as part of their Instagram reveal, but that's all we know about these characters. As of this writing, none of the original cast members have been confirmed for an appearance, though their characters will be referenced.
2. It's Not Technically a Reboot
Really, this "Gossip Girl" will be more like a continuation of the series. It'll be set 8 years after the events of the original, simply focusing on a new group of students tormented by a new Gossip Girl. But, as mentioned above, reports indicate that the original characters will be at least nodded to – these kids know who their predecessors at Constance are.

3. There's a Twist
According to one of the show's co-creators, Josh Safran, everything that happens this time around will relate to a twist. What exactly is the twist? That's anyone's guess. Odds are, though, it won't be the reveal of Gossip Girl's identity, as the showrunners have confirmed that there is no single Gossip Girl. Everyone is Gossip Girl. We are her, she is we.
4. We'll See at Least One Familiar Storyline
In November, a fan tweeted at Safran asking, "are we still getting the iconic thanksgiving episode? and the debutante ball one?" [sic] To that, he responded that one of those will indeed be included but didn't specify which one. (Personally, we're hoping we might also see a game of "Assassin" thrown in there.)
5. It May Be Just a Limited Series
As of now, the reboot is set to air 10 episodes. According to Safran, "Maybe that's all it'll be." But, as is the case with any series, we don't know for sure. A limited series can – and lately has been known to – receive an additional season or two. That said, with only 10 episodes officially on the docket, odds are pretty good that the story will be tied up in a bow by the end of the 10th episode.
Stay tuned!