NBA Playoffs: In the Home Stretch!
Written by Amanda Baltazar. Published: May 22 2015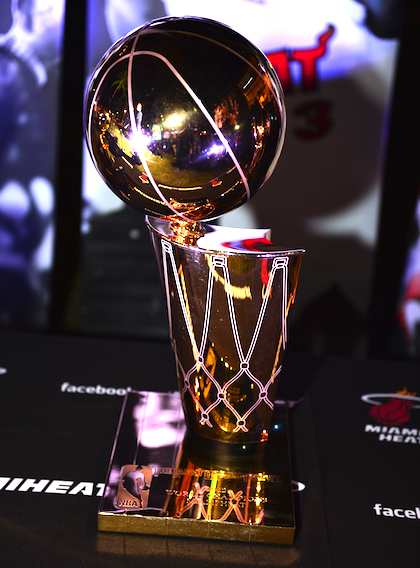 *Cue "SportsCenter theme song*
The 2015 NBA Playoffs are well under way, and we are just a round away before the championship matchup!
Here are the standings as of today (Friday, May 22):
Western Conference
Golden State Warriors vs. Houston Rockets
Warriors lead 2-0
Eastern Conference
Atlanta Hawks vs. Cleveland Cavaliers
Cavaliers lead 1-0
We are in the middle of conference championships, and there is a lot of speculation as to which team has a chance to go all the way this year. Let's start with the Western Conference...
As the number 1 seed, the Golden State Warriors have a very good chance of making it to the finals and even a good shot at taking home the trophy.Steph Curry has been playing well and, most important, he has been playing consistently. They had a very emotional series with the Grizzlies, but they were able to take it. Don't count out the Rockets, though. They came in on the clutch more than once in the series against the Clippers, rallying back from a 1-3 deficit. The Rockets will have to change up their playing if they want to come back and win the conference title. But I have to keep my California pride up, so GO WARRIORS!
And to the East...
Lebron James and his Cavaliers have the early lead on the Eastern Conference's number one seed, the Atlanta Hawks. Both teams have had their ups and downs and, unlike the Western Conference, many predictions have fallen pretty evenly for both teams. Although Atlanta won their last series 4-2, they will have to turn up their game if they want a chance to take out the Cavaliers, especially without DeMarre Carroll, who fell from an injury in Game 1. The Hawks will have to do a better job at containing LeBron and come together as a team to up their offense.
Either way the games fall, we are in for an exciting last couple rounds of this year's playoffs.
Tune in later tonight and see if the Atlanta Hawks can even up the series against LeBron and the Cavaliers.
Who do YOU think is going to take home the trophy this year?
(Photo via JLN Photography/WENN)
- Amanda Baltazar, YH Staff