Mickey Mouse at 90: How Disney's Ambassador Celebrated His Milestone B-Day!
Written by Brooke Sharland. Published: November 20 2018
(© NY Daily News Archive/Getty Images)
This past weekend, one of the most iconic faces in history celebrated his birthday. On November 18, Mickey Mouse said cheers as he celebrated his 90th birthday. Yes, for 90 years, people across the globe have known Mickey as a fun-loving, hard working mouse with many talents and a love for all of his friends. Let's take a look at some of Mickey's best moments throughout his 90 years, shall we?
1928: Mickey's inception
Mickey Mouse was created back in 1928 by Walt Disney. Mickey was first named "Mortimer" until Walt's wife,Lillian, convinced him that "Mickey" sounded much better. He first appeared in a short called "Plane Crazy", which released May 15, 1928. It failed to impress audiences in a test screening, and Walt was unable to find a distributor. After that, he created another Mickey short titled "The Gallopin' Gaucho", which couldn't find a distributor either. A few months later, in November of 1928, Walt released "Steamboat Willie". This short was the first of Walt's to find a distributor and the first to be publicly released. Because of this, it is considered by many to be Mickey's official debut into the world.
1934: Macy's Thanksgiving Day Parade
At the 10th annual Macy's Thanksgiving Day Parade, Mickey made his first appearance in giant balloon form!
1940:Fantasia
In the year 1940, the Disney film Fantasia was released, filled with magic, fun, and memorable tunes. This film is one of the most acclaimed Disney films of all time. Honestly, even if you've never seen it, you've definitely seen pictures of Mickey in his iconic Sorcerer outfit. It's a classic and epitomizes the magic of the company itself!
1955: Disneyland opens
Walt's very first theme park, Disneyland, opened in Anaheim, California, in 1955. What a great day for Mickey and friends! They definitely look… different, but don't worry, they age like a nice cheese, and get better as they get older.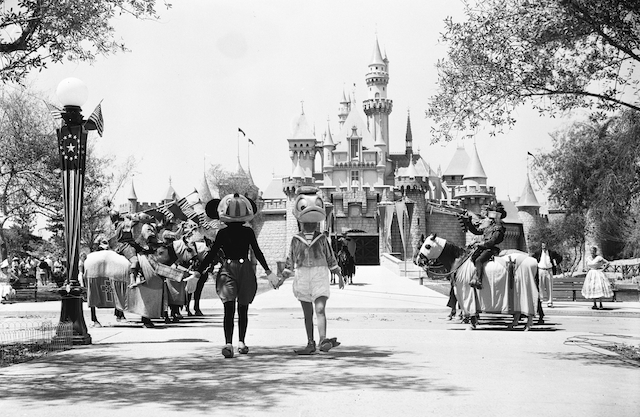 (© Los Angeles Examiner/USC Libraries/Corbis/Getty Images)
1955-1996: "The Mickey Mouse Club"
The variety show originally aired from 1955 to 1959, with revivals from 1977–1979 and 1989–1996, and created teen idols likeAnnette Funicello, Britney Spears, Justin Timberlake, Ryan Gosling, Keri Russell, Christina Aguilera, and more.
                                                                                                                                                                       (© Underwood Archives/Getty Images)
1978: Mickey gets a Star
To celebrate Mickey's 50th birthday, he received a star on the Hollywood Walk of Fame on November 18, 1978, accompanied by Walt's brother,Roy Disney, and, of course, his girl Minnie. He was the first cartoon character to receive this honor.
                                                                                                                                                                     (© Jim Smeal/WireImage/Getty Images)
1983: Mickey'sChristmas Carol
A classic retelling of Charles Dickens's A Christmas Carol with Scrooge McDuck as Ebenezer Scrooge, Mickey and friends bring the holiday spirit in one of my favorite Christmas movies, Mickey's Christmas Carol, in 1983. God bless us, everyone!
2000: Fantasia 2000
As the sequel to 1940's Fantasia, Fantasia 2000 was similar to the original, and was made up of animated segments set to pieces of classical music. Mickey reprised his role as Sorcerer Mickey, and the world rejoiced.
2003: His 75th birthday
75, what a fun year! Mickey celebrates in a white suit and a HUGE birthday cake at EuroDisney, also known as Disneyland Paris.
                                                                                                                                                               (© MEHDI FEDOUACH/AFP/Getty Images)
2008: Mickey turns 80!
Special new outfits in the Disney Parks, and a very special celebration for Mickey.
                                                                                                                                                              (© YOSHIKAZU TSUNO/AFP/Getty Images)
2018: Mickey's 90th
Lots of fun things have happened this year to celebrate Mickey's 90th birthday! For starters, ABC celebrated on November 4th with "Mickey's 90th Spectacular", where he posed on the red carpet and celebrated with some of our favorites, like John Stamos,Sofia Carson, Kristen Bell,Sarah Hyland, Josh Gad,Leslie Odom Jr, Meghan Trainor, and many, many more friends!
                                                                                                                                                                   (© VALERIE MACON/AFP/Getty Images)
He got his own art exhibit in NYC with some very special guests… (heeeeeeeySJP)
                                                                                                                                                                          (© Michael Loccisano/Getty Images)
He hung out with some of his pals over at "Good Morning America"!
                                                                                                                                                                             (© Paula Lobo/ABC/Getty Images)
He celebrated with a special parade in Disneyland…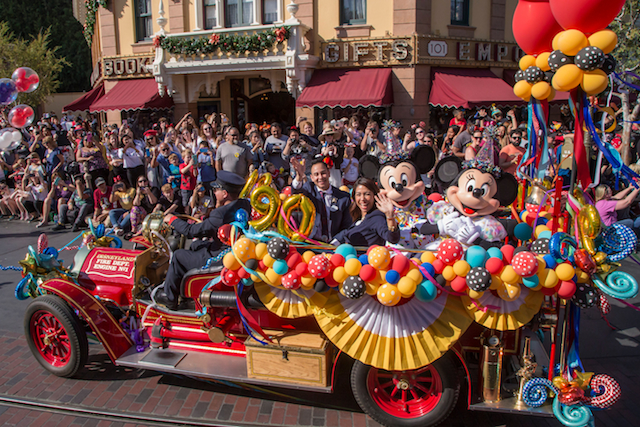 (© Joshua Sudock/Disneyland Resort/Getty Images)
And had 90 of his closest friends come celebrate at Walt Disney World...
He even had special buttons in the Disney parks to celebrate!
And wore the coolest of the cool outfits with his best gal!
Walt Disney once said, "I only hope that we never lose sight of one thing—that it was all started by a mouse." Happy 90th birthday, Mickey and Minnie! ? We can't wait to keep making magical memories with you for many more 'ears to come! pic.twitter.com/QHWRLK5rUm

— Walt Disney World Today (@WDWToday) November 19, 2018
Happy 90th birthday, Mickey Mouse. You will forever live in the hearts of many as an icon of happiness, fun, and love. Without you, we wouldn't have the amazing world of Disney that we know and love today. As Walt said, "I only hope that we never lose sight of one thing—that it was all started by a mouse." It's all thanks to you! We can't wait for 95, 100, and every birthday in between and after. You don't look a day over 25... Cheers to 90 years!
(Top image via General Photographic Agency/Getty Images)
- Brooke Sharland, YH Contributing Writer