Michael Keaton Tackles Controversial Subject Matter in Film 'Spotlight'
Written by Greg McIver. Published: July 31 2015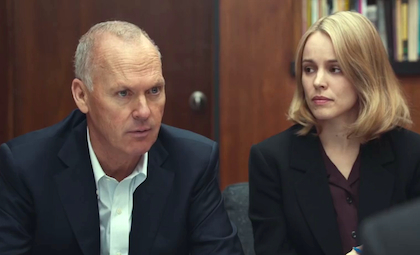 Back in March, after Michael Keaton won nearly every conceivable award for his role in Birdman (except the Oscar and the SAG Award), I reported on the upcoming projectsinvolving the man who would be Keaton. One of those projects (Kong: Skull Island) is moving ahead without the services of Mr. Keaton, and The Founder, which details the exploits of McDonalds founder Ray Kroc, is still filming. But I am pleased to announce that filming for Spotlighthas been completed, and a trailer has just bee released!
Spotlight tells the true story of how the Boston Globe discovered and reported on a series of child molestations within the Catholic Church involving priests, and the attempt by the Catholic Archdiocese to cover them up. Keaton plays reporter Walter "Robby" Robinson, and he is joined by a remarkable cast consisting of Rachel McAdams, Mark Ruffalo, Liev Schreiber, Stanley Tucci, Billy Crudup, and John Slattery. The film will be released nationwide on November 8, and I for one cannot see that date come soon enough.
Watching the trailer, I got the same sort of vibe that I got from watchingMichael Mann's genius film The Insider. In that film, you had passionate characters stretching their very souls to the limit in order to accomplish what they thought was the right thing against a set of impossible circumstances and opposition that could easily crush the most well-meaning of us. Throughout history, there have been countless tales of ordinary folks battling giants, and stories like the one being told in Spotlight can be added to that long list of tales. The thing of note that might set this particular story apart from others is that this is a giant that we all thought we could and should trust, and the ultimate betrayal felt by our characters resonates powerfully through this trailer, as I'm sure it will throughout the entire film. I may be wrong, but it feels like we haven't seen a film like Spotlight come along for a bit of time now, and if that is true, then I welcome it's return.
(Screenshot via YouTube)
- Greg McIver, YH Staff