Meet the Fresh Faces of "Pretty Little Liars: Original Sin"!
08-05-2022 by Hayden Roberts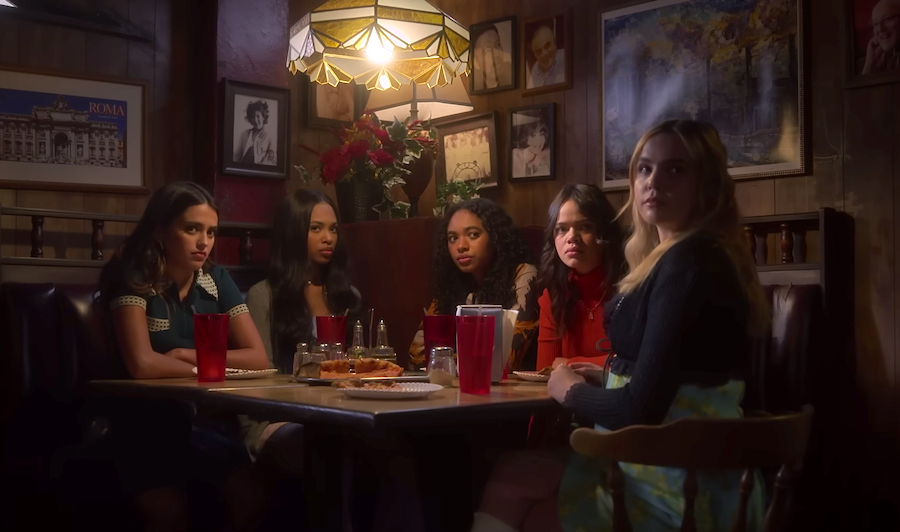 (HBO Max)
If you were a teen in the 2010s, chances are you watched (or at least knew of) the iconic teen mystery series "Pretty Little Liars". From its premiere date in 2010 up until its finale in 2017, "Pretty Little Liars" had audiences on the edge of their seats. For 7 seasons, the mysterious assailant known only as "A" tormented a group of teen girls for their wrongdoings, and now "A" is back.
"Pretty Little Liars: Original Sin" isn't the only spin-off to branch out from the original series. In fact, the predecessor of the new HBO Max show already had 2 spin-offs that you may not have even heard of. The OG show's previous 2 spin-offs, "Ravenswood" and "Pretty Little Liars: The Perfectionists", were canceled after only one season. As expected, fans were anxious to see how the new spin-off would perform in comparison to the previous shows, and it seems that "Original Sin" has passed with flying colors -- so far!
It's only been a little over a week since the premiere of the first 3 episodes of "Original Sin" on July 28, followed by the next 2 episodes dropping yesterday (August 4), and it's already making waves online. The show is noticeably darker and grittier than its predecessor, taking on the feel of a classic slasher flick. The tone of the show is truly set, however, by the 5 main characters that the plot centers around.
You might recognize some of the actresses who make up the central group of characters. However, you've only seen a small scope of what they can do on-screen. With their current performances in "Pretty Little Liars: Original Sin", it's fair to say that these talented young women will soon be everywhere.
1. Bailee Madison
Probably the most recognizable of the bunch is Bailee Madison. Madison has been acting since she was 7 years old and is known for her roles in films such as Bridge to Terabithia, Just Go with It, and A Cinderella Story: Starstruck. She also possesses multiple television credits on shows such as "Good Witch", "Wizards of Waverly Place", and "Once Upon a Time". Madison now portrays the role of Imogen Adams, a pregnant teen caught up in a family tragedy, in "Pretty Little Liars: Original Sin". Although this role is very different from anything we've seen her do before, Madison is proving herself to be a strong performer with a wide range.
2. Chandler Kinney
Much like Madison, Chandler Kinney is also branching out in her career with her role as Tabby Haworthe in "Pretty Little Liars: Original Sin". Kinney is mainly known for her role as Willa in the Disney Channel movie franchise ZOMBIES; however, she has also appeared in television shows such as "Girl Meets World", "The Haunted Hathaways", and "The Ghost and Molly McGee". Although the actress has mainly appeared on the Disney Channel, she had no problem jumping right into the character of Tabby, who is a complete horror fanatic. It seems that the actress is ready to spread her wings and fly beyond the safe scope of Disney.
3. Maia Reficco
As a relative newcomer to the acting scene, Maia Reficco proves that she can keep up with the best of them with her portrayal as Noa Oliver in "Pretty Little Liars: Original Sin". Reficco did appear in Nick's "Kally's Mashup" and the short film "Sometimes I Feel Like I'm Dying", but her role as the track star Noa has truly made her a breakout star. Her talent is clear and has already scored her a part in the upcoming Netflix film Do Revenge.
4. Zaria
Zaria joins the group of little liars by portraying the character of Faran Bryant. Zaria, like Maia Reficco, is newer to the acting scene and has previous credits in television shows such as "Bosch", "Black-ish", and "Dad Stop Embarrassing Me!". She is now deservedly gaining more attention for her role as the ballerina of the group in "Pretty Little Liars: Original Sin".
5. Malia Pyles
Malia Pyles rounds out our group of five with her role as Minnie "Mouse" Honrada in the HBO Max spin-off. Although she has appeared in multiple television shows, "Pretty Little Liars: Original Sin" is definitely her most noteworthy credit as of last week. Her other credits include "Baskets", "Bella and the Bulldogs", "The Fosters", and "Batwoman". Her portrayal of the quiet and tech-savvy Minnie is sure to further launch her career in the right direction.
Catch the final 5 episodes of "Pretty Little Liars: Original Sin" Season 1 on HBO Max this August 11 and 18!