Meet The (First-Ever) U.S. Women's Olympic Skateboarding Team!
07-15-2021 by Gabbi Wiesehan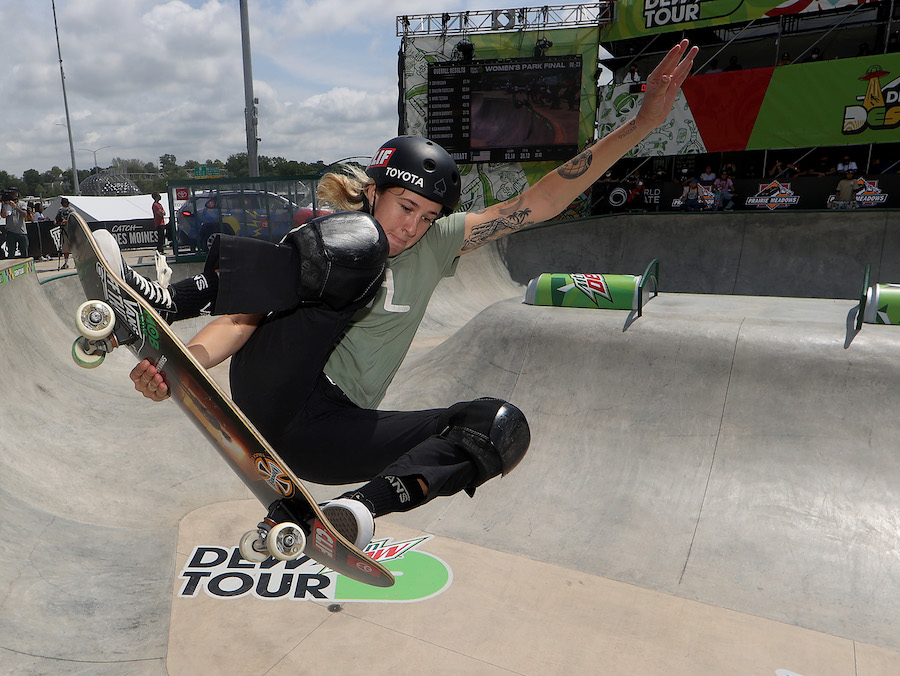 ( © Sean M. Haffey/Getty Images)  
We're obviously stoked to see our favorites compete at the Olympics in Tokyo this Summer in the usual popular sports: gymnastics, soccer, swimming, etc., but this time we're seeing a game changer... literally.
For the absolute first time ever, the U.S. is sending an Olympic skateboarding team to Tokyo for the Games, half of which consists of the most talented women in the sport. This is, like, a huge deal for a number of reasons: first of all, we're finally seeing skateboarding getting the recognition it deserves as an Olympic-level sport (the X Games are just as important, but the Olympics give these athletes a new and even bigger platform), and, most excitingly, non-male skaters are taking over this bigger platform and taking up space in a traditionally male-dominated sport. So who are these insanely talented athletes rewriting the gendered culture surrounding skateboarding? Let's meet them!
Alana Smith
After winning a silver medal at the 2013 X Games, Smith gained a reputation for defying limits "regardless of gender" when they landed a backflip on a skateboard on the mini mega ramp. They've got some mad transition skills paired with a fearlessness to take on any terrain or obstacle. Here's your takeaway, kids -- Alana Smith is a badass.
Mariah Duran
Duran is a Women's Street X Games gold medalist, but you've probably seen her more in Mountain Dew and Adidas ads as an ambassador for female street skaters. After the Olympics, though, she won't be just known for being the face of street skaters in commercials -- She'll be known for her insanely technical skating and super hard tricks that make her a standout in Tokyo this Summer.
Bryce Wettstein
As if being a 16-year-old Olympic park skater isn't impressive enough, Wettstein's got a list of talents as long as a CVS receipt, and it's only getting longer. She's the 2019 USA National Champion for Women's Park and has been getting sponsorships since she was five. She's not even just a skater, either -- Wettstein's also a talented volleyball player for the SDA Mustangs and the Moonlight Crasher Club. In her free time (which she miraculously still has), she writes songs and plays the ukulele. Seriously, what can't she do?
Alexis Sablone
Sablone is a legend and one of the only street skaters competing on some all-male teams. While we're at it, let's tack on 3 gold, 2 silver, and 2 bronze X Games medals. Oh yeah, did we mention she's also a Columbia and MIT grad with a career in architecture?
Jordyn Barratt
Barratt has made history. At 22, she can already call herself the first woman ever to qualify for the Dew Tour Park Am contest, the first woman to ever compete as both a pro surfer and skater in the U.S. Open, an X Games silver medalist, and winner of a multitude of other events and contests.
Brighton Zeuner
At only 16 years old (the youngest an athlete can be to compete in the Olympics), Zeuner is competing as a park skater for Team USA. The kid's already won gold in the X Games for two years in a row, and she's out to add Olympic gold to her already-impressive trophy case. As if she's not busy enough, Zeuner has a Depop side hustle and loves thrifting in her free time.
Good luck to these badass ladies! The Tokyo Olympics begin on July 23!