M. Night Shyamalan Bringing Chills, Thrills, & a Great Cast to TV with "Wayward Pines"
Written by Darlene Melendez. Published: August 14 2014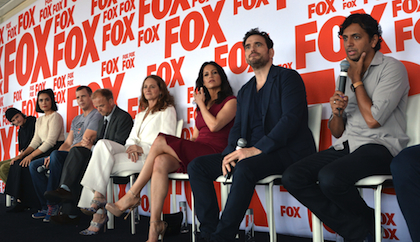 What if you were stuck in a dream? In this dream, you're living in the "perfect" city, but there's a catch -- you can't ever leave. 
That's exactly what you can expect from "Wayward Pines", an upcoming television series based on the novel Pines by Black Crouch. The story is brought to life on our TV screens by none other than M. Night Shyamalan, best known for his work in films like The Sixth Sense and Signs, so it seems like Wayward Pines won't be for the feint of heart, and will keep us on the edges of our seats.
The show will follow Secret Service Agent Ethan Burke (Matt Dillon) and his journey beginning for his search for two missing agents. The mystery of Wayward Pines begins when Agent Burke gets in a gruesome car accident and he wakes up in the Wayward Pines Hospital with a nurse (Melissa Leo) at his bedside. But will Nurse Pam be a friend or a foe? You be the judge by watching the trailer below:
And if you haven't noticed by now, "Wayward Pines" features some top-notch actors, including Dillon, Leo, Carla Gugino, andToby Jones, just to name a few. Incidentally, we were able to catch up with these folks, including Shyamalan, at this year's Comic-Con. Check out our exclusive interview here:
"Wayward Pines" is expected to premiere on Fox in 2015.
(Photo via Susanne Doepke/Future Image/WENN)
- Darlene Melendez, YH Staff