Looking Back on Dwayne "The Rock" Johnson's Surprise Make-A-Wish Gift to Kids on 'Skyscraper' Set!
Written by Meagan Lynn. Published: July 23 2018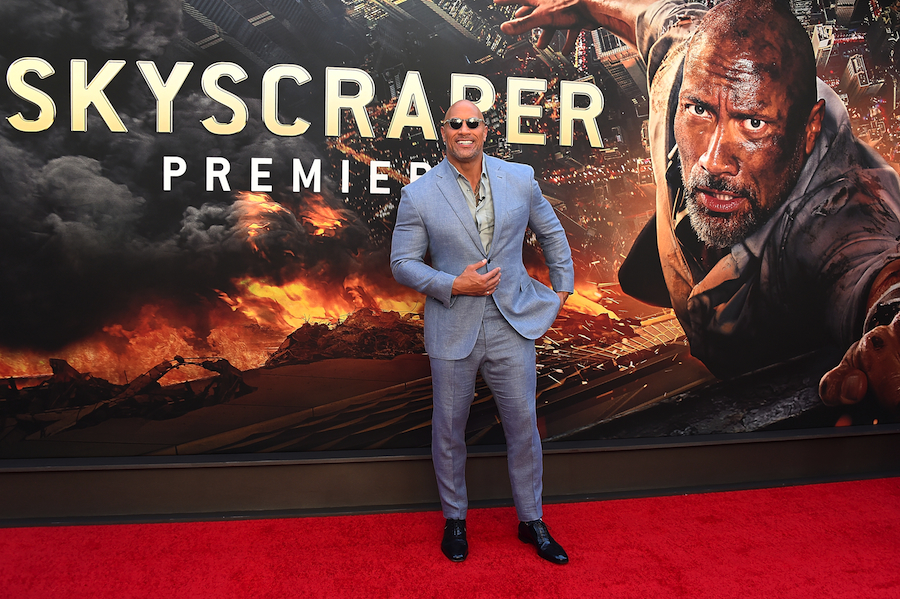 As if there weren't enough reasons to be obsessed with The Rock, he's given us another. While he was at work filming his latest movie Skyscraper, he wasn't too busy to make a couple wishes come true.
Dubbing himself "Dwanta Claus" and dawning a red Santa hat, Dwayne Johnson flew three kids from the Make-A-Wish foundation out to the Skyscraper set in Vancouver, making their Christmas wishes come true a few months early last October.
While preparing the last minute touches the day before, The Rock took to Instagram to share his excitement:
"#DwantaClaus?? will be waiting with open arms and a song to sing," he wrote. "Gonna be an amazing day that we've officially titled LIGHTS, CAMERA, LOVE.. IN ACTION."
And Mr. Claus certainly delivered! After arriving to set to their own personalized director's chairs, Dwayne made a surprise entrance filled with hugs and tears all-around. Dwayne posted a video of the emotional meeting with wishmakers Murat,Emily, and Maria on Instagram, writing: "This is my reminder that this will always be the best part of fame."
The Rock teamed up with Xbox, Microsoft, Lamborghini, and more to make the day as fun-filled as possible. After giving the kids new Xbox games, Under Armor gear, and gaming consoles, he faced off with them in a couple games and took them outside to ride around the lot in a Lamborghini!
Dwayne posted a video to YouTube recapping the day, and the three kids were so thankful for their time with him.
"It was an unforgettable day," Murat said.
"Everything was perfect," Emily added.
This is just one of The Rock's many Make-A-Wish endeavors. He also serenaded a little boy and girl on theSkyscraper set singing "You're Welcome" fromMoana, "cheated on his diet" filming a video for a 13-year-old fan, andgot lunch with kids at a children's hospital.
Wish-granting just so happens to run in the Johnson family. Dwayne's father, former WWE tag-team champion Rocky Johnson, granted one of the first-ever Make-A-Wish asks back in 1983 when he visited a 10-year-old boy with Lou Gehrig's disease.
The Make-A-Wish Foundation is close to our hearts at Young Hollywood, too. Check out the wish we granted for Wilfredo Paredes in 2012 with the help of Megan Fox and Pitbull!
You can catch The Rock's new movie Skyscraper in theatres now.
(Image via Michael Loccisano/Getty Images)
- Meagan Lynn, YH Contributing Writer