12 Last-Minute Thanksgiving Recipes & Tips!
Written by Rita Korkounian. Published: November 22 2022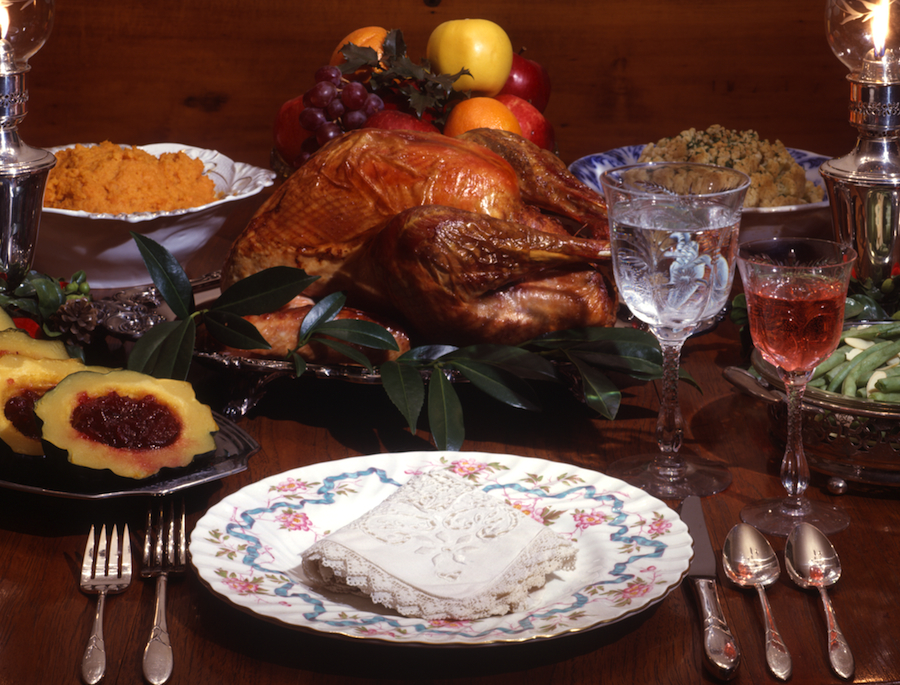 ( © H. Armstrong Roberts/ClassicStock/Getty Images)
Dearest Friends,
Thankful Thursday is upon us once again. Before you "gobble till you wobble", or go into a tryptophan-induced nap, take a step back and reflect on all the wonderful blessings in your life. What are you giving thanks for this year? Good health, food on the table, a roof over your head, a dependable car, a great job, family, friends, or, perhaps, bacon? Needless to say, this has been a tough couple years for many, but there is still much to be grateful for.
Now, because we look forward to gathering around the table and O.D.'ing on our favorite holiday food, I'd like to share some last minute meal ideas for you procrastinators (ahem, me). P.S. Don't forget your stretchy pants!
Alton Brown to the rescue! This turkey will surely take the prize and impress even your toughest critics! It's been dubbed "The Best Thanksgiving Turkey... EVER" with over 6,000+ ratings and reviews! Perfectly juicy, moist, tender, flavorful, and plump! Don't you wish everyday was Thanksgiving? Don't forget to watch the tutorial!
How about eating gravy right out of the dish... in spoonfuls? Dreamy turkey drippings and giblets. Come to mama! I could drink this... not that I would or anything. Don't judge me. Roast turkey and gravy -- a match made in foodie heaven. Yum-o-rama!
Green Bean Casserole
This is a quintessential holiday food, y'all. This creamy, beany, oniony dish is worth every single calorie. Plus, it counts as a vegetable serving! You'll have a newfound appreciation for green bean casserole!
Baked Mashed Potatoes
A tasty twist on classic mashed potatoes. It has the right amount of crispy crunchiness from the bread crumbs and a healthy dose of smooth, creamy cheesiness from the parmesan and mozzarella. Throw in some parsley and garlic for an extra zesty kick.
Roasted Autumn Panzanella Salad
Poor salad. What are the odds of survival when one is competing against such strong opponents? Worry not! This roasted autumn panzanella salad can hold its own, and more! Dressed to impress with seasonal vegetables, including butternut squash, sweet potato, and pomegranate arils, it's light, refreshing, and full of flavor!
Bet you've never had a pumpkin dinner roll! Your guests will appreciate the extra effort and thoughtfulness. These are cute, festive, and, most importantly, delightfully delicious! You will crave the hint of sweetness from the pumpkin year round! No more ordinary dinner rolls! 
Flaky and buttery Pillsbury crescent rolls filled with pecans, figs, orange marmalade, and a blue cheese mixture. A vegetarian-friendly appetizer that can be served at any potluck or holiday/dinner party! 
"Spinach dip and bread all in one handheld bite." This is pure genius! No need to worry about Rita the Double-Dipper. Okay, I don't double-dip, but I secretly dream about it. I guess it's no longer a secret. Getting sidetracked here... These bite-size appetizers are drool-worthy!
I've never tried cornbread. Ever. I take that back -- Maybe I had a bite at Popeye's Chicken centuries ago. In any case, I'm looking forward to baking these up and sharing them with my family. Based on the reviews, the hearty corn taste and texture and side of maple butter make these a real crowd favorite!
Sweet Potato Pie Cupcakes With Marshmallow Frosting
We are not going to have sweet potatoes and marshmallows as a side dish this year. No, we are serving it for dessert! I was captivated by the title... and then I saw the pictures. I just couldn't keep this recipe to myself!
You had me at "triple chocolate". This dessert will unite pumpkin and chocolate lovers. "A hidden layer of bittersweet chocolate coats the crumb crust, semisweet imparts a silken smoothness to the customary custard, and a drizzle of milk chocolate on top teases the eye -- and the appetite." Enjoy!
Apple, grand marnier, and gold tequila, oh my! No need to wait for Thanksgiving! It's perfectly normal to have these right now... for breakfast... said no one ever. You'll be swooning by the second sip!
"May your stuffing be tasty, May your turkey plump, May your potatoes and gravy have never a lump. May your yams be delicious and your pies take the prize, and may your Thanksgiving dinner stay off your thighs."
Wishing you all a very Happy Thanksgiving from my home to yours!