Jonah Hill's 'Mid90s' Perfectly Captures The Trials & Tribulations of Tweendom!
Written by Alexandra Tirado. Published: November 01 2018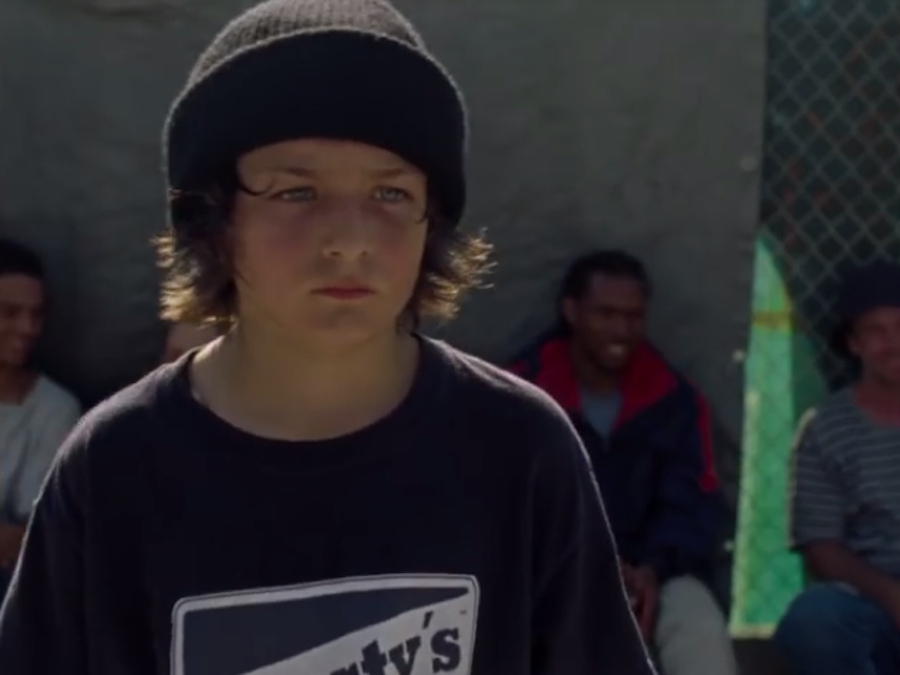 From the same guy that delivered the line, "Well Jules, the funny thing about my back is that it's located on my c***k" inSuperbad comes the touching coming-of-age story of a 13-year-old boy that will warm your heart. No, really!
Jonah Hill has made his debut as director with his new movieMid90s, which he also wrote. The movie follows Stevie (spectacularly played by Sunny Suljic), a sweet 13-year-old boy who who finds his place in a gang of young skaters. Stevie, who lives at home with his working mother Dabney (Katherine Waterston) and abusive older brother Ian (Lucas Hedges), brings the innocence and lovability reminiscent of Elsie Fisher in this summer's coming-of-age hit Eighth Grade. In many ways, both films strive to do something similar: give a glimpse of the painful and confusing period that is early adolescence. However, while Eighth Gradesuccessfully relies on awkwardness and raw sentiments,Mid90s brings in a shock factor thanks to the crude realities of teen recklessness.
After being reluctantly introduced to the gang by Ruben (Gio Galicia), the youngest of the members and quite insecure about his place in it, Stevie slowly becomes part of the group. The rest of the members -- Fourth Grade (Ryder McLaughlin) who gets labeled as the "dumb" one; F*cksh*t (Olan Prenatt), who is very interested in partying;  and Ray (Na-kel Smith), the unspoken leader of the group -- take a quick liking to Stevie and even nickname him "Sunburn". Sex, drugs, and alcohol are some of the experiences Stevie faces for the first time with his new friends, but perhaps the most important one is the sense of belonging.
Hill's movie is, more than anything, an ode to skate culture. Having grown up a skater himself, Hill captured the essence of community often characteristic of skateboarding. As the characters' backstories are revealed in a touching scene where Ray is comforting Stevie about an altercation with his mom, the importance of skating in these kids' lives becomes apparent and what could be a times regarded as a fun pastime prove to be, in some cases, a very real lifesaver. A big reason for the movie's success is its actors' powerful performances. Suljic, who was just 11 years old when the movie was shot, not only carries the weight of the film on his shoulders but has the audience wrapped around his finger even at the most dubious moments, while Oscar nominee Hedges is a scene stealer as the abusive yet sensitive older brother.
What really ties all the characters together is the fact that, no matter their circumstances, they are all insecure. Stevie is not yet his own person and is constantly looking for things and people to define him. Dabney is an unsure mother who wants the best for her children but doesn't know what that is at times. Ruben is unsure he is good enough to hang out with his friends, which is a feeling shared by Fourth Grade, who allows himself to be humiliated in order to remain part of the group. Ian pretends to be tough because he doesn't want anyone to know how truly sensitive he is, while F*cksh*t and Ray are worried their strong bond is wavering thanks to their different way of seeing things. Even though all the characters pull from different directions, what unites them is their longing for being found and for finding somewhere to belong. For Stevie and his friends, that place is skating. And, for Hill, it seems like the director's seat is home.
(Image via A24)
- Alexandra Tirado, YH Contributing Writer