18 Celebs Who Won Halloween This Year!
Written by Brooke Sharland. Published: October 31 2018
(© Rodin Eckenroth/Getty Images)
Happy Halloween, guys and ghouls! As is with every year, Halloween 2018 brought us some AMAZING celebrity Halloween costumes. And these stars didn't come to play -- they came to SLAY. From the hair and makeup to the costumes themselves, everyone looked incredible. Whether it was a creative couples costume or just something outrageous and hysterical (looking at you, Rita Ora), here's a list of all the celebs we think truly killed it this Halloween.
Victoria Justice as a Ouija Board
Miranda Cosgrove as The Bride of Frankenstein (after the divorce)
Neil Patrick Harris, David Burtka, and their kids as Ghosts from Haunted Mansion
Kylie Jenner as Barbie
Kylie Jenner (again) with daughter Stormi as Butterflies
Kendall Jenner as a Fembot fromAustin Powers
                                                                                                                                                                                     (© Bryan Steffy/Getty Images)
Lili Reinhart and Camila Mendes as Pedro and Napoleon from Napoleon Dynamite
Maia Mitchell and Cierra Ramirez as the twins from The Shining
The "Good Morning America" crew bringing you straight back to the '80s
The "Today Show" had a similar thought...
Nina Dobrev as A Star Is Born
Joey King as Voldemort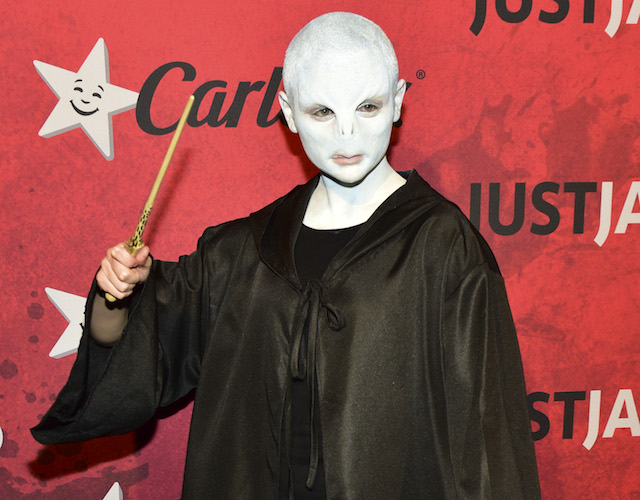 (© Rodin Eckenroth/Getty Images)
Sarah Hyland and Wells Adams as "Taco Belle"
                                                                                                                                                                               (© Rodin Eckenroth/Getty Images)
Lauren Jauregui and Ty Dolla Sign as Harley Quinn and the Joker
Ellen Degeneres as a "Bachelor" contestant named "Kelllly D"
Rita Ora as Post Malone
Beyoncé asToni Braxton
And.. the pièce de résistance… my Halloween winner: Harry StylesasElton John
                                                                                                                                                                                    (© Kevin Mazur/Getty Images)
I could go on with this list for ages. SO MANY people had KILLER costumes this year. It's hard to keep track of all the best looks! So what do you think? Are you as in love with these celeb costumes as we are? Will you be dressing up this fine evening? Trick-or-treating perhaps? Either way, these celebs gave me some GREAT ideas for next year! Better start planning, boo. (haha, get it? Boo?) Alright, enough puns for now! Happy Halloween, witches. We hope you look just as amazing as these celebs did this year! Now get on with your spooky selves...
(Top image via Rodin Eckenroth/Getty Images)
- Brooke Sharland, YH Contributing Writer