Instagram Can't Get Enough Behind-The-Scenes Peeks at "Sex and the City" Reboot!
09-08-2021 by Emily Blake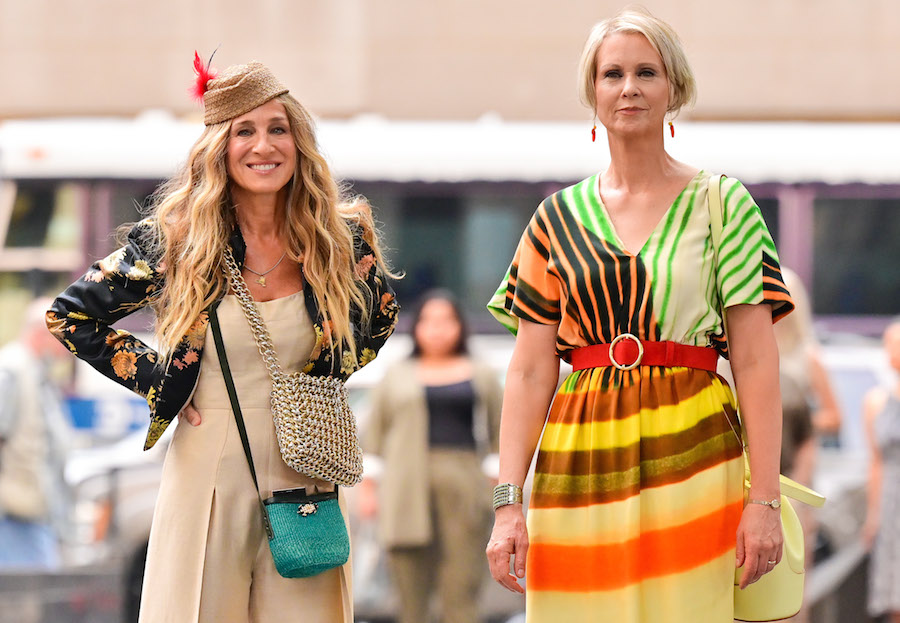 ( © James Devaney/GC Images/Getty)  
In early 2021, HBO Max announced the production of a reboot of the most iconic '90s series "Sex and the City".
"And Just Like That..." will star all the original icons -- Carrie Bradshaw (played by Sarah Jessica Parker), Miranda Hobbs (played by Cynthia Nixon), and Charlotte York (played by Kristin Davis), just to name a few hard-hitters. The new HBO series' dedicated Instagram account has been announcing every new casting for a supporting character, but basically, everyone that gave the original "SATC" series its legendary status will be returning to "And Just Like That" -- except for Kim Cattrall. 
Instagram has been talking up a storm about the reboot. Just like the original Y2K series, "And Just Like That" has been shooting on location all around New York City for everyday people to see SJP walk into the Starbucks in SoHO, for example. This publicity is leading everyone to speculate about the plot, like which elements from the original series are they keeping and which current 2021 pop culture trends they're referencing. 
All of the photos from set also give a good sense of the fashion that will be showcased in the new HBO show. One major "controversy" we saw on TikTok the other day: high fashion trendsetter Carrie Bradshaw is going to be wearing an H&M maxi dress in the new series?! Huh???
However, Fashion TikTok generally has kept bringing up the good point that, in the original series, we always say Carrie mix and match high fashion pieces with everyday affordable items. See the iconic quote from Season 2 Carrie Bradshaw looking for the perfect bargain thrift store dress to match her Manolo Blahniks. 
So, maybe "And Just Like That" is just staying really true to the original late-'90s series? One thing the reboot is definitely holding on to is the iconic romance between Carrie Bradshaw and Mr. Big. I mean, look at them!
I guess we'll wait and see until the official series drops on HBO later this year. Until then, in my best Carrie Bradshaw voice, I can't help but wonder, am I going to be obsessed with this post-pandemic series as much as I was with the original Y2K vibes?