ICYMI: We Couldn't Be "Happier" About Puppet Ed Sheeran's Return In New Music Video!
Written by Diego Pineda. Published: April 28 2018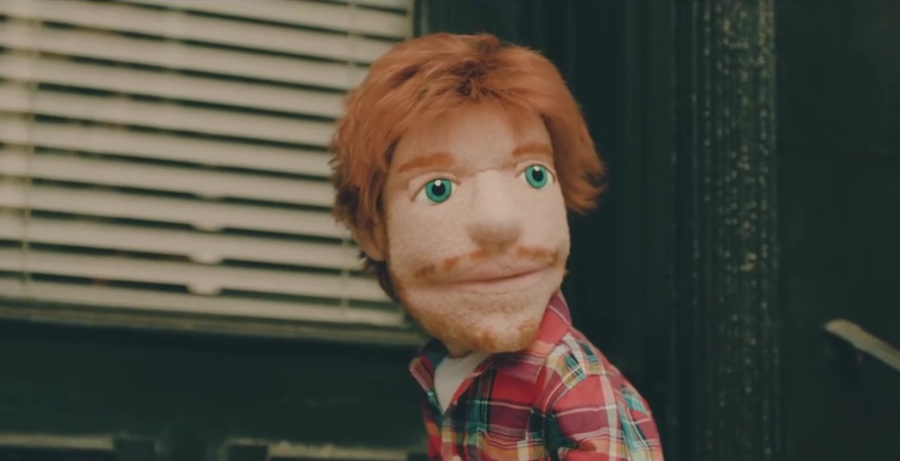 Puppet Ed Sheeran is back, and this time he's dealing with a heartbreak! Get your tissues ready, because this puppet is for sure to get you in your feels in the music video for "Happier". The video was just released and it follows the puppet as he sees his love interest, a balloon figure, date another (much hairier) puppet.
In the video, Puppet Ed is desperate knowing that his ex-lover has moved on and met someone else. We see the puppet walking through the streets of New York and sitting alone at the bar. Puppet Ed is the spitting image of Ed Sheeran, right down to its hair, eyes, beard, fashion style, and even the tattoos!
The meaning of "Happier" is meant to refer to someone's first or second relationship and how they are learning to deal with the aftermath of being heartbroken and missing that significant other. The video shows us a lonely and angry puppet Ed as he tries to let go of his balloon lover, but can't. The lyrics of the song are deep and show how much happier that ex is with this new relationship. But don't be mistaken in thinking that this song reflects current circumstances in Ed's life, as is happily engaged to Cherry Seaborn, whom he has known since he was 11!
"Happier" is the fifth single from Ed's third album, Divide. The song was released last year and has received over 400 million streams and earned several platinum and gold certifications around the world. The "Happier" video, however, was just released yesterday (April 27) and already has over 3 million views as of this writing.
The puppet's role in "Happier"  is quite a change from the first time we met him in 2014 in "Sing", where he is reckless, partying with models, and getting into trouble.
Puppet Ed playing the guitar, looking through photographs, and spying on his ex with her new man while lamenting his lost love makes us feel so much for the puppet. Who would have ever thought a puppet in a music video could make us sad? The part that gets us the most is towards the end when balloons fill the room and he cannot escape her memories and then he sees her float away, in both the literal and figurative sense of the word.
Ed Sheeran released the video for "Happier" while on his World Stadium Tour. He's currently traveling through Europe and will be in the United States starting in August and finishing the tour up in November. Get more information on tickets and locations here!
(Image via Ed Sheeran/YouTube)
- Diego Pineda, YH Contributing Writer