Iconic John Hughes Filming Locations: Then and Now!
12-26-2021 by Paige Pfeifer
  ( © Universal Pictures/Getty Images)  
Shermer, Illinois, may just be the most beloved town to never exist. Most people recognize the name, if only vaguely; its most notable residents practically invented teenage angst. John Bender, Samantha Baker, Kevin McAllister, and Ferris Bueller all hail from Shermer, as does their creator, John Hughes. Except Hughes's Shermer is real ─ it's an amalgam of North Shore suburbs where he grew up and filmed his myriad of iconic coming-of-age movies. Many of his films turn 40 in this new decade, so it's high time we take a look at what these filming locations look like now, long after our favorite teens have grown up and moved away.
( © Paige Pfeifer)
Shermer High School was created from the defunct Main North High School, located in Des Plaines, Illinois. It was used for the exterior shots in The Breakfast Club, and the library set in which most of the film takes place was built inside the old gymnasium. Main North had closed 3 years before filming due to low attendance, so it was the perfect spot for Saturday detention. It has since reopened and now functions as the Illinois State Police headquarters.
John Hughes himself went to high school at Glenbrook North, which was subsequently used in two of his most famous films. The football field was used in the iconic ending shot of The Breakfast Club, and the entrance to the Performing Arts building was used as the entrance to Ferris Bueller's high school. Before filming for The Breakfast Club, the film's stars went undercover at Glenbrook North to better understand the way kids in the area talked and interacted, most notably integrating terms like "sporto" into the movie. It remains a functioning high school in Northbrook, Illinois.
Cameron Frye's house from Ferris Bueller's Day Off is located in Highland Park and is better known as the Ben Rose House. Fans of the film will recognize it as the location where Cameron had his breakdown (more of a breakthrough, really) and sent his father's Ferrari smashing through the plate glass windows and down into a ravine. The house was recently sold and renovated and is now difficult to recognize with the picture windows boarded over.
Glencoe Union Church still brings its community together every Sunday, but it will forever be remembered for one service in particular: the marriage of Samantha Baker's older sister, of which she missed the ceremony and instead drove toward the horizon with Jake Ryan, teenage heartthrob and hair gel extraordinaire.
Other fun Hughesian spots in the area include the "Save Ferris" water tower and the mall from Weird Science, located in Northbrook; Gary Wallace's and Jake Ryan's homes in Highland Park; and John Hughes's very own mini-mansion in Lake Forest, a mere block away from the shores of Lake Michigan.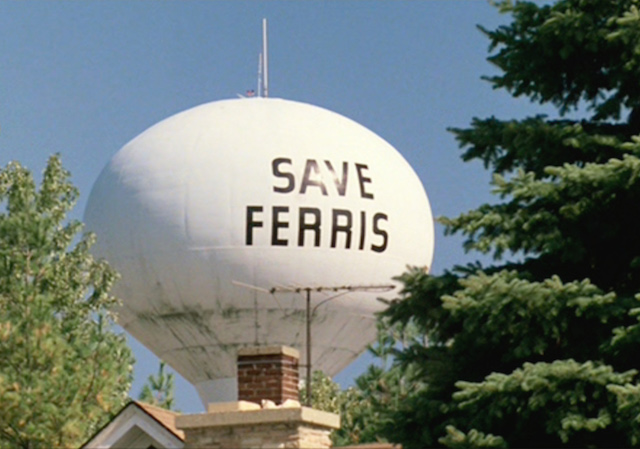 ( © CBS via Getty Images)
Shermer may be fake, and John Hughes himself might be gone, but the heart and spirit of him and his films are still very much alive in the community from which they were formed.