HE'S BACK! New "Stranger Things 4" Teaser Reveals Sheriff Hopper Is Alive!
02-14-2020 by Katie Marzullo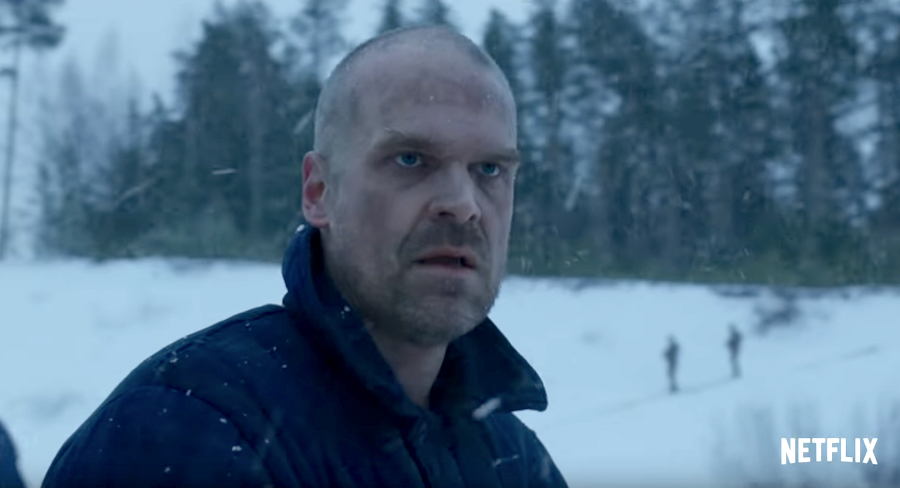 ( © Netflix)  
Happy Valentine's Day to MEEEEEE!!!
Bright and early this morning, Netflix and the Duffer Bros.gifted us all with the best Valentine's Day susprise ever – confirmation that my husband Sheriff Jim Hopper is ALIVE!!!

For anyone who is a fan of "Stranger Things", you already know why this is a big deal, but for anyone who needs a refresher:
Season 3 of the show ended when Hopper (David Harbour) snuck into a top secret Russian facility in Hawkins, Indiana, and decided to sacrifice himself to save the world. Suffice it to say, his almost-girlfriend Joyce Byers (Winona Ryder) and adopted daughter Jane, AKA Eleven (Millie Bobby Brown), as well as fans everywhere, were devastated.
BUT many were convinced that he had somehow survived, spurred on by an epilogue scene in a Russian prison where a guard makes reference to an "American" prisoner. Surely he must have meant Hop?!
Turns out… YES. YES HE DID.
Check out the new teaser below!
Weeeeee!
Back in September, Netflix released their first teaser for Season 4, with the simple tagline "We're not in Hawkins anymore." Most of us took this to mean they were referring to wherever Joyce, Jonathan, Will, and Eleven had moved to after they left Hawkins in the Season 3 finale. But from the looks of the teaser, it seems they meant something a bit more international, as we will be traveling all the way to Russia in the new season!
No doubt we will find out more about the Russians' plans to enter the Upside Down and harness the power of people like Eleven to access… whatever they wanna access in the creepy parallel dimension.

Of course, with the revelation that Hopper is still alive, it begs the question – does his survival lessen the impact of his presumed death? I asked myself this after watching Season 3, since I was afraid it would render Joyce and Eleven's grief obsolete. Like, no one wants to see them sad, of course, but Hopper's death signified a new chapter in their lives (and the show). Might his survival undo all of that?
I guess we'll have to wait and see what's in store for Season 4!
At the end of the day, KUDOS to Netflix & the Duffer Bros. for just putting this out there instead of treating it like this huge spoiler for people to endlessly speculate on until the season premiere (remember all the lame "Is Jon Snow Really Dead?!" nonsense we had to endure for an entire year between seasons?). Now they have just gone ahead and laid that spec to rest so we can look forward to more surprises to come!
Still no word on when Season 4 is slated to premiere, but clearly they are deep into production, so stay tuned!