Halloween & Fandom Collide at L.A. Comic-Con!
Written by Sarah Osman. Published: November 01 2016
If you're ever in L.A. during Halloween and looking for something to do, may we suggest LACC? This past Halloween weekend, Stan Lee's L.A.Comic Con (formerly known as Comikaze) took over downtown L.A., giving cosplayers and Halloween fans alike an excuse to make an entire weekend out of playing dress-up and enjoying all the geekiest things. Harley Quinns, Negans, and "Stranger Things" cosplayers dominated the Con, but don't worry, some of the classic fandoms were on display -- Star Wars Reys, Kylo Rens, Han Solos, and even R2D2 himself appeared, alongside Harry Potter(including a Mad-Eye Moody!), "Sailor Moon", and about two dozen Spider-Men. Editor Katie and I even decided to get in the cosplay spirit by going as some of our favorite characters, Elvira and Belle. I even met a few other beauties (no beasts though):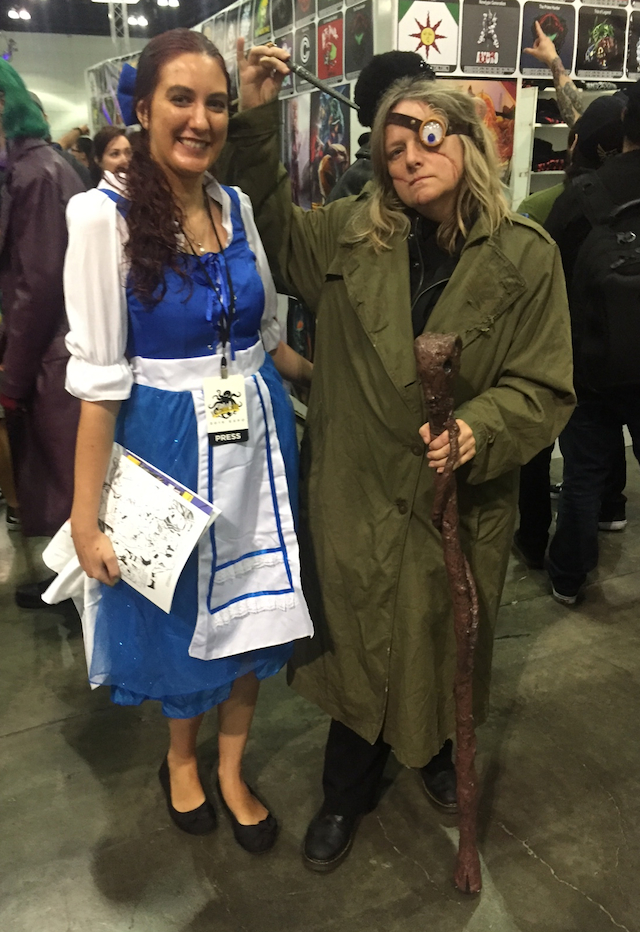 While we encountered our fair share of cosplayers, we also encountered a few stars too. We had an interesting chat with the notorious star, director, and writer of The Room,Tommy Wiseau, who is every bit as eccentric in real life as he is in his cult film. After attempting to serenade us with a song from Beauty and the Beast (which was actually fromAladdin), he informed us that he and Greg Sestero (co-star in The Room) will star in a new movie, aptly titled Best Friends. We also learned that, in addition to still making movies, Wiseau now has his own line of underwear.
Katie got to meet a few of her childhood idols, the Gorgeous Ladies of Wrestling (G.L.O.W.), including MTV,Lightning, Hollywood, andRoxy. Still as gorgeous as they were when they wrestled in the '80s, the ladies filled us in a bit on their lives since G.L.O.W. ended (one now writes sci-fi novels, while another is an artist) and how they're about to get very own show, courtesy of "Orange is the New Black" showrunner Jenji Kohan. The dramedy, "G.L.O.W." will be a fictionalized take on the real G.L.O.W., starring "Community" actressAlison Brie. While the ladies will not have much to do with the actual filming of the series, they are excited that a whole new generation will be introduced to their wild antics!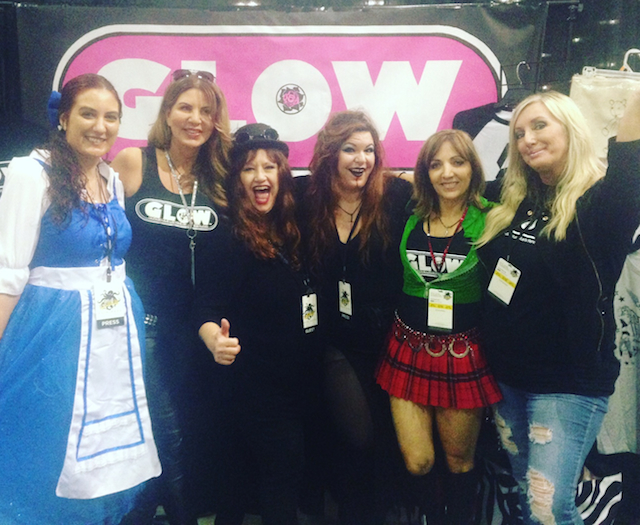 The Con was also home to a number of fascinating booths and exclusives, including demonstrations by the Elegance International Makeup School, some sweet nail art by MoYou Nails, autographs by the legendaryStan Lee, Cary Elwes,Mike Colter, Dita Von Teese, andAdam West, and an inordinate amount of steampunk clothes.
From fabulous cosplay to dozens of comics, L.A. Comic Con was the perfect way to celebrate Halloween and honor the characters and creations that make it so great!
- Sarah Osman, YH Contributing Writer