Foster The People's 'Sacred Hearts Club' Says A Lot By Not Saying Too Much
Written by Emmy Freedman. Published: August 02 2017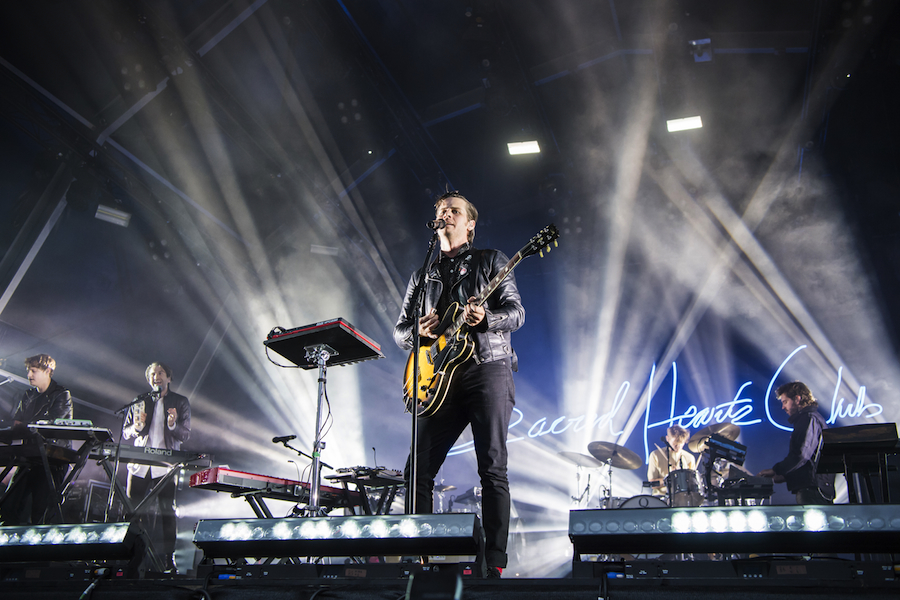 Foster the Peoplehasn't been considered exciting in a long time. The group's debut album, Torches, came out way back in 2011, and since then they've fallen out of the mainstream a bit. "Pumped Up Kicks" played ceaselessly on the radio back when it came out because it offered something new to mainstream radio. The beat was addicting like a pop song's, but the lyrics were heavier and its instrumentation was more mature than that of a typical Top 40 hit. But the group hasn't put out any other music since then that's been as heavily played or as critically-acclaimed. On July 21, however, they dropped their third studio album, Sacred Hearts Club, and it continues along that trend. It'll fly under the radar, not really getting a lot of recognition on either pop or alternative stations, since the music is something between the two and doesn't quite commit to an overarching theme that would help Foster the People find its niche.
But why does that have to matter? Foster the People provides very digestible music that's fun to listen to, but is also pretty good. There are catchy hooks, smart lyrics, and sophisticated rhythms. It's not a bad album, it just doesn't really add much to the current musical landscape. And does it really need to be more than that? In a sea of politically-charged and devisive albums, Foster the People is providing us with feel-good music, and that feels a bit like a breath of fresh air.
For one thing, this album shared its release date with Lana Del Rey,Tyler, the Creator, and Meek Mill's new albums. All three of these albums were met with press overload since these artists are characters in their own right and have multi-faceted albums that spur on conversation. First, there's Meek Mill. Meek's spent some time in jail, was in a relationship with Nicki Minaj, and had a feud withDrake. Before we even get to the first song, we can write an entire essay about what kind of diss lyrics to expect out of his album, and where he got the money to produce such a project after being in and out of jail and probation for the last few years. Whether his music is good or bad at this point is masked by all the other personal aspects of his life that take away from the quality of his raps. As evidence, I just wrote an entire paragraph on it and didn't once mention a title for either the album or any of the songs.
Next, there's Lana Del Rey. Before this album, Lust for Life, even came out, she told her fans that this new release would have a political slant to it. And it certainly does, with many songs directly and indirectly referencing our current political climate, and Del Rey even retiring her signature American flag that she's often seen waving behind her. Besides that, the singer's music has always incited lots of interest, since she rides a line between mainstream and hipster and fuses modern pop with a hint of nostalgia. Her music is distinct from others in similar genres, so there's lots to discuss regarding her newest release as well.
Finally, there's Tyler, the Creator. Where do we even start with this enigmatic rapper? A quick Google search of his name yields a diverse array of articles, including ones about him hanging out with Frank Ocean, the "queer paradox" that surrounds him, and in-depth features in which journalists try to understand the innerworkings of this creative artist's mind. It's a lot to take in, and it doesn't help that no one seems to share the same understanding of his music. That means that, instead of just putting his music on in the background to casually listen to, most people are listening to his songs intently in an attempt to place meaning behind his lyrics. The sonic quality of his music isn't prioritized.
So now we're back to Foster the People. There isn't much to say about the lyrics or the diverse array of sounds in the new album because there isn't a lot to comment on. But you know what you can do with this band's music? Absolutely anything. Put it on and clean your house; it'll make the time go by faster. Press play on the first song and jam out on your next car ride to the grocery store. It's easy listening, and amongst today's releases, that's saying a lot.
(Image via Carsten Windhorst/WENN)
- Emmy Freedman, YH Contributing Writer