Felicity Jones Takes Us to Court as Justice Ruth Bader Ginsberg in 'On the Basis of Sex'!
Written by Meg Spaulding. Published: July 17 2018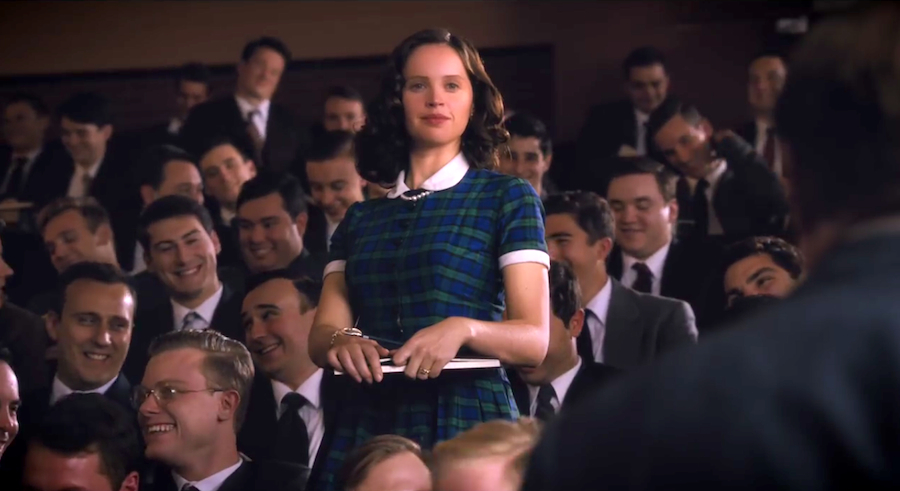 The Notorious R.B.G. is finally getting her own movie!
Actually, her second movie. Ruth Bader Ginsburg, Supreme Court Justice and women's rights advocate extraordinaire, has already been the subject of a recent documentary, RBG. Now, the Hollywood version of her life is next, with a movie called On the Basis of Sex. The title comes from a principal theme of the movie, heard in the trailer, when RBG asks, "if the law differentiates on the basis of sex, then how will women and men ever become equals?" On the Basis of Sex will follow RBG as a lawyer in a landmark 1975 case, Weinberger v. Wiesenfeld, where she fought for a man's right to have custody of his child. It was a clever way for RBG to make the world pay attention to gender equality for both men and women.
Before you watch On the Basis of Sex this Christmas, be sure to check out RBG to learn about the long career of one of the most well-known and admired Supreme Court Justices. Then, step into the life of a young RBG with Felicity Jones. She will be playing Ginsburg as a young woman, and it sounds like this English actress has RBG's Brooklyn accent down pat! Armie Hammer will play the sweet and supportive Martin Ginsburg, Ruth's husband, who recognized RBG's power and encouraged it all his life. The cast also features Kathy Bates and Justin Theroux, and RBG herself reportedly has a small cameo!
On the Basis of Sex will come out on December 25, 2018, but the trailer is out now! Check it out and tell me if you get goosebumps...
(Image via Focus Features)
- Meg Spaulding, YH Contributing Writer