"Emily in Paris" Season 2: What's Next For Our Quarantine Obsession?!
09-06-2021 by Emily Blake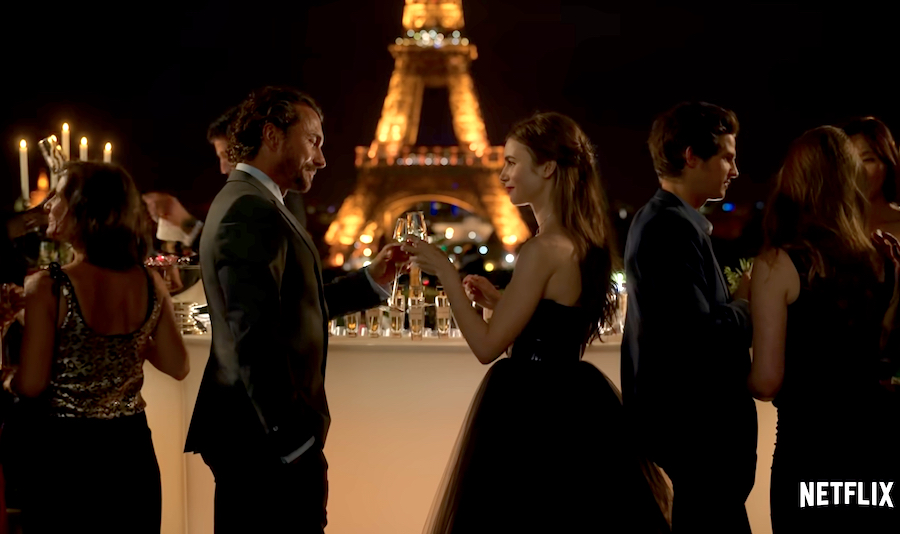 (Netflix)
I have to be totally honest: I binge-watched "Emily in Paris" in a span of probably two days when it was first released over quarantine. My friends watched it, my parents watched it, even my grandma watched it. Obviously it was a viral sensation that distracted us all from our quarantine boredom, because it was immediately renewed for a second season! 
Until recently, we had known only that there would be a Season 2, but nothing beyond that. The end of Season 1 left us with some unreal cliffhangers, so time to speculate! I mean, how long do I have to wait to see if Gabriel choses Emily over Camille? If Emily starts having a little rendezvous with Antoine from the perfume house? What's planned for Mindy? 
Recently, the stars of our fave unrealistic guilty pleasure rom-com have been posting little teasers on Instagram. Lily Collins, who plays Emily Cooper, the girl we all love to envy, posted a confirmation that Season 2 has wrapped. Based on her insta, we know some of our favorite characters -- Mindy, the boys at Savoir -- will be included in the next season. Hopefully it's coming any minute.
The series was created by the same icon who brought us "Sex and the City", so I'm hoping for more cool outfits, more drama, and even more moments that make me also want to be an American in Paris this season. Season 2 may even bring us the more Queer representation I originally hoped creator Darren Star would have included in the first season. In an interview with Cosmopolitan, Lucas Bravo (Gabriel) said that the first season has "planted a few seeds about different characters... like Camille, when she kisses Emily on the mouth, and she's like, 'I'm not sorry.' And then when they're in bed, and I'm liking the picture, it's all little seeds," he explained. "Anything could happen... I think Darren wants this second season to be really open-minded." It's looking like there's going to be even more shocking moments than in Season 1. Considering I audibly gasped in the last episode when Antoine bought Gabriel the restaurant, opening the doors for the Gabriel-Camille-Emily triangle of drama to unfold, I simply can't wait.
Whatever happens, at least we can count on Sylvie and Camille's insanely chic outfits. Oh, and I'm banking on the fact there's absolutely no way Gabriel will stop being a heartthrob anytime soon.