'Descendants', and the 10 Best Disney Channel Original Movies Ever!
Written by Amanda Baltazar. Published: July 14 2014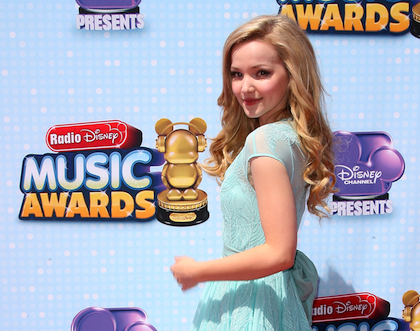 Ever wonder about the lives of Disney villains? Do they have families of their own? Are they just trying to be the best evil villain out there for their kids? Sounds a bit outrageous to think about why evil villains are so evil, but it does make me wonder.
Next year, Disney Channel will be premiering an original movie calledDescendants, which takes place in the present Disney universe where Belle and Beast's (from The Beauty and the Beast) son is set to take the throne. In his reign, he decides to offer redemption to the children of major villains who have been banished to a forbidden island. The children of Cruella De VIl (101 Dalmations), Jafar (Aladdin), Maleficent (Sleeping Beauty), and The Evil Queen (Snow White) are given a chance to go to school with the children of Disney heroes to see if they can change their paths to good instead of evil like that of their parents.
So far, the known main players of the film will be Mal, daughter of Maleficent, played by Dove Cameron; Jay, son of Jafar, played by Booboo Stewart; Evvie, daughter of The Evil Queen, played by Sofia Carson; and Carlos, son of Cruella De Vill played byCameron Boyce.
This DCOM (Disney Channel Original Movie) is set to premiere in 2015, and I can't wait to see how the Disney Villain kids fair in the fairytale land.
This seems like a great time to relive my childhood and remember the great DCOMs of the '90s and early-2000s. There were many great DCOMs, but these took the cake for me.
In no particular order… Top 10 DCOMS of late-'90s and early-2000s. Oh what a wonderful time it was.
10.Smart House (1999)
Ben and his family win a smart house that does everything for them, but things don't always go as planned.
9.Alley Cats Strike (2000)
This movie made bowling look like the most intense and crazy game ever. Definitely went bowling at least fifty times over the summer that movie came out.
8.The Luck of the Irish (2001)
Kyle learns about his heritage after his family's luck gets stolen. Maybe it was my crush on Ryan Merriman from Smart House, but this movie taught me about my favorite Great Lake in Michigan.
7.Johnny Tsunami (1999)
Johnny lives the surf life in Hawaii until his life gets turned upside down when his family moves to a place with no ocean and he has to find waves to ride in the snow.
6.The Thirteenth Year (1999)
Mermaids. Well… Merman. Enough said.
5.The Phantom of the Megaplex (2000)
This movie is probably the reason why I still low key want to work in a movie theater.
4.Halloweentown (1999)
The ultimate cutesy Halloween movie for kids. This is probably my guilty pleasure movie, but I always wished that Debbie Reynolds would come to my house with her Mary Poppins bag and tell me that I had magic powers.
3.Susie Q (1996)
Huge throwback. This movie stars my hero and favorite Power Ranger ever.Amy Jo Johnson plays Susie Q in the flesh and in ghost form.
2.Zenon: Girl of the 21st Century (1999)
What's it like to live in space? I've always wondered, and Zenon gave me my answer. Accurate or not, it sufficed for me. And probably one of the most catchy and annoying songs I will be singing for the rest of my life. Don't worry… here it is!
1.Brink (1998)
I lied earlier. There is an order. Actually, I just saved the best for last. Brink is the best DCOM ever! Shots fired. Go ahead, argue with me. I will never back down. Brink rules over all DCOMs. Rollerskating. Erik von Detten. Team X-Bladz vs. Team Pup'N Suds. Girl Power. Soul Skating.
Probably the best advice ever given.
And there you have it. What was YOUR favorite DCOM of all time?
(Photo via WENN)
- Amanda Baltazar, YH Staff