A Live-Action 'Dumbo'? It's Happening!
Written by Sarah Osman. Published: July 12 2014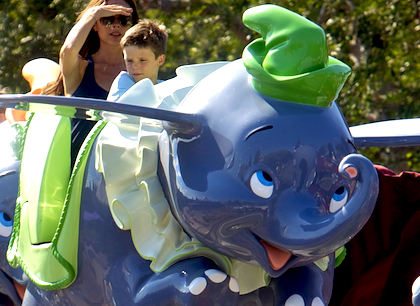 I have always enjoyed the simplicity of Disney's classic film, Dumbo. There is no one in this world (unless they were born without a heart) who can make it through the scene of Dumbo's mother rocking him to sleep without sobbing uncontrollably. It doesn't matter how many times I watch Dumbo, that always nake me bawl.
I, and everyone else, will get to see that moment in a new light as Disney is set to remake Dumbo as a live-action film. The newDumbo will feature the title character in glorious CGI, as well as his fellow family members, pesky bullies, and mouse mentor who is obsessed with a feather. Similar to Disney's previous high-tech reimagined films Malificent and Alice in Wonderland, Dumbo will explore the big-eared elephant's origins, as well as a family story that will parallel his own. There is no word yet on which Dumbo characters will be included in the remake, but certainly the jive-talking crows will get the boot? They have to be one of the most racist things I have ever seen in a Disney film, which is saying something because I've sat through Song of the South...
Transformers: Age of Extinction scribe Ehren Kruger is set to write the script. Considering the fact that Transformers is quite CGI-heavy, this could be a good thing (he certainly has experience with bringing older cartoons to a new generation). This is just one of Disney's many revisionist creations in the works -- Kenneth Branagh'sCinderella will hit theaters in March, while Jon Favreau is directing a remake of The Jungle Book. While Disney is at it, I suggest a live-action remake of The Lady and the Tramp. We can get the gritty backstory of Tramp as a foster puppy who went on to become a criminal mastermind after being betrayed by his stepfather. Now I'd see that!
Are you excited to see the live remake of Dumbo?
(Photo via WENN)
- Sarah Osman, YH Staff