"DC's Legends of Tomorrow": A Who's Who!
Written by Jean-Luc Vaval. Published: January 21 2016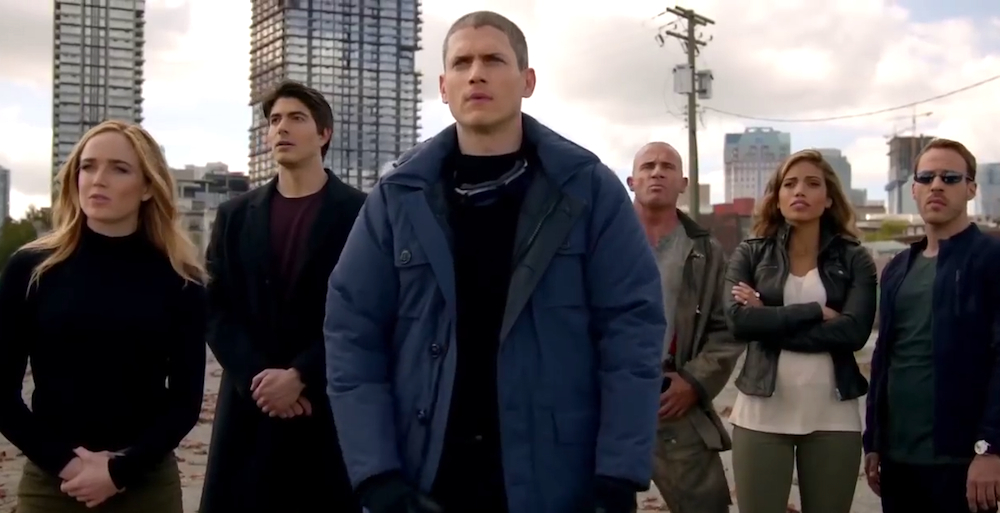 "DC's Legends of Tomorrow" is a new show being added to the collection of DC series bringing together a band of heroes and villains to defeat the immortal and evil Vandal Savage! So many new characters are being introduced in this one show, and whether you're a longtime DC fan or a newbie going into tonight's premiere, here is a primer on who is what and what is who in this exciting new series!
RIP HUNTER
Arthur Darvill plays Rip Hunter in this new series, whom we don't know much about yet except for the fact that he uses a time sphere in order to time travel and has recruited this whole team to defeat the evil Vandal Savage. Taking this squad through time is going to be an interesting story I can't wait to watch!
RAY PALMER (AKA: THE ATOM) 
You may remember Ray from "Arrow" as the vibrant and witty billionaire inventor. This fun and optimistic character, played byBrandon Routh, invented the A.T.O.M. Exosuit, which is like a super suit but can also shrink him down to a miniature size. Hopefully his charismatic personality helps lighten the mood between this odd bunch that was brought together!
KENDRA SAUNDERS (AKA: HAWKGIRL)
The lovelyCiara Renée plays Kendra Saunders, who was introduced in the TV series "The Flash" as a barista at CC Jitters. Cisco Ramon, who is played by Carlos Valdes, has an instant connection with Kendra and they both later find out that she is the reincarnation of an Ancient Egyptian princess, Chay-Ara. We'll see Kendra learning to adapt to the fact that she is Hawkgirl and also being in a love triangle with Carter Hall and Cisco. One is based on destiny, and the other free will. So much drama! I'm really interested to see what Kendra decides!
SARA LANCE (AKA: WHITE CANARY)
Formally known as the Black Canary, Sara Lance is played by Caity Lotz from the TV show, "Arrow". All you need to know about Sara is that she is an assassin dealing with bloodlust. So we'll see her dealing internally with the urge to kill and wanting to be a hero. I'm excited to see all the butt-kicking she will do in this new series!
CARTER HALL (AKA: HAWKMAN):
Falk Hentschel plays the legendary Hawkman, who is the reincarnation of the Ancient Egyptian Prince Khufu. You will recognize him as the other winged superhero from "The Flash" series with a love interest towards Kendra Saunders, AKA Hawkgirl. The ultimate question is, will Carter be able to put his love for Kendra aside in order to help the team defeat Vandal Savage?
DR. MARTIN STEIN & JAX JACKSON (AKA: FIRESTORM)
Victor Garber, as Dr. Martin Stein, andFranz Drameh, as Jax Jackson, combine forces to form Firestorm! Yeah, It's a bit weird, but it works! You'll recognize the duo from "The Flash" shooting fire from their hands and parts of their body being on fire. You know. for the #badass look! Also, they are able to generate enough energy from their hands to fly, which is probably the coolest aspect to Firestorm. Dr. Stein and Jax communicate telepathically with each other, with Jax in control of the body and Dr. Stein giving much-needed advice to Jax to help guide them. Hey, two is better than one, am I right?
LEONARD SNART (AKA: CAPTAIN COLD)
Wentworth Miller plays the supervillain, Captain Cold. Yep, I said supervillain! Captain Cold is officially a part of this "hero" squad and will have to team up with the "good guys" whom he once fought against. Can someone say "aw-kward…"? You'll recognize him with his cold gun and winter jacket from the "The Flash"!
MICK RORY (AKA: HEAT WAVE)
There isn't just one supervillain -- there are two! Dominic Purcell portrays Heat Wave, and you may recognize him from the show "The Flash" as Captain Cold's accomplice. His go-to weapon is the heat gun. You might say that he is going to… "turn-up the heat!" 
VANDAL SAVAGE
We only get a hint of who this villain really is from the series "The Flash" and "Arrow".  He seems like a character that is "un-killable", probably due to the fact that he is an immortal being and has knowledge in magic. He is tied to the storyline of Hawkman and Hawkgirl and we will hopefully learn more about the range of his powers soon! Casper Crump plays the mysterious Vandal Savage.
Be sure to tune in to the premiere of "DC's Legends of Tomorrow" tonight at 8pm on The CW!
(Screenshot via YouTube)
- Jean-Luc Vaval, YH Contributing Writer