Daisy Ridley & Mark Hamill Announce OMAZE-ing 'Star Wars' Initiative!
Written by Katie Marzullo. Published: April 11 2017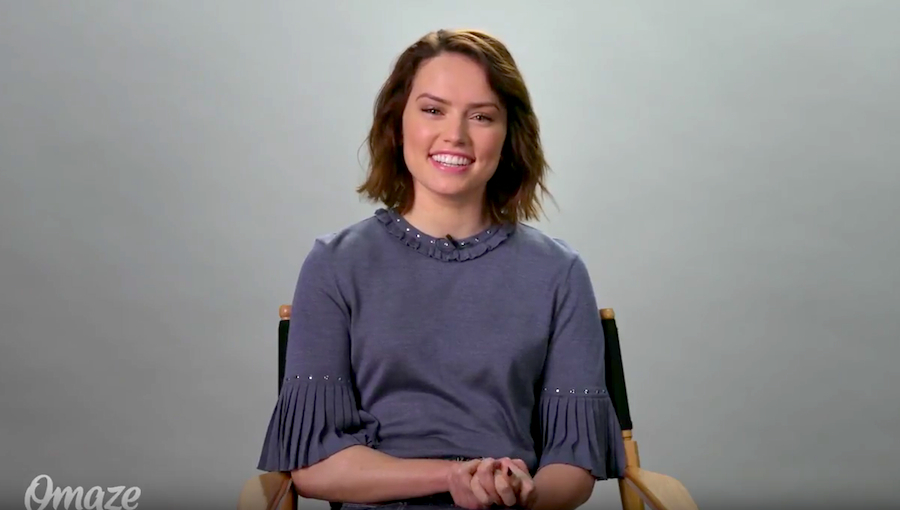 Next month – May 25, to be exact – Star Wars will turn 40 years old. Entire generations have grown up with the iconic sci-fi/fantasy series, and all these years later, the love from its devoted fanbase has only gotten stronger, as Disney & Lucasfilm gear up to release the 8th film in the franchise, Star Wars: The Last Jedi. It's safe to say that Force is with us now more than ever!
And so, to celebrate this monumental milestone, Star Wars is teaming up with Omaze to offer fans a one-in-a-lifetime opportunity (three of them, actually!) as part of their annual Force For Change initiative to benefit UNICEF and the Children's Starlight Foundation. The big prizes include: an overnight stay at the Skywalker Ranch, an appearance in the upcoming Han Solo movie, and a trip to L.A. to attend the world premiere of The Last Jedi in December!
Ah but here are Luke and Rey themselves, Mark Hamill andDaisy Ridley, to fill you in on the deets!
Daisy is a treasure, you guys…
So yeah, how could you possibly pass up an opportunity like this?? Head on down to Omaze RIGHT NOW to get started! For those unfamiliar with how Omaze works, it's a donation-based system (that's how they're able to raise money for their charities, obvs) and there are many different levels you can choose from, with each donation amount equaling 10 entries (i.e. $10 = 100 entries, $25 = 250 entries, and so on), which include other fun goodies and perks including T-shirts, postcards, posters, and more!
A great cause and an OMAZE-ing chance to become one with the Force!
(Image via Star Wars/Omaze)
- Katie Marzullo, YH Staff Editor