Comic-Con '12 Wrap-Up: Day Two!
Written by Katie Marzullo. Published: July 14 2012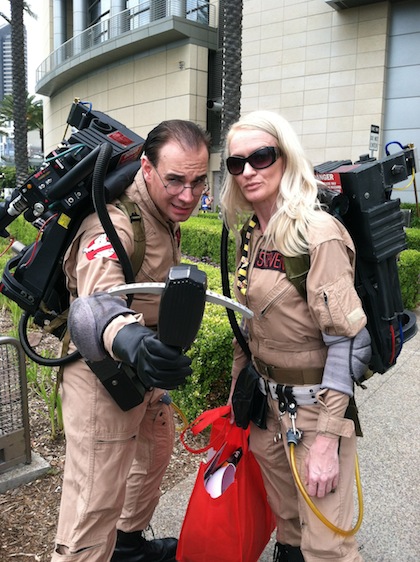 When it rains, it pours, and when the Sun comes out in San Diego, so do the droves for Day Two of Comic-Con!
I honestly can't remember anything other than walking... oh my, the walking... but luckily, I took pictures all day to remind me of all the super-cool stuff we did in between marathons!
First stop, the Hard Rock Hotel, where many celebs are staying for the duration of their visit to the Con. Many faces swept pass the masses, surrounded by guards and handlers and whatnot, such asEmily Deschanel, Michelle Rodriguez, and the cast of "Teen Wolf". I also spotted some other friendly faces in the lobby, like Chopper the Harley Davidson Dog, and the Three Stooges themselves!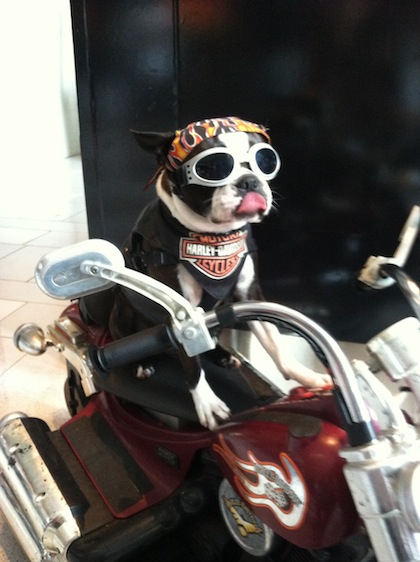 Oh, and we also got some interviews! With our own Nikki Novakdonning the glowing powers of the Green Lantern, we chatted up the hot young cast of "Haven", including Eric Balfour,Emily Rose, and Lucas Bryant.
Then, we headed upstairs where the stars and director of supernatural thriller, The Possession, were on hand -- Jeffrey Dean Morgan, Natasha Calis, andOle Bordenal gave us a pretty rousing interview!
Over on the waterfront, Hunger Games stars Dayo Okeniyi and Jack Quaid decided to kick things off by doing some quick curls with our mics, while their costars Willow Shields and Amandla Stenberg were perfect little angels.
Then, we got REALLY close to the water, taking it down to the docks where the stars of TNT's "Falling Skies" chatted with our own R.J. Williams.
Once we got indoors, we had an intimate sit-down with former model and lifelong gamer/fangirl Adrianne Curry, and as you can see, we caught her on a good day, costume-wise...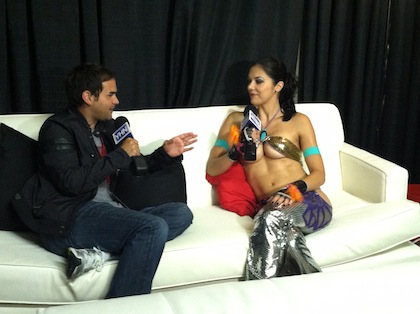 Adrianne gave us some off-the-record scoop about two sci-fi legends who very nearly threw down the night before, but you won't get those names from me...
After Adrianne, Luke Skywalker himself, Mark Hamill, made an appearance, sharing his thoughts on the evolution of Comic-Con throughout the years... For better, or for worse? You'll just have to stay tuned for that interview to find out!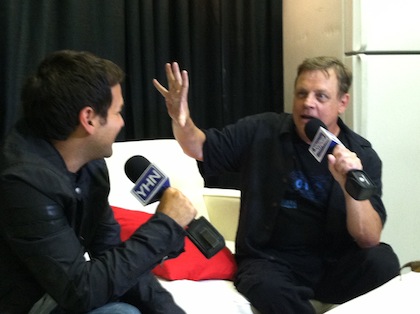 Elsewhere, other interviews went down which I was not personal present for but heard great things! Liam McIntyre, the cast of "Bob's Burgers", the stars of the upcoming "666 Park Avenue" (including Vanessa Williams and the amazingTerry O'Quinn), and even the one and onlyGene Simmons!
The day ended at the after-party for the screening of Bad Kids Go To Hell, where we caught up with '80s teen dream Judd Nelson. This was a personal triumph for me -- everyone my age can agree that The Breakfast Club was an integral part of their childhood. And Judd could not have been more gracious and jovial... everything you would hope John Bender would grow up to be!
And thus closes the books on the second day of Comic-Con. It was a wild one, and with the weekend coming up, I can't imagine how even CRAZIER it has yet to become! Yikes... Can't wait!!!
- Katie Marzullo, YH Staff Editor