Comedy Central's "Drunk History" Makes Learning Fun Again!
Written by Sarah Osman & Katie Marzullo. Published: February 06 2018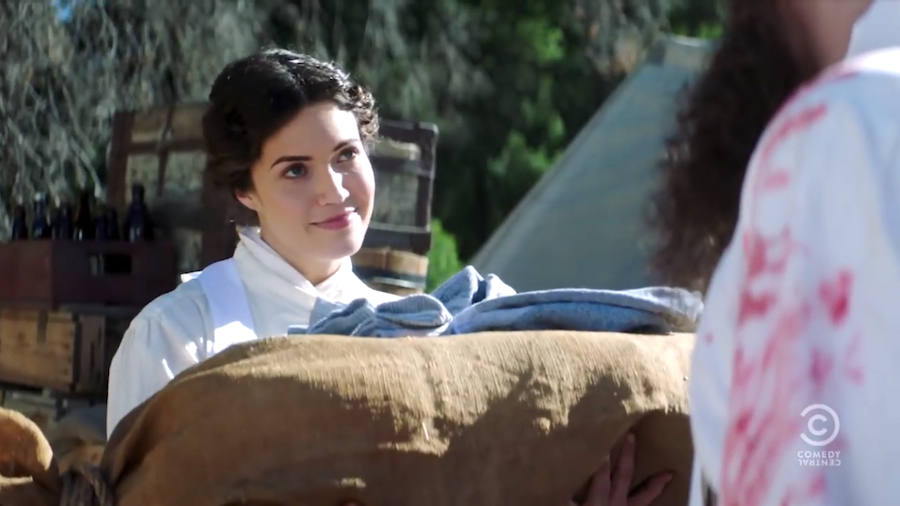 If you ever dozed off during History class in school, Comedy Central has the perfect remedy for that.
"Drunk History" has been making people laugh while also dropping some knowledge on viewers since it first debuted on Funny or Die way back in 2007. The concept is simple -- get comedians drunk, have them tell the story of some historical figure, and then get well-known actors to re-enact the story, with the drunk narrator's own words. It's a winning formula and a joke that is still getting tons of mileage even 11 years later.
Check out Oscar winner Octavia Spencer portraying abolitionist Harriet Tubman as narrated by comedian Crissle West:
What first began as a simple sketch webseries in which creators Derek Waters (who is also the host) and Jeremy Konner would get their friends drunk and ask them to retell historical events has now spun into a popular Comedy Central series, which has featured guest stars such as Lin Manuel Miranda (retelling the story of Alexander Hamilton, because of course it would have to be Hamilton!) andTiffany Haddish. Now in its fifth season, "Drunk History" is expanding into more global historic tales and more lavish sets.
This season features the tales of Rasputin (played by Jerry O'Connell), Mansa Musa, the wealthiest man of all time, and Joan of Arc, portrayed by Vanessa Hudgens.
To celebrate the new season, the creators headed to the Wellesbourne in Los Angeles, which, if you haven't been there, is kind of the perfect venue for a show like this. When we asked which historical tales they would still like to tell in the future, Konner answered "Greenwood, Oklahoma". But he did admit that, due to the extremely tragic events that happened there, this one may be a bit too dark for "Drunk History". However, both Konner and Waters are interested in going even more global in future seasons, and were intrigued by the idea of doing an episode on Australian history.
Konner and Waters also spilled some of the BTS tea, revealing that sometimes their blitzed interviewees need a little prompting to help remember details from their story, but Waters assured us that the environment is 100% safe and the narrators are in good hands. Konner also told us that they have no problems finding people to appear on the show anymore -- the actors come to them now -- and that sometimes the stars will have their own stories they want to tell, but more often than not they are given a few options to choose from; Konner states that they try to find the best matches possible between narrator and story for maximum impact. He also said that the production is extremely supportive of female voices and they strive to include as many as they can!
While pleased with the success of "Drunk History", Konner did admit that he does sometimes miss the homemade feel of the early seasons, due to the sheer irony of telling historic epics against a homemade backdrop. Nonetheless, no matter how successful "Drunk History" becomes, it will still maintain its comedic spirit. And with thousands of years of history to drunkenly recall, "Drunk History" shouldn't become a historic relic any time soon!
Catch new episodes of "Drunk History" Tuesday nights at 10pm in Comedy Central.
(Image via Comedy Central)
- Sarah Osman, Guest Contributor; Katie Marzullo, YH Staff Editor