Chatting with: "AHS" Star & Advocate Chaz Bono
Written by Sarah Osman. Published: November 10 2017
(© FX Networks)
Chaz Bono might be most well-known as the son ofCher and Sonny Bono, and for being one of the most prolific transgender advocates in the world. But he is so much more than that. For starters, he has been one of the breakout stars of "American Horror Story: Cult" as Gary K. Longstreet, an avid Trump supporter who takes his beliefs to disturbing levels. He embodies the worst stereotypes: he is homophobic, xenophobic, sexist, and even dons a red MAGA hat. Basically everything Chaz himself stands in direct opposition to. This isn't Bono's first foray into the world of "American Horror Story"; he played a small role in last year's "AHS: Roanoke".
An ardent fan of horror, Bono shared with me how he brought Gary to life, what it's like being a part of "AHS", and just how much Universal Studios Halloween Horror Nights scared him!
YH: You obviously do not share the same beliefs as your character on "American Horror Story: Cult". How did you research and prepare to play Gary?
CB:         [chuckles]  I don't think I formally researched Gary. I feel like I have a fairly good understanding of people like him because I get attacked by people like him on social media. I wanted to be as fair as I could to him. I did not want him to seem like a monster or a cliché to start with. I wanted to create an average, white, working class guy who has felt underrepresented and felt like Trump was speaking to him and got excited, but he wasn't a bad person.
YH: What's going to happen next with Gary?
CB: I can't say. You will have to wait and find out! If I reveal anything, something will jump out from behind my couch and get me!
YH: This is  your second season of "American Horror Story". How different does this season feel from "American Horror Story: Roanoke"?
CB: I've had a bigger part on this one. "Roanoke" was very secretive and I didn't have a big part. I didn't receive whole scripts, I was just getting parts, and I was just getting to know everybody. It was great, but I didn't feel too at home yet. I didn't have a great idea of what the whole story of Roanoke was. I just kind of knew my own storyline. Whereas this year, it felt like coming home again. It was great to see everybody again. It also felt like something special was happening. I've been a fan of this show since it first aired. The fact that it is dealing with what we are currently experiencing felt really special and interesting. You never know how things are going to play with fans. I read a lot of the fan sites, and you just never know. I hoped people would really like it. It felt like a departure at a great time. I think that all the changes worked really well together. It's interesting that the storyline has to do with something current, and there are all these new people coming in. And for the first time, there was no supernatural aspect to it, it was focused on the horror of what people do.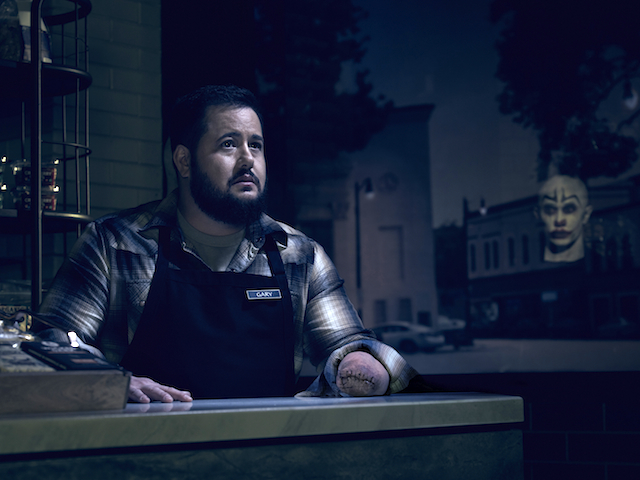 YH: How have you been dealing with our current political climate? Considering that you are in a marginalized community, how have you been handling all that has happened?
CB: I'm fairly active on social media. I went to the Women's March. I'm on a group of activists on Twitter that connect with each other. I try to get through it the best I can, like a lot of people do. There are good days and bad days. I definitely haven't slept as well as I did before the election. That's just kind of a reality of life now. I'm more scared than I was before. It is scary. There are so many groups that are vulnerable. It's scary to think that you are part of any kind of group that our government doesn't care about. There are people who have it a lot worse. I forgot how comforting it was with those eight years of Obama, and with a judicial system that cared about different minorities' rights. I think the crux of what "Cult" is about is fear. It's about what happens when fear really takes over, which is why I think it is so interesting and so timely.
YH: Since "AHS" is a horror series, are you a fan of horror? Have you braved any of the haunted houses around L.A.?
CB: My girlfriend, her son, and I went to Universal Studios Halloween Horror Nights. It was really fun. That's really the only one I've been to. I haven't been to any of the smaller things. I've gone toKnott's Scary Farm before, but I know there are a lot of smaller, boutique-y things that I haven't done. One of my actor friends had a job hosting some boutique-y haunted house. As for the Horror Nights, we were pretty much there all night and we did nearly everything, and by the end of it, my nervous system was a little shot. I watch a lot of horror, so I don't really get too scared. Every now and then, in the mazes, someone would get me, but I was laughing and whatnot. But by the end of the night, I was really ready to go home. I didn't want anyone else to jump out at me. What was really funny is that I ran into my character at the maze for "AHS: Roanoke". I think I scared the guy. I freaked out so much. He was behind a curtain, and he popped out with an ax. I was like, "Dude! You're me! I play you! Come back here! We need to take a picture together!" The security guard came and told me that I had to move along. [laughs] That was a cool experience.
YH: As someone who is transgender, what would you like the cisgender community to know about being transgender? How can they help and respect the community?
CB: Honestly, it's probably different for every transgender person, that's the hard thing. There isn't a "thing". It's different for every transgender person, as they all have their own thing that bugs them. I can only say things that bother me. I feel like people's opinion of you will change once they know you are trans. They won't look at you as though you are of that gender. At this point in my life, being trans is such a small part of who I am. It's not really any part of who I am. I get bugged. I'm a guy, I just took a different route to get to manhood than most. I don't look at my life as any different now. It really is different for every person. It also changes for where one is in their journey. I'm a heterosexual guy. I'm an actor. I've been sober for many years. Those are things that would define my identity way before being transgender. My friends are super diverse, I feel comfortable in all settings. I would feel really uncomfortable if I was boxed into something.
You can keep up with Chaz on Twitter, and be sure to tune in to "American Horror Story: Cult" Tuesday nights at 10pm on FX!
(Image via Cinematic Red)
- Sarah Osman, YH Contributing Writer