Channing Tatum Dancing with P!nk in Her "Beautiful Trauma" Video Will Make Your Day!
Written by Katie Marzullo. Published: November 21 2017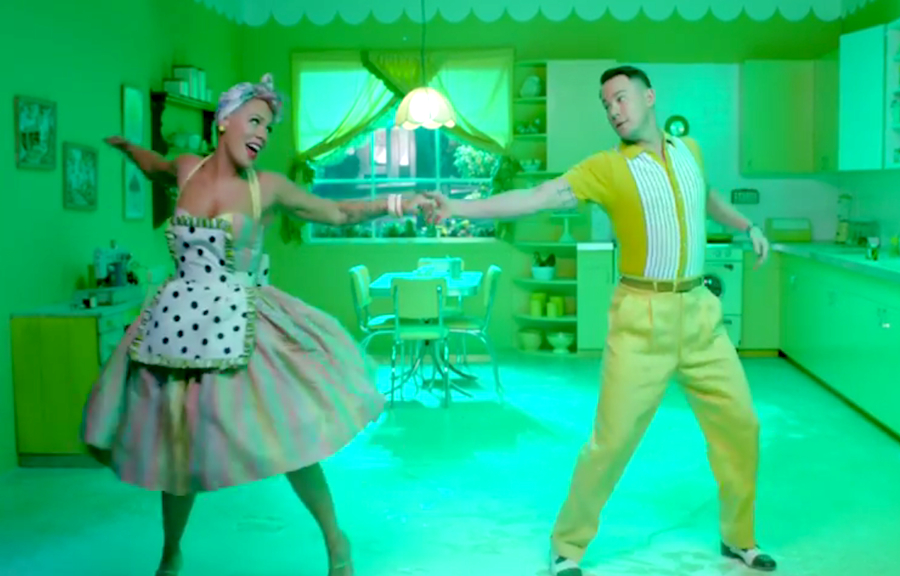 It's everything you didn't know you needed, which, let's face it, has been the theme of P!nk's entire career.
The powerhouse singer just released the music video for the title track of her new album, Beautiful Trauma, and it perfectly encapsulates her very particular dark sense of humor. The song itself is light and frothy, belying the rather heavy and disturbing lyrics… Again, typical P!nk! So it's no surprise to see the music video accompanying the song to surf that same wave.
The bright and colorful clip features P!nk in an array of to-die-for '50s-era outfits, along with actor Channing Tatum, who features as her clean-cut hubby. Picture "I Love Lucy" for the punk set. It's all unsettlingly charming, but it really takes off when the twosome start dancing. More and more lately, it's easy to forget that Channing's roots are in dance, so I love to be reminded periodically, and his chemistry with P!nk is downright delightful.
Things get taken to a whole 'nother level, though, later on with a whimsical gender-swap, followed by some old school Bettie Page action which will have your eyes bulging out of their sockets. FIERCE!
Basically, this is the feel-good video of the year, imho. P!nk always knows how to entertain, and Channing Tatum's fancy footwork is always mesmerizing. A "Beautiful Trauma" indeed!
(Image via PinkVEVO)
- Katie Marzullo, YH Staff Editor