Blood-Curdling Performances Make Netflix's "Ratched" Well Worth The Watch!
09-28-2020 by Tyler Bey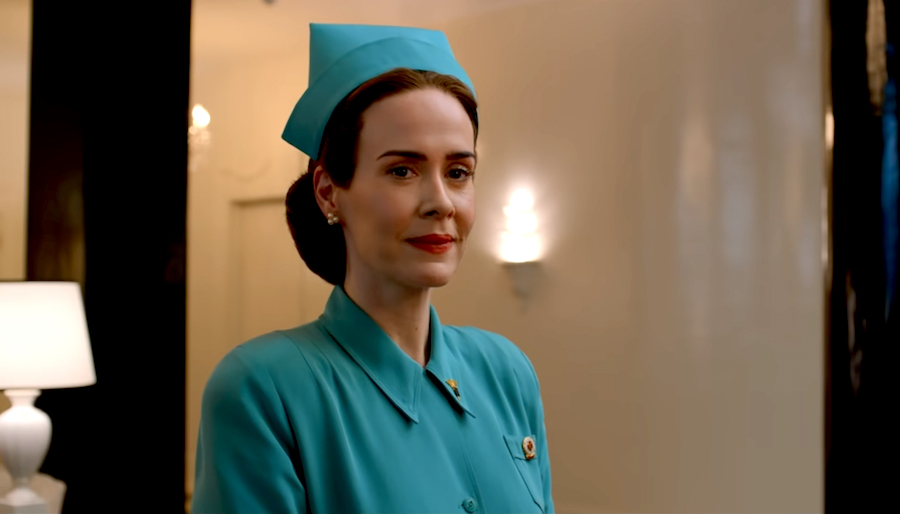 ( © Netflix)  
Welp,Sarah Paulson has done it again with her most recent project for the TV screen! Available now on Netflix, "Ratched" is a psychological horror-thriller that gives viewers the backstory of Nurse Ratched, originally created by Ken Kesey in his 1962 novel One Flew Over the Cuckoo's Nest. The book has taken on many renditions over the past half-century, including a Broadway play, a film, and now, with his $300 million Netflix deal, Ryan Murphy has decided to take a crack at the story.

The "American Horror Story" creator uses a similar creepy undertone in "Ratched", with each episode of the series splattered with blood, violence, and gore. Starring Sarah Paulson as Nurse Mildred Ratched, the show is full of lively characters, including psychotic doctors, deranged patients, desperate hitmen, rich and power-hungry heiresses, and many more! One thing you pick up on while watching the show is that where there is love, there's violence -- and vice versa. Each blood droplet reflects someone's desire to protect a loved one. When you look at the show in this light, the graphic lobotomy scenes and bloody murders actually come from a sweet and wonderful place sometimes!
One essential theme to the show is the way it observes lesbianism in 1940s California. A litany of female characters grapple with their same-sex attraction and the cultural pressures that come with homosexuality. The show illuminates the complexity of lesbian women, making them dynamic characters instead of archetypes of an entire group of people. Ryan Murphy is an openly gay man himself, and his understanding of what representation is needed is evident in the type of characters he writes.
Although potentially lacking in POC in some episodes, Jon Jon Briones's character Dr. Richard Hanover provides Filipino viewers with proper and non-stereotypical representation -- and what a brilliant casting choice! There's a lot of phenomenal acting in this show, but Jon Jon is a scene-stealer! Playing a doctor determined to materialize his ambitions, Briones is absolutely brilliant. Not many actors can go toe-to-toe with the iconic Sarah Paulson and come out unscathed, but Briones is a worthy challenger for the Emmy- and Golden Globe-winning actress. His best moments are when he's parrying against dangerous individuals, fighting for his life in harrowing, intensified scenes. 
Cynthia Nixon and Judy Davis also give powerful performances as well. Their scenes beam with a beautiful classic glow as they perfectly suit the show's Golden Age backdrop. But the best performance on the show hands down goes to Tony Award-winning Actress Sophie Okonedo!
Delivering a jarring performance, Sophie transforms between three drastically different characters in playing Charlotte Wells. The British actress's compelling manuverance between her various personalities will leave you holding your breath in horror and suspense. But above all else, you'll be on the edge of your seat watching pure acting perfection on screen. There's far more that makes "Ratched" worth watching, like the brilliant marriage between editing and score, evocative lighting design, and the masterful writing that creates complex scenes where Nurse Ratched is able to impressively manipulative her pawns.

While Nurse Ratched seems perfectly collected on the surface, I encourage you to pay attention to the moments where characters have to think on their feet, where the unknown mingles with character work and performative power. If you like horror, mystery, blood and gore without sacrificing brilliant writing, technical elements, and especially wonderful acting, then try out "Ratched" for yourself, now streaming on Netflix!