5 "Euphoria"-Inspired Make-up Looks That Have Taken Over The Internet!
09-27-2020 by Victoria Martinez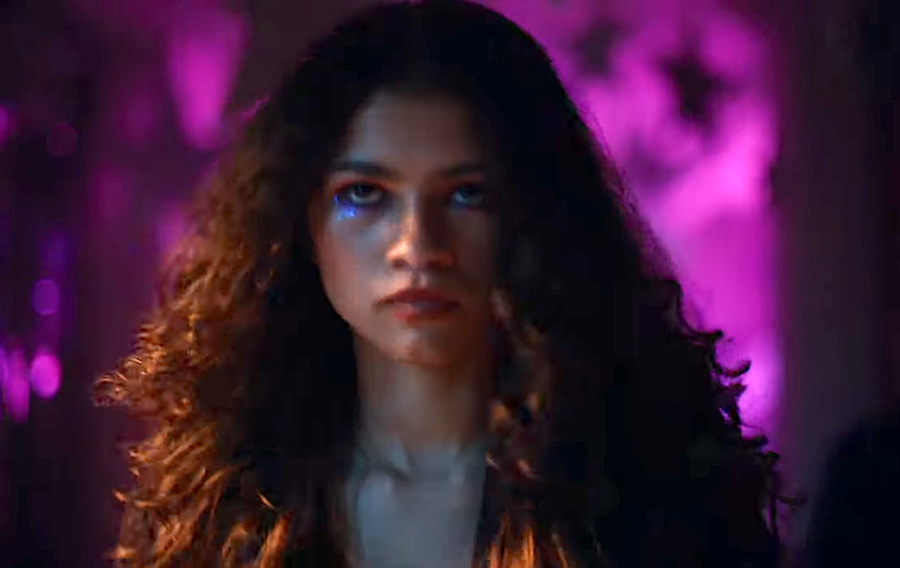 ( © HBO)  
HBO's "Euphoria" instantly became a hit series last summer and it continues to have the hype, thanks to star Zendaya's history-making Emmy Award win last weekend! The series took home 2 more awards that night, including Outstanding Contemporary Makeup. If you've seen the show, you can definitely see why they deserve such recognition. The make-up looks in "Euphoria" are incredibly unique; fans of the show have even recreated their favorite character's glam. If you've scrolled through TikTok recently, you may have even noticed a new trend blossoming!

The masterminds behind these iconic looks are Doniella Davy, Kirsten Sage Coleman, andTara Lang Shah. They brought in glittery eyeshadows, playful eyeliner, and loads of rhinestones to express each of the characters' personalities through their make-up. If you want to explore your own creativity and inner make-up artist, we've compiled our favorite looks from each character that you can recreate at home!
1. Rue – Episode 8
To kick off this glam gallery, we have Rue's (Zendaya) look from the final episode. Throughout the series, we would see Rue in either a natural look or in some takes with a glitter/teary-eyed look. You can recreate her Winter Formal look with some burgundy and blue glittered eyeshadow and small adhesive stars (make sure they are safe for your skin!). With the eyeshadows, make sure to cover the entire lid and go below the lower lash line. Add either one or two stars on the outer v of your eye to complete the look.
2. Jules – Episode 2
Jules (portrayed by Hunter Schafer) takes the crown for the boldest looks in "Euphoria". Her looks range from playful eyeliner and colorful eyeshadow to eye spikes. Jules has way too many looks we could highlight, so for now we'll mention this vivid eyeshadow look. This one is for make-up lovers that have an eyeshadow palette with bold colors. For this look, you would start with a neon red-orange in the inner crease, followed by a pink in the middle crease, and lastly finish up with a neon yellow and neon green on the outer crease. To complete the look, add a thin line of neon yellow along the tear duct.
3. Maddy – Episode 2
Alexa Demie's character Maddy has one of the best make-up and wardrobe looks of the series. She's honestly a fashion icon at this point! Demie herself is obsessed with make-up -- she's previously shared that it's her source of creativity. One of my favorite Maddy looks is from Episode 2. This look is great for beginners that want to play around with rhinestones. The glam involves a natural base; the eyes are the center of attention in this look. Beginning with a black winged eyeliner, glittery blue/teal eyeshadow, and lastly a series of rhinestones that are placed along the eye's crease.
4. Kat – Episode 7
Eyeliner is something I still need to get the hang of, and seeing all these "Euphoria" looks that require eyeliner has placed me in learning mode. Kat's (Barbie Ferreira) daring looks throughout the series are fascinating, but one we'd definitely want to try is this neon green look. This eye look is so interesting because, while it outlines the entire eye, it leaves some areas untouched. As you apply the eyeliner and go in for the wing, do not fill it in (same goes for the tear duct).
5. Cassie – Episode 6
Let's talk about that Halloween episode. The looks in the episode were EVERYTHING. One of my favorites was Cassie (Sydney Sweeney) dressed as True Romance's Alabama Worley. The base for this look is quite easy -- your main focus is the eyes and lips. Cassie's look is a bright and glittery turquoise eyeshadow that covers the eyelid with a wing-eyed kind of finish. Also make sure to go down to the tear duct and lower lash line (a fine eyeliner brush will do the trick). Tie the look altogether with some mascara and a classic red lip.
Gather your palettes and glitter to try out these awesome looks! If you want to know more about what products were used on the cast, check out the make-up artists' Instagram profiles. Let us know which "Euphoria" look is your favorite and maybe evenshare your own take on these looks!