Blink-182's Tom DeLonge Receives Award -- For His UFO Research!
Written by Kevin Donaldson. Published: March 09 2017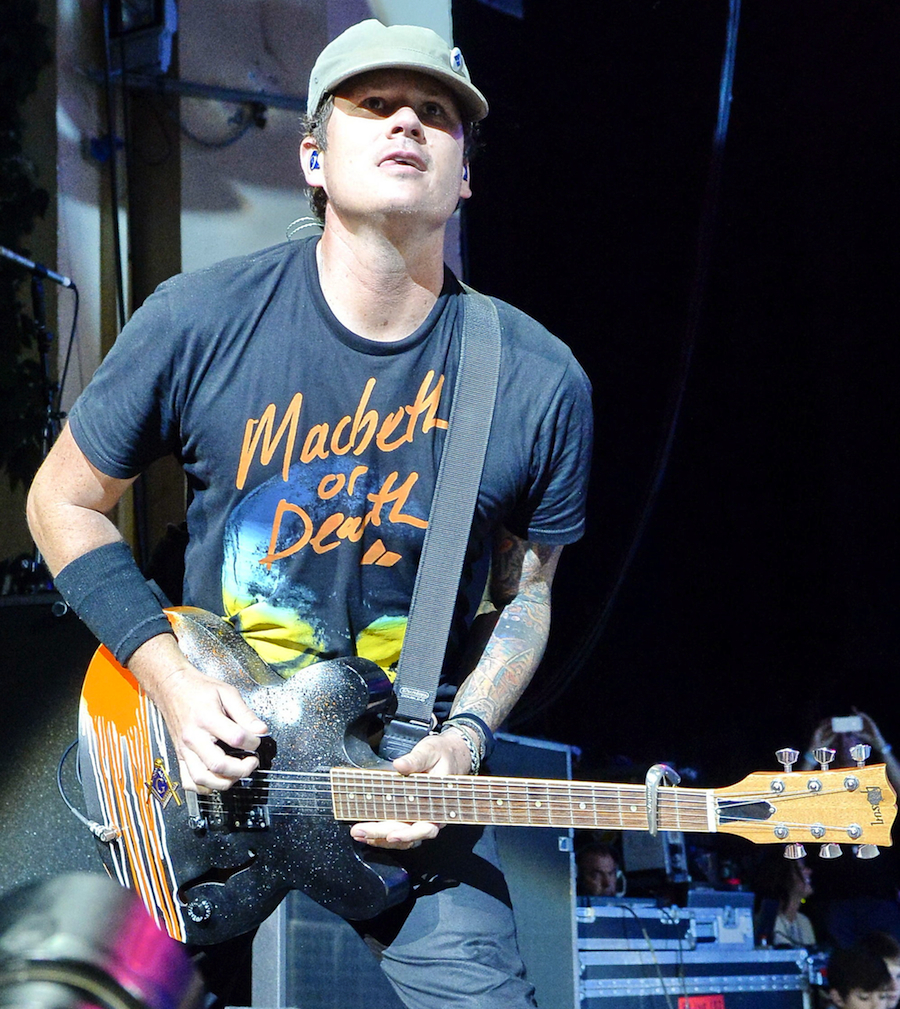 You may or may not have heard about former Blink-182guitarist Tom DeLonge and his obsession with UFOs and extraterrestrial life forces (known as aliens to most people), but recently you may have missed that he actually received an award for being the best UFO researcher of 2017 (mind you we still have 10 months left in the year) by a pay-per-view UFO website called Open Minds TV.
Delonge's obsession was rumored at one point to be the main reason for his rift between him and other Blink members in Mark Hoppus and Travis Barker, but the rumor has since been dispelled. They broke up for their own reasons, but one thing that is for certain, Tom DeLonge loves the prospect of UFOs and alien life. He's even referred to it as "the phenomenon" and has been interested in it since before Blink-182 even started. He even made a song that couldn't have a more on-the-nose title about his passion than "Aliens Exist".
(Slightly NSFW)
Some pretty alarming lyrics at times, but it stands out oddly in a sea of Blink-182 songs as the only one that mentions aliens (unless he's a cryptic Stanley Kubrick-esque genius). Although not totally touching upon his beliefs in full force, you can see that he does believe in a government cover-up of the existence of aliens, and that hasn't changed. Sometime after making this song and releasing Blink-182's massively successful album Enema of the State, DeLonge was given access to a tour of Area 51, which is a large hub for alien conspiracy theories and government interference since at least the 1940s. It is believed to have been the crash site of a UFO and said to hold the bodies of deceased aliens. Did DeLonge see anything there?
Odds are, no, but DeLonge didn't stop after that visit. If anything, it may have fueled his fire for knowledge even more. Since his visit and fame, the musician has been hard at work writing children's sci-fi books, a graphic novel series about alien abductions, and a "non-fiction" UFO book series called Sekret Machines all about alien facts he claims to have uncovered and has had co-authors. His research and the level of it also became a subject of discussion during this past election when he was found in the notorious email hack.
Yup, DeLonge's email address and personal information were leaked along with a series of emails he sent to former Chief of StaffJohn Podesta all about his UFO research. He pleaded for Podesta to get in on his action and confirm things. At the rate DeLonge was emailing Podesta, you would think they were friends or at least met at some point in time. Ultimately, it doesn't look like they ever met, as Podesta completely blew off DeLonge and may have never even read the emails, since not even so much as a, "K buddy", was sent back in these unrequited exchanges; however, there is a whole other conspiracy that the lack of responses from Podesta is a cover-up in and of itself. Either way, it showed that DeLonge was getting somewhere in his search for how the government knows about aliens.
DeLonge is certainly an interesting guy, but is he right about any of this? I guess we'll find out. I believe there is alien life out there, but who knows if the government is actually hiding knowledge on it. Maybe they are, or maybe everybody who's investing their time to find out is on a treasure hunt that ultimately ends with finding a laceless old boot instead. There are speculations that he has a big announcement coming out in regards to his research, but that remains to be seen. Until he tells us more, you be the judge and check out this acceptance speech by DeLonge to Open Minds TV:
(Speech starts at 5:05)
(Image via George Chin//IconicPix/WENN)
- Kevin Donaldson, YH Contributing Writer