'Avatar' Updates: Sequel And Disney World Park On The Way At Last!
Written by Kevin Donaldson. Published: March 08 2017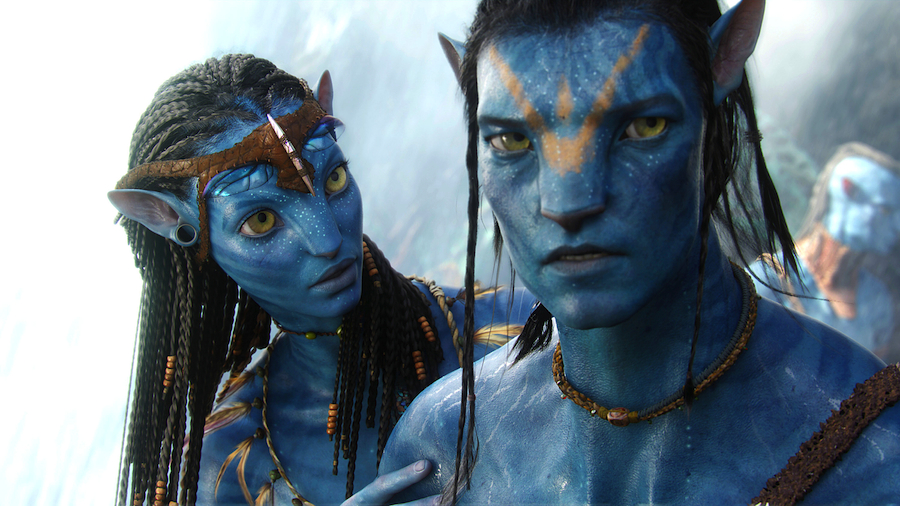 Let me take you back to a far away time. A time that we can now call nostalgic. A time when the big superhero movie boom was about to begin butTwilight and the rise of YA movies was the phenomena du jour. Barack Obama had his first year in office and some people were hopeful and some people feared the worst.Charlie Sheen had just shocked the world with the fact that he was "winning" and had "tiger blood" coursing through his veins as he ranted in interviews, which eventually got him kicked off his hit show "Two and a Half Men". And 3D movies were about to hit a renaissance and become that more expensive option we know and sometimes love and sometimes loathe today with the release of James Cameron's Avatar.
I'll admitAvatar didn't strike me as anything too great at the time of its release. The 3D part of it was cool and it opened up a world for 3D to really pop, but even less than a decade later and these graphics don't hold up. Even at the time, it felt more like being inside a Pixar movie than another real world planet (everybody talks about the story, so I'm not going to get into that overdone conversation… watch "South Park"). All that aside the movie grossed 9 billion dollars worldwide and got praise from critics at the time, but in the years since its initial 2009 release, its pop culture impact is only seen in 3D technology and commercials promoting reruns of this nearly 3-hour movie on FX (that's 8-and-a-half hours in FX time). All of this might change soon as talks of a revival are happening.
Cameron has been saying since its release he has plans to for a whole series ofAvatar movies and claimed at different points in time to have scripts done for the series. Alas, Avatar news has been relatively quiet the past 8 years. Cameron himself hasn't been talking too much about the film front; he's only produced 3 projects and directed nothing since he took the world, according to those box office numbers, on a journey to the alien planet of Pandora.
But things are about to change, as the sequel is set for release and Disney is opening an entire Avatar park.
Disney has been promoting the upcoming Star Wars Land at their parks. I can speak from personal experience that Disneyland in California had its Tomorrowland park taken over by Star Wars. Star Wars is opening at both parks but won't be operational until the same year the newest trilogy wraps up, 2019. However, it seems as though Disneyland has no plans to install their own personal Pandora, but Disney's Animal Kingdom in Orlando, Florida, is going at it in full force. In fact, Pandora: The World of Avatar will open up on May 27, just in time for Memorial Day vacationing guests to be the first to get explore it.
Looks like a big improvement from what I remember. I'm actually pretty jealous that this is a 6-hour flight from my apartment rather than the 1-hour drive it takes me to get to the Pandora-less Disneyland. Whether I can go or not, it got me excited for a sequel. Even if the story isn't there, I would throw down some cash to see (hopefully) better graphics in this 3D juggernaut world, but it would be great if the run time is shorter.
As for the sequel details, so far we know that motion capture shooting is starting in August of this year and the release date is said to be December 21, 2018. Now, this is the first time a shoot date has been officially set for the tentatively-titled Avatar 2. As mentioned above, however, this isn't the first time a release date has been announced or estimated. Cameron has blamed it all on the writing process, and to be fair, writing a movie is harder than people realize, and even harder when you're trying to write a good sequel.
Here's to hoping the lengthy writing process paid off and he got the sequel script that Avatar deserves. I have faith he can pull it off. So far he's made two bang-up sequels in Terminator 2: Judgment Day, which was praised for it's technicality, andAliens, which was praised for having a good continuing story and just being more exciting than the slow-burn "haunted house in space", Alien.
As it stands now, Avatar is said to have at least three sequels, and the plan is to shoot them all consecutively. The problem is, Cameron said this back in 2009 as well, so we'll see what happens from here. In the meantime, you can always visit Pandora by way of Cirque du Soleil...
UPDATE: As of Friday, March 10, James Cameron has moved back the release date for the Avatar sequel. No new date has been announced at this time. And so our watch continues...
(Image via WENN)
- Kevin Donaldson, YH Contributing Writer