Biggest Reveals & Trailer Drops From Comic-Con '22!
Written by Katie Marzullo. Published: July 25 2022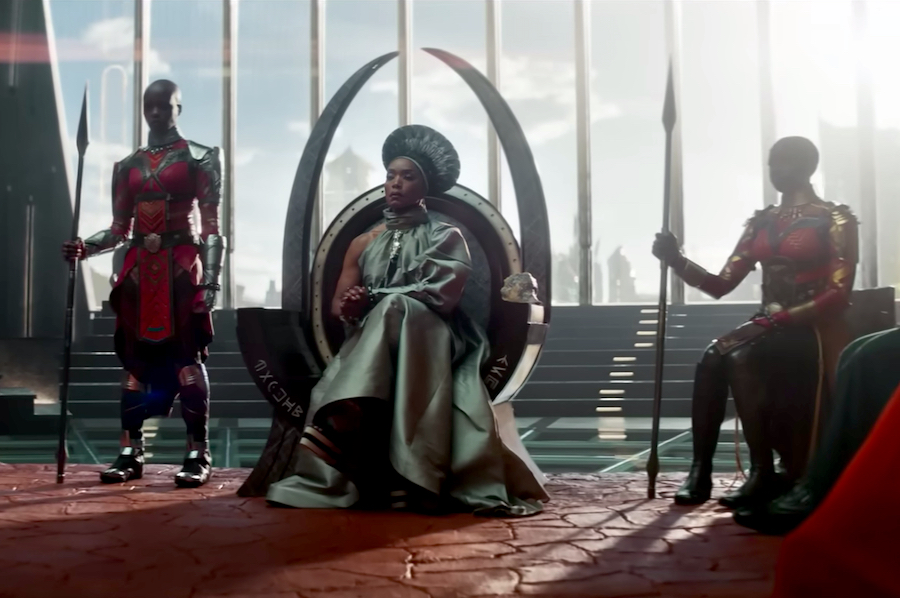 (Marvel Entertainment)
After a 2-year hiatus (last year's event was this weird truncated thing that took place over Thanksgiving weekend so it doesn't count), San Diego Comic-Con was back in a big way this past weekend, pulling out all the exclusives and first looks that we've come to expect from the annual geekfest!
So let's do it, let's just jump right into some of the biggest reveals that got everyone's nerd meters turnt up to eleven!
1. MCU Lineup
The biggest announcement that had us all salivating was, of course, from Marvel, who took to the stage in Hall H to reveal their upcoming slate of movies and TV shows that will encompass Phases 4 to 6, or what they collectively have dubbed "The Multiverse Saga". Among these titles include:
Disney+ series "She-Hulk: Attorney at Law" (August 17) starringTatiana Maslany and Mark Ruffalo.
Feature filmBlack Panther: Wakanda Forever (November 11), the highly-anticipated follow-up to what many consider to be the best film in the MCU, which sees the citizens of the kingdom dealing with the fallout from King T'Challa's death and the eventual crowning of the new Black Panther (whom many expect will be his sister Shuri but I have seen some compelling arguments for Nakia and Okoye as well). This film will mark the end of Phase 4.
Feature filmAnt-Man and the Wasp: Quantumania (February 2023), which will kick off Phase 5 of the MCU.
Disney+ series "Secret Invasion" (Spring 2023) which will follow the adventures of Nick Fury (Samuel L. Jackson) and the Skrull Talos (Ben Mendelson). The series will also feature Emilia Clarke's official entry into the MCU.
Feature filmGuardians of the Galaxy Vol. 3 (May 5, 2023), which welcomes new castmembers Will Poulter,Maria Bakalova, and Chukwudi Iwuji.
Disney+ series "Echo" (Summer 2023), a spinoff of last year's "Hawkeye" which will focus on that previous show's antagonist Maya Lopez (Alaqua Cox). It will be the first Marvel project with a hearing-impaired character (and actor) as the lead.
Disney+ series "Loki" Season 2 (Summer 2023), where we finally get to find out what the heck happened to our favorite Norse trickster god!
Feature filmBlade (November 3, 2023), which sees Oscar-winning actorMahershala Ali step into the iconic role of the day-walking vampire.
Disney+ series "Ironheart (Fall 2023), which will follow the adventures of Riri Williams (Dominique Thorne), the successor to Tony Stark/Iron Man. We will get our first glimpse of Riri inWakanda Forever.
Disney+ series "Agatha: Coven of Chaos" (Winter 2023), a spinoff of "WandaVision" which will focus on the sneaky witch Agatha (Kathryn Hahn), who, if Doctor Strange and the Multiverse of Madness is any indication, was right all along…
Disney+ series "Daredevil: Born Again" (Spring 2024) – Matt Murdock is back, y'all! After a buzzy cameo in Spider-Man: No Way Home, Charlie Cox is back to reprise his role as the blind attorney/superhero from the defunct Netflix series.Vincent D'Onofrio will also return as Wilson Fisk, who also appeared in the Netflix series and who made his initial return into the MCU in "Hawkeye".
Feature filmCaptain America: New World Order (May 3, 2024), where Sam Wilson (Anthony Mackie) headlines his first Captain America movie after taking up the mantle in "The Falcon and the Winter Soldier". With 3 years between the TV show and the movie, though, I am betting that we'll get glimpses of Captain Sam in other MCU projects in the interim…
Feature filmThunderbolts (July 26, 2024), which will introduce us to a whole new slate of heroes joining the MCU.
Feature filmFantastic Four (November 8, 2024) – third time's a charm? After 2 previous tries of varying success, Kevin Feige and Co. try their hand at reviving these characters one more time. Not much is known about it at the moment – yes, we saw John Krasinski in the role in Multiverse of Madness, but considering he was flanked by Peggy Carter as an alternate Captain America and Maria Rambeau as Captain Marvel (instead of Carol Danvers), I wouldn't get my hopes up just yet that he will be reprising the role in this movie.
Feature filmAvengers: The Kang Dynasty (May 2, 2025), which will be the first Avengers film since 2019's Endgame. Kang was introduced in the first season of "Loki" and will make an appearance in Quantumania, thus it appears official that he will be the Big Bad of the Multiverse Saga. This film will kick off Phase 6.
Feature filmAvengers: Secret Wars (November 7, 2025) – yes, not one but TWO Avengers films coming the same year! This feels like a possible Infinity Wars / Endgamescenario…
Marvel creatives also gave some updates on upcoming animated content coming to Disney+, including a second season of "What If…?" (early 2023), "I Am Groot" (8/1), "Spider-Man: Freshman Year" (2024), "Marvel Zombies" (date TBA), and a revamp of "X-Men: '97" (Fall 2023).
2. "The Sandman"
After what seems like an eternity, we finally got an official trailer AND premiere date (August 5) for Netflix's highly-anticipated adaptation of Neil Gaiman's dark fantasy comic book series for DC about Morpheus, AKA Dream, AKA The Sandman, who is summoned and then captured during an occult ritual in 1916 but manages to escape 105 years later.
3. "Interview with a Vampire"
We got the first official trailer for the new & Anne Rice-approved adaptation of her iconic novel for AMC, this time starring Jacob Anderson as Louis andSam Reid as Lestat. The series premieres October 2.
4. John Wick: Chapter 4
Our favorite puppy-avenging hit man is back, and so is Keanu Reeves, who descended upon San Diego to give fans a sneak peek at the 4th installment of his super popular film series, which sees Mr. Wick's battle against his dangerous adversaries go global.
5. Teen Wolf: The Movie
It just isn't Comic-Con without those crazy kids from "Teen Wolf", amirite? Well, they were back in a big way this year, with the first official trailer for the long-awaited "Teen Wolf" movie dropping on us like an ambushing werewolf! We were so excited to see the whole gang back – Scott, Derek, Lydia, Malia, Allison… wait, WHAT?! Yep, you read that right. The end of the trailer had us all gasping at the return of Allison Argent (Crystal Reed), whom we all thought died at the end of Season 3 after trying to save Lydia from the Nogitsune. Tune in to Paramount+ (date TBA) to find out what that's all about!
6. Dungeons & Dragons: Honor Among Thieves
Oh if only Eddie Munson had lived to see this… The iconic RPG game is going from your basement to the big screen thanks to Paramount Pictures and stars the likes of Chris Pine,Regé-Jean Page, Michelle Rodriguez, and even Hugh Grant! The epic film hits theatres March 3, 2023.
7. "The Walking Dead"
In addition to releasing the first trailer for the last third of the final season of the long-running zombie series, AMC also dropped the bombshell of a spinoff series featuring our long-lost zombie-slaying zaddy Rick Grimes (Andrew Lincoln) and his love Michonne (Danai Gurira)! After initially announcing a series of spinoff movies following Rick's "TWD" departure back in 2018, fans have been waiting anxiously for more news about this but have gotten nothing but radio silence – until now! During a surprise appearance in Hall H, Lincoln and Gurira announced a 6-episode limited series featuring both characters' returns coming to AMC next year!
8. Shazam! and Black Adam
On the DC side of things, things were a bit…quieter. Warner Bros. combined their two most anticipated properties – Black Adam (10/21) and Shazam! Fury of the Gods (12/25) – into one panel, releasing some new footage of the former and a first trailer for the latter.
What announcements and exclusives from this year's Comic-Con got you most excited??