Best of 2013: Music
Written by Raffy Ermac. Published: January 10 2014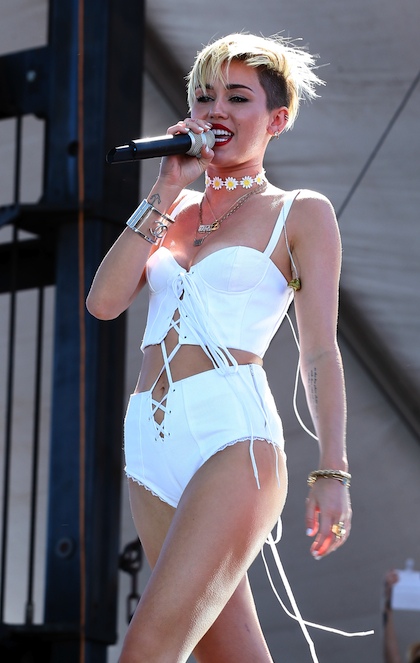 (Better late than never, right??)
It's dizzying to think that we are already well into 2014, and that the many records that graced the airwaves and store shelves last year (can you believe that we already have to say "last year" in reference to 2013?!) are now just a mere page in the annals of music history.
It really seems like just yesterday that we couldn't turn on a radio without hearing Daft Punk's "Get Lucky" or Robin Thicke's "Blurred Lines" every other second of the day, and one thing we do know is that their mutual collaborator,Pharrell, was indeed a very happy man about both tracks.
2013 also saw the further rise and ascension of the second coming of the boy band phenomena, specifically with British teen heartthrobs One Direction and the release of their third – yes, third – album Midnight Memories. They also announced another extensive world tour, made tons and tons of money, and literally took over the teen girl world, but hey, what's new in the day and life of a boy band?
Although a lot slower than in years past, 2013 was also a year for many pop queens to continue to rule and shine over their respective fan kingdoms, what with youngsters like Lorde,Demi Lovato, and Selena Gomezmaking huge splashes in their music and careers. Miley Cyrus and her rump-shaking antics were also the talk of the town, but all that quickly changed in December whenBeyoncé stunned the world in true Queen Bey fashion and released an entire album without prior notice to anyone. Just to remind everyone who was still in charge of the game…
We also saw the reunions of Destiny's Child and *NSync, which, considering that they both happened in the same year within a few months from each other, is a true sign that some form of higher musical being was shining down upon us in 2013.
One can't also relive the good days of 2013 without mentioning powerhouse acts like Macklemore & Ryan Lewis andTaylor Swift. Despite many criticisms from listeners, you can't deny how successfully both acts conquered not only the charts but the pop music world in general – Macklemore was recently named The Source magazine's Man of the Year, and he and Ryan Lewis have amassed over 477 million YouTube views for their breakout hit "Thrift Shop", making it one of the most successful videos ever. Ms. Taylor's rise in 2013 included a sold-out tour with new headliner Ed Sheeran and a superfluity of other awards to add to her already full collection. Not a bad year for the now-bona fide pop star.
Other extremely notable mentions this year include: Justin Timberlake, who released both parts of his 20/20 Experience; Katy Perry, who came back after a quick break with Prism and more #1 hits; Lady Gaga, who successfully revived not only her career, but that of R.Kelly; and our other reigning pop queen,Rihanna, who, despite not releasing a new album in November like she usually does, was music app Spotify's most popular female artist of 2013.
Fret not, music lovers -- Although 2013 was a good year and is sadly now over, we have a whole new year to look forward to in 2014, and us anxious and eager pop music lovers at Young Hollywood absolutely can't wait to see what some of the aforementioned artists have up their sleeves for all. What were some of YOUR favorite 2013 music moments?
(Photo via Judy Eddy/WENN)
- Raffy Ermac, YH Staff