'Becoming' Takes Us Inside the World of Michelle Obama!
05-08-2020 by Kyla Killackey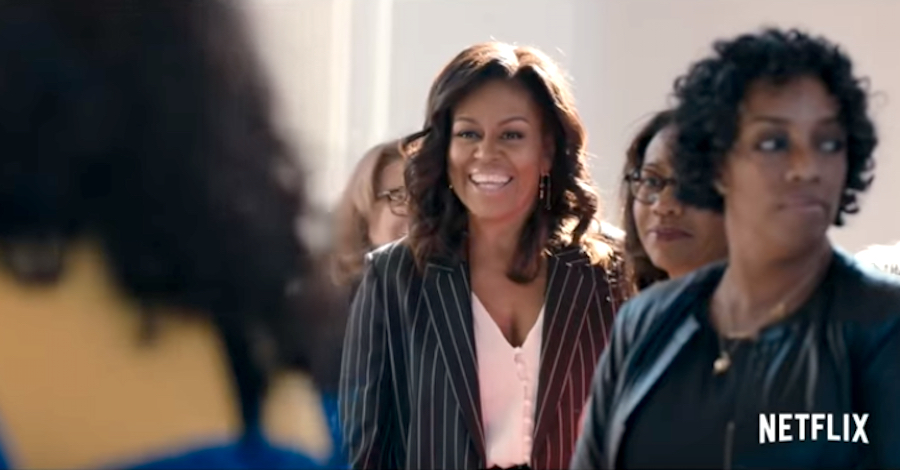 ( © Netflix)  
This week, Netflix dropped the highly-anticipated documentary Becoming, which follows our former First Lady Michelle Obama on her 34-stop book tour and gives us unprecedented access into the Obama campaign and their life in the White House. Marrying footage of Mrs. Obama from on stage and off, the film takes us from her childhood in the south side of Chicago to her new life under the glaring spotlight of the entire world.
Becoming feels important, not just in Obama's message of hope and perseverance but in the honest and emotional side of her story that we didn't get to see during her time as the First Lady. The film opens as Obama starts her day, travelling to the first stop of the day with headphones in and a troupe of security still watching (almost) every move. We see snippets from the conversations with many of the different hosts along her tour: Oprah, Stephen Colbert, Gayle King, Conan O'Brien. She tells a stadium of people that she first felt sparks for her hubby Barack when she heard his voice over the phone. She started as his mentor in their law firm, but by a month in, he'd already asked her out on a date. The rest is a history (that much of the world watched).
It's fascinating to hear about the transition into the White House, from the toll that the negative press took personally to trying to transform their new residence into a family home. Obama recalls how she had to beg the housekeepers not to make daughters Malia and Sasha's beds because she wanted them to grow up knowing how to put on a bedsheet. It was a reality she never saw coming. Much of Becoming is an unveiling of the unbelievable scrutiny that comes with the Presidency – the toll of having to appear perfect every day, having to weather threats and judgements and racism, and why now, more than ever, we must continue to rise above and push towards progress.
But what holds the most power are the glimpses into Obama's visits with young people, just beginning to figure out who they want to be and how they want the world to look. In one scene with students at a community college, she says, "That story – all the highs and lows and what seems so ordinary and seems like nothing to you – is your power." Goosebumps. Her words are an emotional outpouring to future generations. That our voices matter, our experiences hold value, and that we have the power to shape what our world becomes. We just need to show up.
Overall, Becoming makes an impactful case for a family who has given enough. The Obamas pushed us forward, and now it's on us to continue pushing. A surprise appearance from Malia sums it all up: "Those eight years weren't for nothing." she tells her mother. "You see that huge crowd out there and that last speech you gave. People are here because people really believe in love and hope and other people."
Becoming is streaming now on Netflix.