ARTIST TO WATCH: Noname
Written by Meg Spaulding. Published: September 26 2018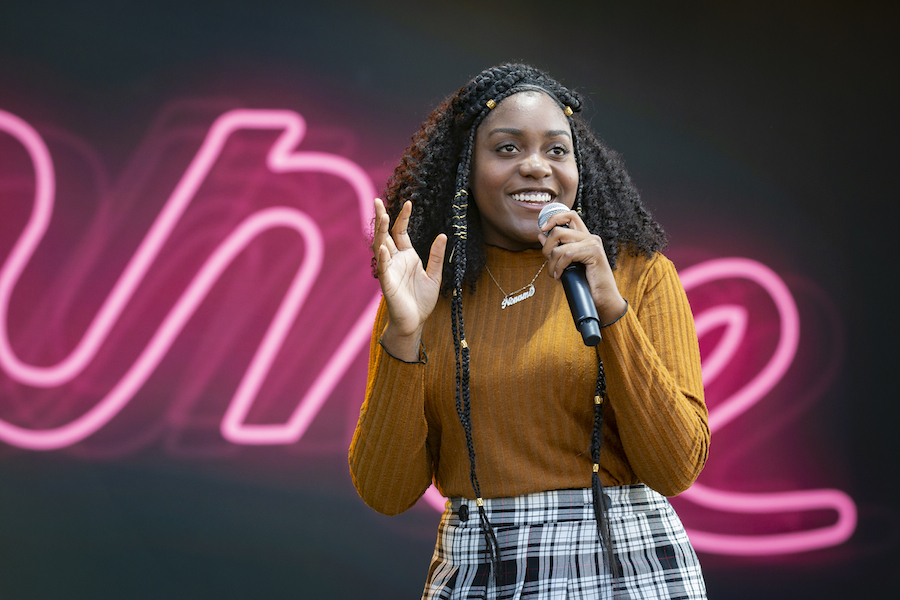 Earlier this month, the artist who goes by the name Nonamedropped her first full-length album, Room 25, a much-anticipated follow-up to her great 2016 mixtapeTelefone. If you're not familiar with Noname, don't worry, we got you. Here's a breakdown of what this cool Chicagoan is all about.
Noname was born and raised in Chicago as Fatimah Warner. She chose the stage name Noname because she wanted to be as open and expressive as possible. Not having a "name" allows her room for creativity and freedom of expression, where she can be anything or anyone she wants. (I think it's fun to pronounce it all fancily, likeNonamè, which is what I thought was correct at first, but maybe that's just me.) In high school, Noname began writing and performing slam poetry before she thought of rapping. She even won 3rd place in Chicago's slam poetry competition, Louder Than A Bomb. Being from Chicago meant that she had lots of local artists to be influenced by and to collaborate with. One of her friends was a young man going by the stage name Chance the Rapper. Before his big rise to fame, he and Noname sometimes freestyled together in the Harold Washington Library in the South Side of Chicago. Their friendship would result in a killer feature in Chance's "Lost", from his 2013 debut albumAcid Rap. In just one verse, Noname made a name for herself and piqued lots of people's interests. Check out her short but sweet contribution two minutes in (before she took the "Gypsy" part out of her name).
Following her collaboration with Chance, Noname took three years to write her very own EP, Telefone, and finally released it to the world in 2016. It was a success in the eyes of music critics, even if it didn't get the most mainstream attention. The concept behindTelefone is that every song is like a telephone conversation. A lot of times, she seems to be talking to herself—the only one on the other line is us, the listener. In the opening song, "Yesterday", she raps about losing people and how death taught her that fame and money are not important. The opening line "The money don't really make me whole" welcomes us to an album sure to be full of serious topics. The themes in Telefonerange from consumerism, death, and police brutality, to love and childhood. The subtle, more relaxed delivery that she brings to all her songs is a different take on classic rap sounds—she's not posturing, she's not trying to get you hyped or angry or riled up in any sense. She's just expressing herself, telling us about her experiences like anyone might... through clever and smooth lryicism, of course.    
My favorite song on the album is "Forever", the most jazzy and instrumental song from an album all about jazzy instrumentation. It's maybe the most upbeat of all the songs on the album and will motivate you to live your brightest life, because they ain't tryna see you shine. The song features fellow Chicago natives Rayvn Lenae, whose vocals mix with Noname's beautifully on the sung chorus, and Joseph Chilliams, who contributes a verse of his own. Although this song is light and airy, its verses are actually somewhat sad, much like her other songs, with inspections of her life and her place in the world.
If you're liking what you're hearing, then be sure to pick up a copy of her new album, Room 25, out now!