ARTIST TO WATCH: Genevieve Stokes
08-25-2022 by Amelia Gorman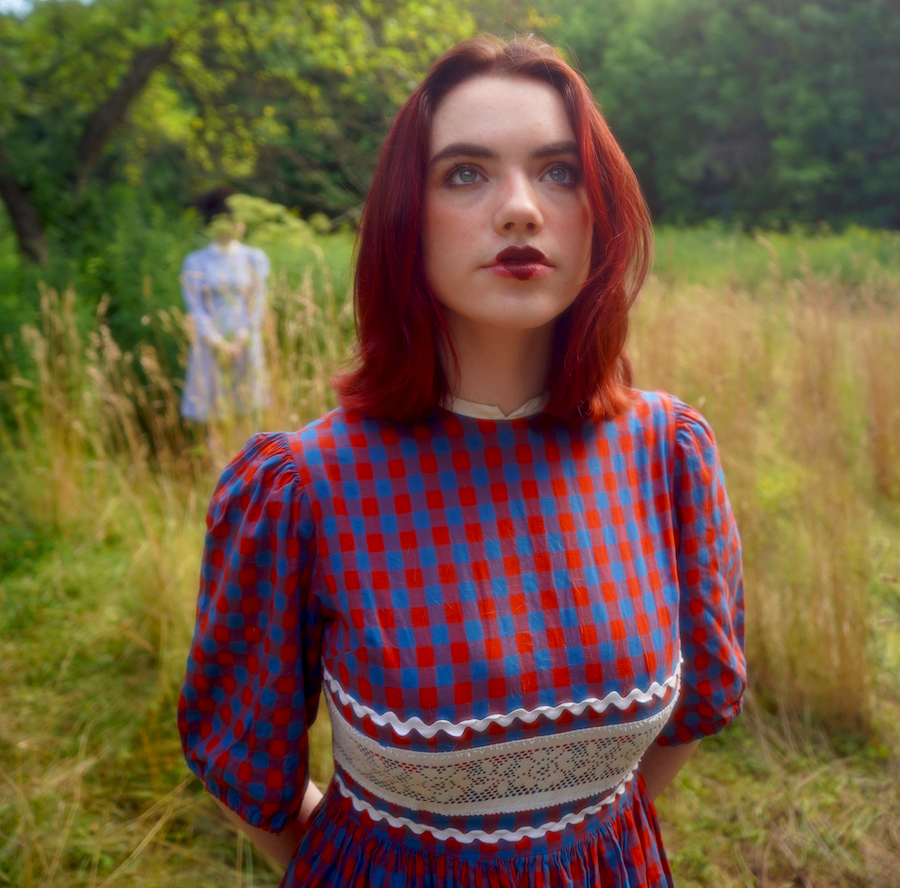 ( © Abbie Pitre)  
Maine-based singer-songwriter Genevieve Stokes is on the rise, and you don't want to miss it. Writing all of her own songs, Stokes's stunning vocals and heartfelt lyrics work together to create a distinctly personal voice throughout all of her music. Her latest song, "Habits", gained over a million views on TikTok prior to its official release, with over 180k videos using the song's audio.
But TikTok virality is just one of many accomplishments Stokes has achieved over the last year-and-a-half. Last March, Stokes released her first EP, Swimming Lessons, a collection of nostalgic, alternative pop songs perfect for any moments of yearning and reminiscing. This past Winter, Stokes got the opportunity to open several shows for Briston Maroney's Sunflower World Tour, playing iconic venues such as The Troubadour here in Los Angeles. After their time together on tour, the two teamed up on Maroney's Sunflower: Deluxe album, adding Stokes's signature soft vocals to the track "Cinnamon".
Stokes also got the chance to play another iconic venue while opening for singer-songwriter Sarah Kinsley at the Bowery Ballroom in New York City this summer!
Most recently, Stokes has been focused on creating more music to add to her already impressive discography. In a conversation with Paper Magazine, Stokes discussed her collaboration with notable music producer, Tony Berg — who has worked with musicians such as Paul McCartney, Fiona Apple, Phoebe Bridgers, and many more icons — on her recent release, "Habits."
And lucky for us, we got the opportunity to chat with Genevieve Stokes about her growth as a musician over the last few years and the inspirations behind "Habits"!
YH: In what ways do you feel like you have grown as an artist in the time since your last EP Swimming Lessons?
GS: I've had two years to grow as a person, and so the lyrical content and overall feeling have changed. I'm a lot more interested in experimental production and revisiting childhood memories.
YH: What would you say your main inspirations for making new music have been?
GS: The original story of Alice in Wonderland as well as its adaptations have been a huge inspiration. Lyrically, I drew from Fiona Apple, Regina Spektor, and Thom Yorke.
 
YH: How has growing up in Maine influenced your music?
GS: It's hard to know for sure, but I'm inspired by being near the ocean and the peaceful lifestyle here. I feel like I'm the most creative when I'm home because I'm more introspective and grounded.
YH: Take us through your process for songwriting — do the lyrics come first and the melody follows, or do you have a very specific process and order you go through?
GS: I usually start by finding chords on the piano and then melody/lyrics come after. I sometimes don't know what the song is about until I've finished writing it, but I usually go back and refine the lyrics.
YH: When you make music, what do you hope for listeners to get out of it?
GS: I just hope people can connect with it emotionally and find their own meaning in it.
YH: If you could work with any musician, dead or alive, who would your dream collab be with?
GS: Fiona Apple or Frank Ocean.
YH: You have a series of comics releasing with the new music; can you tell us about the inspiration behind those?
GS: I wanted to create a storyline throughout the songs and music videos, but I felt like there needed to be another element to piece everything together. My sister made the comics to fill those gaps. I also love mixing medias and I wanted to make the project a multi-layered experience.
YH: Can you describe "Habits" in one word?
GS: Obsessive.
"Habits" is streaming now, so make sure to give this dreamy track a listen!