ARTIST TO WATCH: Edo Ferragamo
11-19-2020 by Zoe Schwartz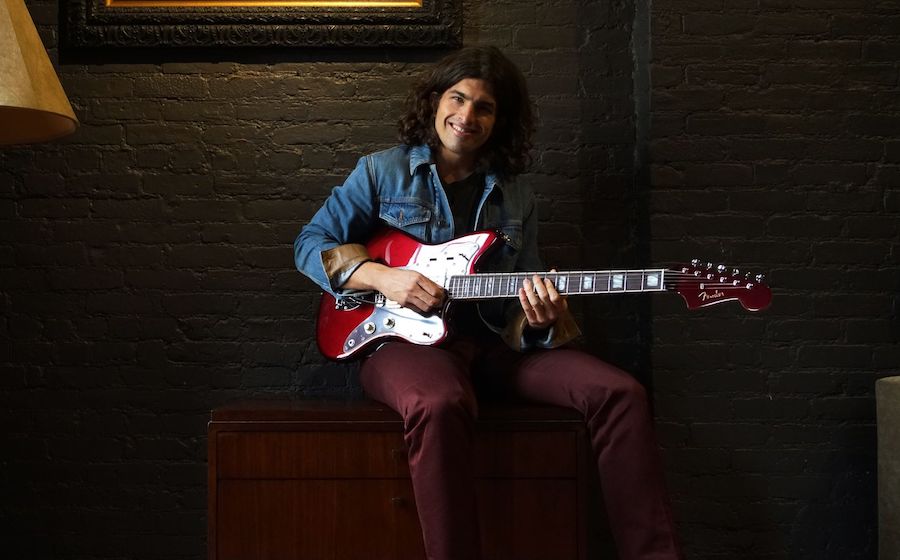 ( © Carla Gulin)  
28-year-old, swoon-worthy Italian singer, songwriter, and producer Edo Ferragamo just released his new song "One Way or Another". Born and raised in Italy, Edo moved to the United States to attend world renowned music school, Berklee College of Music in Boston, Massachusetts. He now resides in New York City, where he has spent much of his time solidifying his brand and allowing his creativity to flourish.

We caught up with him about what it was like to produce an entire album during a global pandemic and the toll these unprecedented times took on him and his blossoming music career. Check out our conversation below!
YH: How has not playing live shows affected your music career?
EF: In a major way -- as a performing artist, live music is the thing I love the most, and it's how I make my career. I almost live for performing, because it's where I feel most confident and most natural, so I definitely miss it a lot. When the pandemic started, I was feeling really low the first few weeks, not only because it was so tragic for the whole world but because I live for the people. I want to be on stage to connect with the audience and feel the vibration of the musicians and the instruments next to me. At times, I thought if live music isn't gonna happen for a while, then why am I even doing this? I was a bit depressed in a way, but human beings are made to face difficult moments like these, so I got my head together and wrote 15 songs during quarantine that are going toward a new album. It ended up being okay, but the beginning was really difficult.
YH: What are you doing in the meantime to get across to your fans?
EF: On Saturday November 21st, I'm doing my first livestream concert. It's on a platform called Veeps.com that basically allows artists to perform wherever they want. Then it's livestreamed and people can purchase their tickets online to watch the show. I've never done this before so I'm really excited.
YH: Are you arranging any small events or digital happenings in order to connect with your fans and other like-minded people?
EF: I was planning on doing a little release party in person that would follow COVID guidelines and have less than 20 people, but now [New York governor Andrew] Cuomoannounced a limitation of 10 people for gatherings, so I'll have to wait on that. 

YH: Why do you think an event like this would be a cool way to bring people together?
EF: The event that I'm still planning to happen at some point would consist of great music and the celebration of art, food, and wine. A dear friend of mine, Andrea Belfiore, who plays in my band, is also an amazing chef, and he cooks for really beautiful events. My idea was to showcase the talents of my friends who I love and work with. My other friend Joe Bastianich was going to showcase his wine and do a little wine tasting for the guests while I played some songs. I want it to be something where people feel well treated in a cool yet familiar, warm, and welcoming environment.
YH: How have you been able to combine the cultural influences of music and fashion?
EF: I think fashion and music go pretty much hand-in-hand, especially in 2020 where both fashion and music make up pop culture. I come from a fashion background, as my grandfather was Salvatore Ferragamo. I never got to meet him, but he passed down the value of high dedication to your passion or craft. Nothing comes for granted, and you have to work hard to achieve your goals. Never assume anything either. When it comes to my music, something that I've also learned from my family is to pay close attention to detail.
YH: How has it been recording music and staying on top of your career during these unprecedented times?

EF: I have to say it's almost been busier than ever. Thanks to technology, I was able to do a lot of writing sessions via Zoom, so during quarantine I wrote about 15 songs. Once I got the songs ready and decided which ones were going to make the album, I went down to Monterrey, Mexico, with my friend Mike Gazzo the first week of July. He is also an amazing producer that I work with, and we went to this legendary studio at Victoria Records and brought together some really good musicians. We plopped down for 5 days in the studio, just recording the songs, and they turned out amazing. I'm so excited because I'm just now starting to release them. I released the first two, "It's Only Been Two Days" withSammy Adams and "Movie in My Mind". The third one, "One Way or Another", is coming out November 19th. Thanks to Zoom during this time, I was able to continue with production. At the end of the day, my career is one of the most important things, because music is the love of my life, so if you want something so badly, you're gonna have to find ways to do it -- as long as you don't break the law.
YH: How is it being an independent artist competing against these major labels and huge artists?
EF: I wouldn't say I'm competing against them, because I'm my own artist on my own trajectory, but right now, as an independent artist, I'm happy to have full control over my artistic vision, and now that I'm releasing my first real project, I don't want to be in a position of being stuck or not in total control of my musical vision and timeline.
YH: How have you been able to get on to editorial playlists on Spotify and Apple Music without having a major label behind you?
EF: I did the regular pitch on Spotify for artists. Between having a good song and the support of TuneCore, which is the distributor I use, it happened. I got in this editorial playlist called "Fresh Finds", which is a playlist for independent artists who are making noise in their own corner of the world. It's kind of like new songs that Spotify brings to you.
YH: Is there any upcoming artist right now that you admire and would like to work with?
EF: Oh yeah, so many. I'm inspired by multiple artists, including John Mayer, who's one of my favorite artists of all time,Imagine Dragons, Post Malone,Coldplay, OneRepublic, not to mention the classic ones: Jimi Hendrix,Led Zeppelin, Pink Floyd… I could go on forever. In terms of up-and-coming artist's, I admireRosie, Sad Alex,Stavros, Sean Mcverry,Fredrik Ferrier, Leah Kate, and many more.
YH: Tell us about the whole EP. who you wrote it with, and what kind of style or mood you were going for.
EF: I'm super excited about the EP, as I wrote It mostly during lockdown over Zoom with writers such as Matteo Scher,Remy Gautreau, and Ben Antelis. The first song, for example, is a collaboration with Sammy Adams. I produced it with Mike Gazzo down in Mexico. The mood is a really pop-rock kind of vibe, so the songs are a bit diverse from each other. I'm trying to get more of an organic type of sound than I used to, like less electronic but more real musicianship. For example, when I went down to Mexico to record a song, I got an amazing piano player (Alex Cervantes), amazing drummer (Javier Garagarza), amazing bass player (Pablo Gonzalez Sarre), and I was doing the guitar and singing. I wanted to transmit what I play live. When I play live, I have this energy that people are really captivated from, and there's this whole musicianship from playing with a drummer or playing with a bass player. When I was recording my songs, they were great, but I couldn't really transmit that same kind of energy because I was doing electronic production or programming the drums, so this time I really wanted to record live instruments. There is a big step up in terms of energy.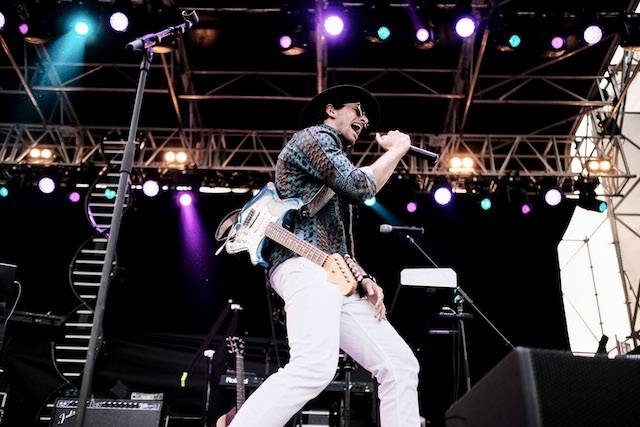 ( © Thomas Dell'Agnello)
YH: What influences your lyrics?
EF: It's a mix of many things: love, my girlfriend, my country, my origins, and lately the pandemic as well. "Movie in My Mind" was inspired by the things I miss the most in situations like this pandemic, that you may have taken for granted before that aren't granted anymore. In my case, this was playing live music. "It's Only Been Two Days" is about a past break-up that was really difficult, and I actually wrote it two days after the break-up happened, which is why I said "it's only been two days but it feels like a lifetime."
YH: Anything else you want fans to know?
EF: I want to just say thank you, because it's so important to be grateful. Sometimes I tend to stress out about the future and in the moment, I can be unhappy because I wish I was at another level, but then it's very crucial to remember to look back and see the things you have accomplished already in the time that has been passing by. For that reason, I'm extremely grateful for all the people that have supported me throughout my journey, but it's only the beginning and there is so much more to come.
.................
Be sure to check out Edo's newest single "One Way or Another" out today onSpotify and Apple Music and head over to Veeps to purchase tickets for his live virtual performance this Saturday (November 21)!
Follow Edo Ferragamo on Instagram and Facebook.