ARTIST TO WATCH: Aer
Written by Jana Rosenberg. Published: June 17 2015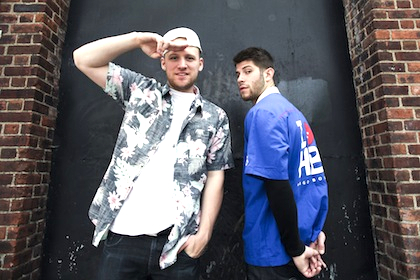 After introducing themselves to the world in 2010 as Boston hip-hop/reggae duo Aer, Carter Schultz and David von Mering have acquired quite the fanbase. I mean, with music that provides good vibes and a summertime feel, how could they not? Since the release of their self-titled album last January, which landed at number 26 on the Billboard Top 200 list, the two have been performing all over the country, providing fans the complete "fresh aer" experience. To kick off the Summer and give people a little taste of their upcoming album, Aer released the fresh new single, "I Can't Help it", with a music video to go along. Check it out:  
Here's what the men behind the music of Aer had to say about themselves, the latest single, and their upcoming third studio album!
YH: How did you guys get together to form Aer?
CS: Met way way back, young babies running the game. Been friends forever, and started making music.
YH: How did you guys come up with the name Aer? 
DVM: Our music is very fresh and organic, so we thought, what is better than a breath of fresh air? We changed the spelling because there already was a band called Air.
YH: Explain the "fresh aer movement" that you promote and refer to.
CS: We see the FAM as more than just music. It's way to connect with fans and have fans connect with each other and be a part of something big. The music is fresh, the vision is fresh.
YH: Was there any inspiration behind your new single "I Can't Help It"? If so, explain.
CS: Haha, yes, there was some inspiration. Let's just say that, while traveling, you meet a lot of great people.
YH: What can fans expect from the upcoming album? 
DVM: This album is a reflection of where we are at right now as artists. It's got some new instrumentation and textures on the production side, and the songwriting/lyrics are some of the best we've ever done. I'm really excited to put it out.

YH: Which songs are you most excited for fans to hear off the new album? 
DVM: I think "The Rain" and "Island" are going to get really strong and surprised reactions, but you never really know what people will think.
YH: Who are your musical inspirations?
DVM: My favorite groups are RHCP, Arctic Monkeys, and Cage The Elephant. They are bands that have their own look, feel, and attitude, and a lifestyle that you can immerse yourself in. I've always liked bands like that.
YH: If you could go on tour with any artist or group, who would it be? 
CS: We'd love to work with the Arctic Monkeys or Red Hot Chili Peppers.
In case you haven't already, be sure to download "I Can't Help It" and stay tuned for details regarding the release of their new album! 
Keep up with Aer on Twitter and their Official Website!
- Jana Rosenberg, YH Staff