ARTIST SPOTLIGHT: Marina And The Diamonds
Written by Raffy Ermac. Published: October 19 2012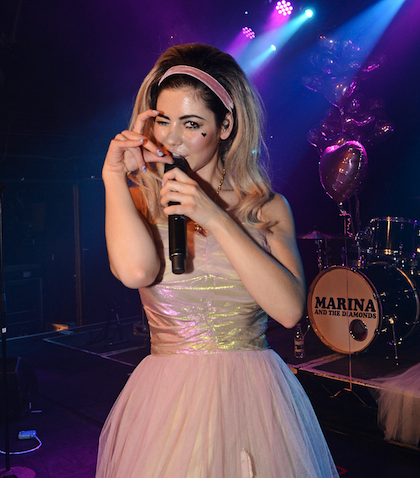 Marina Lambrini Diamandis, better known to the pop world as Marina and the Diamonds, is one of the biggest and fastest-rising stars in the music industry, and it's really no wonder as to why. She is, quite simply, AMAZING.
Born in 1985 in Wales, this U.K. import is a sure-fire chart-topper, and her music (what some describe as indie mixed with pop mixed with electronic) is nothing short of catchy and brilliant, typically describing the struggles and both the light and dark sides of love.
And don't confuse her name for that of a band, because it's not. "The Diamonds" refers to her fans, and not some other people backing on guitars and drums; she is indeed a solo artist, and a darn good one at that.
She released her debut album, The Family Jewels, in the U.K. in 2010, which featured the songs "Hollywood", "I Am Not a Robot", and "Oh No!" But it wasn't until recently that she started making a real name for herself, especially here in the states. Her second album,Electra Heart, came with a bevy of hits, most notably "Primadonna" and "How To Be a Heartbreaker":
The album itself even skyrocketed to #1 in both the U.K. and Ireland, making the fairly new diva, who is known for her retro fashion sense and the heart she wears on her cheek, a pop music force to be reckoned with.
Marina has already toured with the likes of Coldplay, and after her first North American headlining tour this past summer, she is going to be hitting U.S. stages again in December for another go-around on her Lonely Hearts Club Tour.
Make sure to keep listening to this sultry pop siren, because we're sure she is going to be doing nothing but making more infectious and oh-so-catchy music we can all love!
(Image via Chris Jepson/WENN)
- Raffy Ermac, YH Staff