Q&A: Jewelry Designer Mimi So
Written by Sarah Osman. Published: October 13 2012
Mimi So is the CEO and Creative Director of Mimi So, a collection of fashion-forward fine jewelry. At the Luxe Hotel on Rodeo Drive, I got the chance to catch up with Mimi, and I was instantly drawn to her warm personality and quirky sense of humor. Mimi's knowledge of fashion and jewelry is extremely impressive (she should be a judge on "Project Runway"; make this work, Tim Gunn!), and during our chat, I actually learned a great deal about style and how to properly accessorize my own look!
Mimi's jewelry has been worn by Jennifer Lopez,Beyoncé, Reese Witherspoon,Anne Hathaway, Drew Barrymore,Mariah Carey, Diane Lane, andJessica Simpson. Born and raised in NYC, Mimi comes from a family of jewelry designers. She received her B.A. from Parsons School of Design in New York, and the combination of growing up in NYC, attending Parsons, and her family background has helped to influence Mimi's work. She is one of the first jewelry designers to create fine jewelry that is not only glamorous but functional. Each one of her pieces carefully focuses on the design, idea, and wearability of the piece itself.
Mimi discussed what inspires her, her latest collection, and what it's like to visit two different Fashion Weeks -- in the same week!
YH:  When did you first become interested in becoming a fashion/jewelry designer?
MS:  I have never been in the fashion industry. It's more of the fact that I created a niche for our brand many years ago of the hybrid between fine jewelry and fashion. A lot of our jewelry was featured on the show "Sex and the City" for a long time, from when it first started all the way to the movie. With this generation, we now dress the girls on "Gossip Girl". We dress Blake [Lively] and Leighton [Meester] now. It's really cool that our hand is always helping dress others. And that's the part that we really love is that our pieces are communicated with the world and the women out there. Traditionally, fine jewelry is not perceived as quite fashionable. I come from a 3rd generation of jewelers, so I already have the foundation of what fine jewelry actually is. But since I studied at Parsons, and since all of my suitemates were in the fashion arena, and growing up and being young in New York City... well, it's impossible to not be inspired by fashion! All of those elements combined evolved into this sort of high fashion/fine jewelry hybrid.
YH:  You grew up in NYC, and actually still live there. How has the city influenced your work?
MS: I think that growing up in NYC, and in the melting pot of a great city, it really created this platform for me to develop my interests. When you're surrounded by such tall buildings, and the city itself, your taste starts to develop a certain way and goes in a certain direction. The city inspired my use of working with metals and gem stones and the way that I combine them, and has inspired me to make them more edgy, as I live in a very edgy city. NYC is full of a lot of concrete and cool neighborhoods to discover. In a way, living here is a lot like creating jewelry, because when you make jewelry, you are constantly discovering neat little gems and taking them from their natural form and state and transforming them into a beautiful piece that one can wear, whether its around their neck, on their wrist, or on their hand. There are actually a lot of parallels, now that I think about it. When you're living in NYC, or designing jewelry, you are constantly discovering and evolving, and it's all part of the creative process. NYC is just a huge part of me and of my designs. My jewelry has a very architectural design to it, which is actually inspired by the different neighborhoods and buildings of NYC. My jewelry has an aerial view to it! [laughs]
YH:  How has your education at Parsons helped to influence your work?
MS:  My education at Parsons helped me to design the kind of jewelry that I would want to wear. I would always help style my friends by picking out what sort of jewelry would go with their outfits, and I remember all of my sessions in class where we would discuss what accessories would go with what look, whether it was a gown, evening wear, or day wear. That's part of the process that I have always loved to this day, the conversation of what accessories go with a certain look. And when you are at Parsons, where every day you are talking about fashion, or someone is showing you what you just made, you are constantly surrounded by fashion, and you really don't think about it. When I was at Parsons, fashion was just such a daily part of my life; it was such an immersive experience, I didn't even think about it.
YH:  What sort of designs are you currently working on, and what is one of your favorite designs that you have ever done?
MS:  One of the most special is the Piece collection, which has the signature logo of our brand. It represents the past, the present, and the future. It actually moves -- it's a piece necklace, because we always move forward in time. The shape and design of the necklace is actually based off of my childhood window. When you're little, until this day, you are always looking outside of your window. And growing up in NYC, having a window is luxury! And having a window with a view is everything! That's something that's very close to me, and I feel that we all have a window in ourselves. We all have a present, a past, and a future; you are curious about your future, which is why the biggest frame is the future.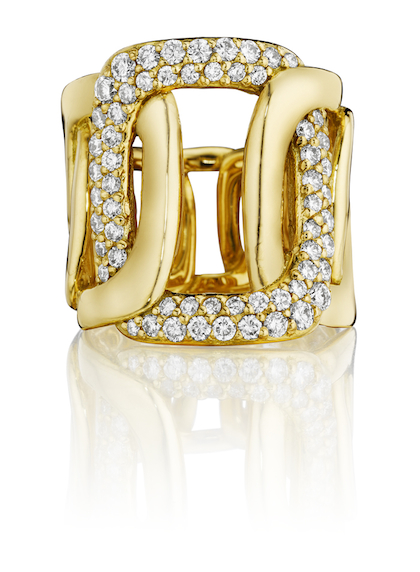 YH:  That's actually very poetic.
MS:  All of my collections are actually poetic, because the work that I create as an artist has to connect with me. I try not to create pieces that are not only beautiful but give some meaning back into the world.
The second collection that I really love is Jackson. Jackson is based off of Jackson, Wyoming, which is one of my favorite places. I visited there during the winter wonderland time, which was in December. It was so beautiful, and so pristine and white, it was perfection. I was reflecting on a lot of things that were going on in our world, such as how we see ourselves, our friends, and our family. Every single shape in the ring is a representation, such as our friends, our families, what we have in our surroundings that means something to us. Everyone is trying to think how to get their lives in this perfect picture puzzle, and I thought about how our lives are like puzzles, and how do I put all of the pieces together? In the end, as long as all of the pieces come together, then it is our own perception of beauty. All of the pieces didn't have to fit perfectly, as each piece of our lives is different. The ring is also so shiny because it reflects a mirror image of ourselves. And the diamonds on top represent the snow blanket of Jackson.
The third collection, and the most colorful one that I have, is calledZoZo. It's very oceanic, beautiful, and organic. I created this one because I like very clean, simple designs. We call them "modern/timeless". You can wear my designs every day with every sort of lifestyle. I wanted to create pieces that you could wear with jeans and a T-shirt, and it still looks great. I don't really believe in creating fine jewelry that is just meant to sit in your jewelry box. I believe in enjoying the pieces now. The most meaningful pieces are the ones that you wear every day, that people always recognize on you, that they know is your signature piece. Jewelry is very personal.
The latest collection is called Phoenix. It's about people who have gone through lots of challenges, and how to take those negative experiences and turn them into something positive. It's about freedom, inner beauty, and believing in yourself. The phoenix is the female bird in Chinese culture, and she is a very strong bird. She's a very positive figure of rising up above anything. I really wanted to create something that was unisex, that both females and males can wear. So I created these two different bands you can wear around your wrists, that have two different sides of the phoenix, so that you can stack them. The phoenix is very symbolic and important to me, and I felt that the public could connect with me. That is very important to me, that the public can connect with me and share in who I am as a designer.
YH:  What are some of your favorite metals to work with and why?
MS:  There are so many to pick from, but I love to work with precious metals. I love the warmth, weight, and feel of precious metals. I really love the color of them, and I also love the longevity that precious metals have. I work with a lot of precious stones, such as emeralds, diamonds, and color stones. I connect with different ones, because each one has symbolic meanings of the energy that it gives off. I am very particular about not working with certain stones that I don't feel a connection with. Some stones are very cold; the names are just very strange. I will work with other materials with the stone to help bring out the energy and beauty of the stone.
I am also particular with clasps. I like to make versatile clasps, so that you can wear certain necklaces as bracelets. I try to make the length of my pieces quite versatile as well, so that they are very fluid and can work with different-sized necks and wrists. A lot of my pieces also have small touches that keep them very personalized, so that each piece is unique and special to its wearer.
YH:  How were your experiences at Fashion Week this year?
MS:  Fashion Week in NYC was a little bit hectic. I was there for a brief moment, then I had to jet off to Tokyo to do an event at a department store called Isetan. It was a lot of fun to be at two different Fashion Weeks simultaneously. The Fashion Week in Tokyo was celebrated on a huge scale, as they are advocates of the fashion world. I was actually in the Harajuku District, and I saw all kinds of fashion! It was really exciting and fun.
I love the energy and pulse of Fashion Week in NYC. I love all of the seat-grabbing, and air-kissing, and who's who -- it's Fashion. [laughs] At Fashion Week, there is always someone dressed in some sort of way, sitting in that front row, that's quite entertaining. Someone had real fur shoes on. It was wild!
I love the style of NYC, because it's such an expression of who everyone is. In NYC, everyone tries to express themselves through fashion, whether they have $10 in their pocket or a million bucks. Whereas in L.A., people stare at you a bit differently if you are wearing something a bit more odd, while in NYC, people are like, "Child, I don't care, I'm wearing what I want, when I want." [laughs]
YH:  I noticed that you also custom design engagement rings. Do you have any particularly moving stories about helping one pick out an engagement ring?
MS:  There are so many stories, because engagement rings are such a personal affair between the man and the woman, and you are the liaison making sure that you are creating that magnificent ring for someone pledging their love. To this day, that process tickles me. There are never two rings that are alike, because they are customized to each couple. It's very interesting. There are so many funny and wonderful stories. It always feels like a confession booth when couples come to see me. It's insane. You have the ones that are a total surprise, and the ones where she knows exactly what she wants. I have had the entire families of both sides come in to help pick out the ring! I have worked with that. I knew it was going to be great if I could get through both sides of two very different families and make them all happy with the ultimate ring. It was like a movie in itself! Everyone had to have their own say.
YH:  I particularly like your Bow collection. Where did the inspiration come from for these pieces?
MS:  TheBow was inspired by the olden days when you would tie a string around your finger to remember something that you weren't supposed to forget. Back in those days, there were no post-it's or smart phones to talk to. It was a bit romantic. I jokingly said to a friend of mine that if I were going to tie a string around my finger to remember something, it would have to be a string of diamonds. We just ran with that idea. I'm not really a bow girl, so it was a challenge for me -- how could I make a bow be bold, architectural, asymmetrical, and that also looks fluid and soft? That whole idea sparked me to want to create a fabulous bow ring for all women to wear. Most bows we see are very flat. It's hard to make an edgy bow. I was very happy that we managed to create an edgy bow ring.
I actually fantasize about having a giant bow ring that is geometrical as an installation, whether it's in a museum or outdoors. I would love to see that. It would be interesting to see what it would be made out of. I wonder what sort of material would work for that. I think that iron could work well. It would be really cool!
YH:  You have done a great deal of traveling in the past few years. Which places have had the greatest influence on your work, and why?
MS:  Some of my favorite places are in the Far East. There are some beautiful places in Japan outside of Tokyo, such as Kyoto. There are some beautiful spots in Thailand. I think that the food is also such an important part of the culture. It was very interesting to visit Hong Kong and Shanghai, where you have very modern parts of the city fused with very old quarters. That was very cool to see.
The Middle East is fascinating because it is so over-the-top, particularly Dubai. There was a giant aquarium with sharks next to an ice skating rink, all in one mall. It's just beyond anything I could ever imagine!
The European cities are so romantic. Europe is all about the romance -- from the old buildings to the quaint streets of the neighborhoods, whether it's in Italy, Paris, or parts of Germany. I have traveled the world, it's great fun. I really want to visit Australia. Traveling a lot has definitely influenced my design abilities.
YH:  What we can look forward to seeing from you next?
MS:  That's a big question! I'm always working on my collections, and always raising that bar for myself for what I feel will speak to a lot of people internationally. It is a challenge to reach out to women all over the world, which is quite fascinating to me. I am continuously building our brand internationally, and my next destination is London and Paris, where I am in the midst of talking to a few stores about carrying Mimi So. Then I'm back to NYC, and developing a store in Shanghai. I am hoping to see a few of my pieces pop up at some upcoming Awards shows too! I will hopefully be pleasantly surprised!
(Photos via Mimi So)
- Sarah Osman, YH Staff