ARTIST SPOTLIGHT: Mae Whitman
Written by Amanda Baltazar. Published: July 09 2015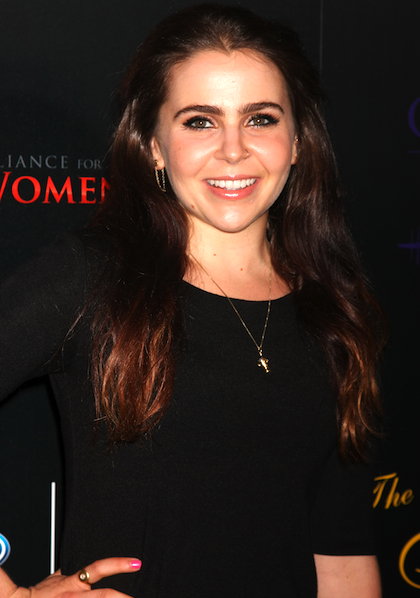 Mae Whitman is my spirit animal.
The talented actress is most known for her roles as Ann Veal in "Arrested Development" and Amber Holt in "Parenthood" (and President Whitmore's daughter in Independence Day, for you old-schoolers our there). Most recently, she starred in the movie,The Duff.
Mae is young, beautiful, quirky, talented, down to earth, and hilarious! She started voice acting at age three and booking commercials. In 1994, she made her acting debut in the movie When a Man Loves a Woman, starring Meg Ryan, continuing on in the aforementioned Independence Day and also One Fine Day starring George Clooney. All before the age of 9! Not too shabby!
Later, she continued to act in various television shows like "JAG" and "CSI" and developed her voice-acting skills in many different animated projects including "The Wild Thornberrys", "American Dragon: Jake Long", and she was even the voice of Katara in "Avatar: The Last Airbender".
In 2004, she landed a recurring role on "Arrested Development", and in 2010, she very memorably appeared in the movie adaptation of Scott Pilgrim vs. the World.
In the same year, she began working on a little series called "Parenthood". Whitman's role on the NBC show called for a more dramatic and serious tone that we weren't used to seeing from her mainstream roles. The show had six successful seasons, earning them a People's Choice Award for Favorite TV Drama. On the show, Whitman showed off her singing abilities a few times too, including a performance withLandon Pigg. Since then, she's recorded some Christmas songs and is featured on a few indie bands' records.
Check out Mae and her "Parenthood" co-star Miles Heizer singing and rapping:
See? She is AMAZING.
Whitman also appeared in Tegan and Sara's music video for their song, "I Was A Fool".
There's no doubt that Mae Whitman is super talented and beautiful, but the reason I admire her is for her message and outlook on life, bringing positivity and inspiration to others. You can see in a lot of interviews that she may not fit the "typical" idea of a Hollywood scarlet or leading lady, but I see her humor, spunk, and intelligence rolled up in a quirky, petite, and humble, gorgeous girl with beautiful hair!
Check out her awesomeness in the YH Studio to see what I mean:
I had the privilege to attend a Film Independent script reading at LACMA where she was doing a reading for Groundhog Day, and I was completely in awe of her rambunctious personality and energy she brought to something as simple as a script-reading. Mae Whitman is my Anna Kendrick and JLaw put together. She is beautiful, talented, hilarious, different (most definitely in a good way!), and real.
She's so awesome, in fact, that she still shared her time with us when we visited the set of "Parenthood" even though she wasn't feeling well!
Keep doin' you, Mae! We love ya!
(Photo via Nicky Nelson/WENN)
- Amanda Baltazar, YH Staff