ARTIST SPOTLIGHT: Kacey Musgraves
Written by Raffy Ermac. Published: February 19 2014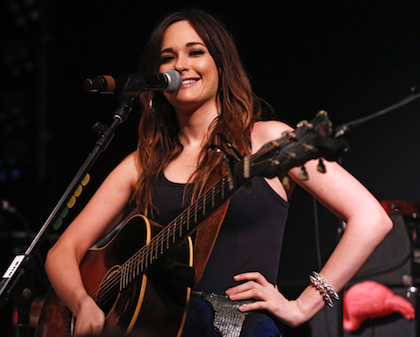 If you're anything like me, or the rest of mainstream non-Country music-listening America, then the second you saw what looked to be a cowgirl in studded boots and a dress/lamp hybrid combo performing on stage at the Grammys, the only thing that came out of your mouth was a big, loud  "Who on Earth is that?!?"
Although her performance outfit was indeed flashy and unconventional, there is no doubt that up-and-coming country queen Kacey Musgraves owned it and didn't have a care in the world about what people said about her. Which is something very admirable in an industry where all artists seem to want to do is impress and outdo others.
A native of Texas, Musgraves has actually been on the music scene for a while, and before she made an appearance on the reality singing competition "Nashville Star" (because who hasn't been on a singing competition nowadays?) was a very accomplished artist who loved her craft so much that she released her own records without the help of a major label. Where most people would have given up by now, she pushed through, took any opportunity she could get, and is now probably laughing in the face of her haters with a Grammy in each hand!
Her "stick to your guns" attitude and her propensity for real, truthful, in-your-face lyrics eventually led to the right people and the right label, which in turn led to the release of a major label debut, 2013's Same Trailer Different Park. One of the best and most popular songs off that record is "Follow Your Arrow", which, with lyrics like "So, make lots of noise, kiss lots of boys, or kiss lots of girls, if that's something you're into…", makes Musgraves not only a country artist for the 21st century but also shows just how innovative, edgy, and accepting she really is in a genre usually dominated by more conservative thoughts and attutudes.
Other fun songs of Kacey's include "Merry Go 'Round" and "Blowin' Smoke":
If you like lively, different, and gorgeous spirits with a talent and flair unlike other artists in country, then you need not look farther than Kacey Musgraves.
(Photo via Sebastian Gabsch/Future Image/WENN)
- Raffy Ermac, YH Staff