ARTIST SPOTLIGHT: Frank Turner
Written by Greg McIver. Published: August 19 2015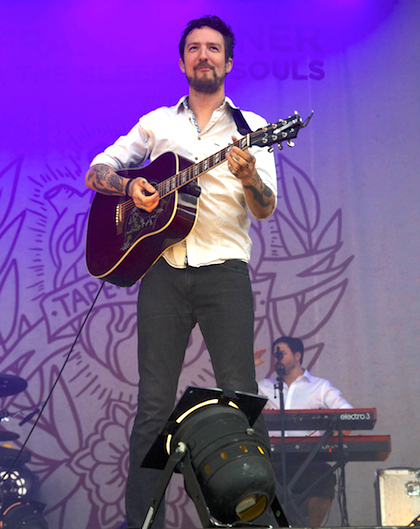 Many moons ago, I had the pleasure of meeting Frank Turnerhere in Orlando when he opened up for Flogging Molly at The House of Blues. My roommate was a fan, but I had never heard a note of his music; a fact which I broke to Mr. Turner pleasantly enough when we stumbled upon him operating his own merchandise booth prior to the show. A drink was offered to him, which he declined until after he finished his set, and we chatted for a bit longer until it was time for him to take the stage. A short time later, after he finished performing, I became the biggest Frank Turner fan in the building and proceeded to prove this point by attempting to talk his ear off for the rest of the evening and, inexplicably, trying to shake his hand more times than is absolutely necessary when trying to ingratiate yourself with someone you admire. Perhaps it was the influence of my companion Pabst Blue Ribbon that boosted my enthusiasm for this artist, but I honestly think it had more to do with the fact that Frank Turner is an incredible artist and showman. Fast-forward to today (I've always wanted to begin a sentence with that) and Mr. Turner is still displaying said incredibleness with his latest albumPositive Songs for Negative People.
For those of you playing the home game, you'll know that my scribbling tends to be focused towards film and television, and that I rarely choose to write about music. But every so often, one must put aside their planned retrospectives on Jaws 2 and Rob Zombie'sHalloween and focus on a band or artist that is truly capable of amazing things. Frank Turner and his band The Sleeping Souls have 5 times prior brought their eclectic mix of english folk, rock, gospel, punk rock, lust, love, and, hell, even a smattering of romance to audiences around the world, and the results have been fine ones indeed (even Tape Deck Heart). With their 6th album, they do no less, and my amazement and enthusiasm for what they are able to accomplish with their music has not been diminished in the slightest. Once again, from my perspective, I am the biggest fan in the room.
So, why is it that I believe in Frank Turner and his music more than the other more mainstream acts out there gobbling up the spotlight? Is it because I'm a fan of punk, and his style of music (which has been called Folk Punk, much to Mr. Turner's chagrin) touches toes with that genre somewhat? Meh, I don't think so, because just a simple song with him playing a single acoustic guitar has just as much power, if not more, than any punk-fueled anthem that Bad Religion ever produced. Is it because he took the time to shake my hand copious amounts of times while wondering why the hell he didn't spring for the extra security around his merch booth? I don't think that's really it either. At this point, I have no choice but to blame the music. Frank Turner's songs can range from powerfully raucous tunes filled with great fun to simple and soulful acoustic confessions. Both of those examples, regardless of their different deliveries, are nothing short of poetry and come from painful, sorrowful, joyful, and anarchic places within Mr. Turner that yearned to be expressed through some of the best music that is being played today. There are no empty calories in his songs, and I firmly believe that the passion behind them is fueled by more than just a desire to be successful, which, of course, he is and rightfully so. And if naivety has secretly taken over and transported me to a place where things are not as they seem, then I am perfectly fine here and wish no rescue.
Getting back to Positive Songs for Negative People, the standout tracks on that album are Tracks 1 through 12, although if you purchased the deluxe edition, then your favorites might go as high as Track 22. If my aim when writing this article was to keep my inner fanboy at bay, then I might have failed a tad bit miserably. But as I stated at the beginning, it is rare that I do a piece about music, and if this is the last one I do, then covering a Frank Turner album is no better way to wrap things up. Positive Songs for Negative People is available for download on iTunes, Amazon, and many more fine online stores across the internet.
(Photo via Miroslav Menschenkin/Future Image/WENN)
- Greg McIver, YH Contributing Writer