Past Champs Battle It Out on "America's Best Dance Crew"!
Written by Brittany Taormina. Published: August 12 2015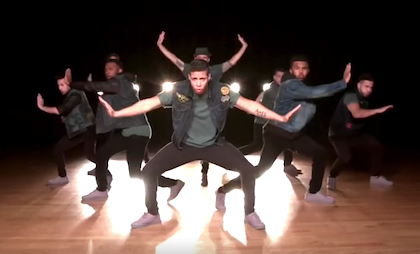 "ABDC" is BACK! And they are on the road to the VMA's!
Just like the robot-esque female MTV voice said, the winner of Season 8 of "America's Best Dance Crew: will be performing in the finale at the MTV Video Music Awards!
With a whole new panel of judges, including T-Pain,Teyana Taylor, and Frankie Grande, this season is sure to build up to a crazy and exciting VMA performace! The twist about this season, aside from being able to perform at the VMAs, is that five of the six crews are returning winners of past seasons, so the competition is going to be fierce!
Check out the first performance in the season premiere where all the crews were able to show off their moves with Ne-Yo, via the new 360 degree YouTube feature!
Let's get the low down on the crews competing this season!
Super Cr3w
As Season 2 winners, Super Cr3w has since opened dance studios and appeared in movies like Battle of the Year and Planet Bboy. They have also appeared in music videos and toured with names likeMissy Elliot, J.Lo, and even their Bboy brothers Jabbawockeez at their show in Las Vegas. They are fearless and they are ready to show the world once more time why they're called Super Cr3w.
Quest Crew
Quest won Season 3 of "ABDC" and have only built their Quest Empire higher and higher as a crew and as individuals. They went on tour and appeared in a fewLMFAO videos. D-Trix a.k.a.Dominic Sandoval has gone on to become a YouTube sensation in his own right and has even served as a judge on ABDC in later seasons, and now he is back with his Quest brothers to defend their championship. It's their creativity and innovative choreography and ability to push the boundaries of practically all hip-hop dance styles that makes them a force to be reckoned with.
We Are Heroes
These Season 4 champions are the first and only all-female crew to win "ABDC". These fierce ladies have also gone on to to perform on shows like "The Ellen DeGeneres Show" and "Oprah". Members of the crew are from all different parts of the world, but they come together to form a fatal female crew to inspire and dance.
I.aM.mE
Champions of ABDC Season 6, I.aM.mE has coined the term "Brain Bang" dance style, creating objects, shapes, pictures, basically anything with precise timing of movements with their bodies coming together. This style has recently become more and more popular with many different crews; another crew that embodies the strength and success of an imagination with limitless bounds. Each member has gone on to gain more and more success as dancers and choreographers. Two have even gone on to compete in "So You Think You Can Dance". Jaja Janovick, you may have noticed, isn't joining the crew this season because she is currently on this season's "SYTYCD" cast. Go Jaja!
Elektrolytes
Season 7 winners, the Elektrolytes, have performed internationally, bringing their high-energy dance and stunts to their fans and have spearheaded a strong presence of hip-hop dance in the Arizona community.
Kinjaz
Now to the mystery sixth crew. Who are these Kinjaz, and why are they given the opportunity to compete against the ranks of past "ABDC" winners? Well, their crew may be the newcomers to the "ABDC" stage, but they are actually made up of members from past "ABDC" crews like Jabbawockeez and Kaba Modern! (Gotta shoutout to my alma mater, University of California, Irvine, where Kaba Modern was formed. #UCIpride #Zot) Anyways, Kinjaz members all have their own street cred, if you will, in the dance community, so it is only right that they are ushered in with open arms to "ABDC". And, well, they're not holding anything back as they compete with these past champions.
"ABDC: Road to the VMAs" airs on Wednesdays at 11pm. Check out our exclusive behind the scenes look at the show, including interviews with the host and judges, below!
(Screenshot via YouTube)
- Amanda Baltazar, YH Contributing Writer