7 Chilling "Goosebumps" Episodes for a Halloween Mini-Marathon!
Written by Amanda Baltazar. Published: October 31 2016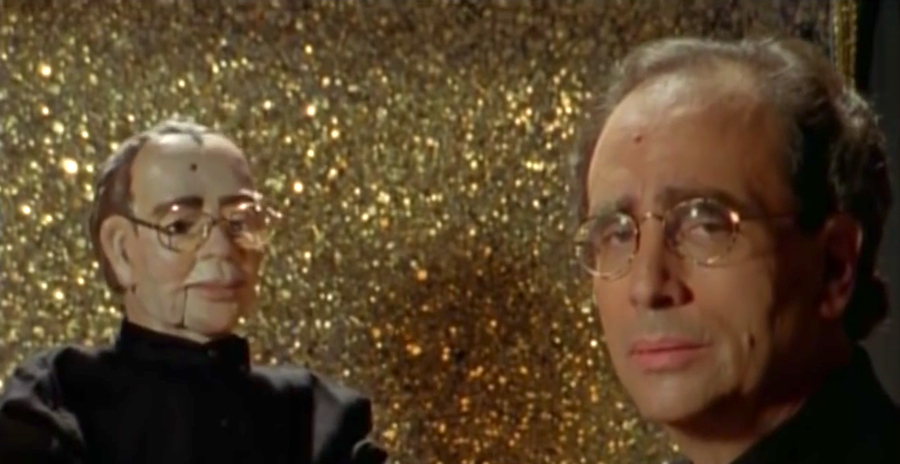 Readers -- or, in this case, watchers -- beware, you are in for a scare!
This intro still gives me chills to this day...
Halloween is finally here, my little ghosts and ghouls, and what better way to get into the spooky and spine-tingling mood than to watch some classic, throwback, scary "Goosebumps" episodes? Where can you watch them, you may ask? Well, good friend, they are on Netflix. Four seasons and even a few bonus specials...
If you've got loads of Halloween parties to go to today/tonight and can't have a full blown marathon like some people … like… me, then never fear, because here are what I believe to be the seven scariest "Goosebumps" stories/episodes on Netflix right now for a mini-binge! 
Night of the Living Dummy Series
Spanky is back! Of course, he is. Absolutely, the most creepy story of the series, Spanky, the possessed puppet, always finds a way to come back and get revenge, and almost all the episodes always leave room for Spanky to come back with those creepy eyes! Why, R. L. Stein, why??
One Day at Horrorland 1 & 2
This story is sick and twisted -- bring the whole family on an amusement ride of death! The Morris family finds their way to an amusement Park called Horrorland, and after escaping near deaths on various rides and attractions, they find themselves in a gameshow fighting for their lives! This one's a two-parter, so you know its good.
Haunted House Game
For all board game lovers, this story follows two babysitting besties, Jonathan and Nadine, who find a mysterious board game and decide to play it in a Haunted House. The story behind the mysterious game starts to unfold and it seems that they weren't the first kids to play this game and they probably won't be the last!
Chillogy: Squeal of Fortune, Strike Three… You're Doomed! and Escape from Karlsville
This one might be cheating because it's three parts, but all together it gives me the willies! This horror is about a model town and its victims. First Jessica, then Matthew and Todd, make their way through the town hoping to destroy it, but Karl from Karlsville is one sneaky man...
Say Cheese and Die
Yes, check out the thumbnail of the episode. That is baby Ryan Gosling. But don't let that cute face fool you! This story is about a boy and his friend who find a camera that takes horrific pictures of what seems to be normal things. The boys find out that the camera is cursed and have trouble getting rid of it.
The Haunted Mask
Looking for a good scary Halloween mask for this year? Well, don't get the one from this episode! A quiet girl who is constantly bullied and made fun of finds a way to turn the tables on those who torment her. She finds a mask that has everyone running scared. She refuses to take the mask off and finds herself becoming the mask! Makes me think twice about what mask I put on.
The Girl Who Cried Monster
This tale is about a girl named Lucy who loved to tell scary monster stories until one time she realizes that one monster story is true, but now no one will believe her. And guess who the monster's got their sights on?! 
What's the scariest "Goosebumps" story YOU have seen or read?
HAPPY HALLOWEEN!
(Image via YouTube)
- Amanda Baltazar, YH Contributing Writer