6 Reasons We Can't Get Enough of "Queer Eye" Season 2!
Written by Meg Spaulding. Published: June 22 2018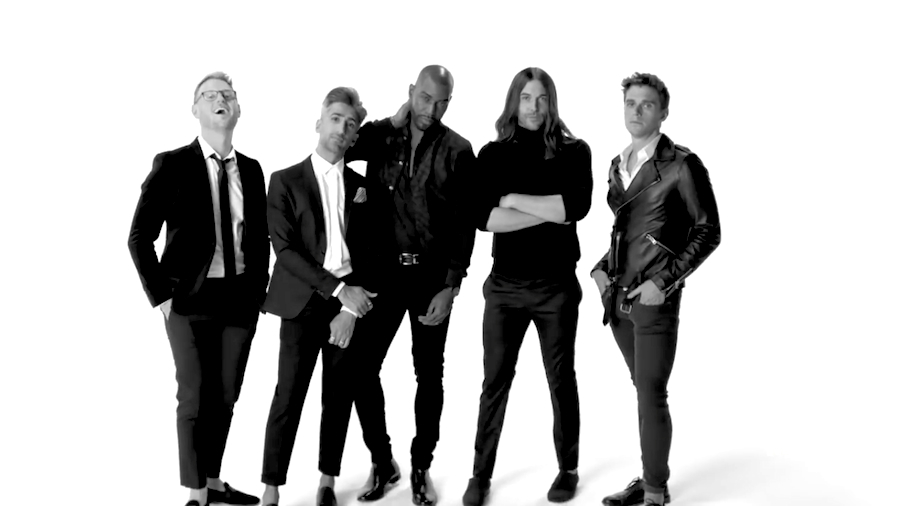 "I'm not crying, you're crying!"
That's the tagline for the new season of "Queer Eye", because Netflix knows how it goes. Season 2 of "Queer Eye" is out now, much to everyone's delight, and you can cry your way through eight touching new episodes. And if you're wondering how they managed to crank out an entirely new season so soon after the release of the first season, we learned from their recent visit to the Young Hollywood Studio that Season 2 was filmed at the same time as Season 1, which explains the quick release—usually Netflix makes viewers wait agonizingly long periods of time between seasons (looking at you, "Stranger Things"). It should have come as no surprise that viewers couldn't get enough of Season 1, but at least now Netflix knows that the people are always ready for more "Queer Eye".
I know you're probably rushing off to watch the new season right this instant, but just in case, here are some reasons to check out Season 2!
1. We learn more about each member of the Fab 5.
Everyone loved getting to know the Fab 5 in the first season, to the point that, by the end of Season 2, they feel like your old friends. In this new season, the guys dig deeper into their own personal backgrounds. We learn about Bobby Berk's struggle with religion and his religious upbringing, and we learn aboutKaramo Brown's life as a parent. Without giving too much away, each man comes away from a makeover with a deeper understanding or insight into themselves and their subjects, and we as viewers in return gain a deeper understanding of them.
2. It's good for your cheek muscles.
"Queer Eye" knows how to make you cry, but what I've noticed about Season 2 is how much it also makes me smile. During every episode comes a point where I realize I'm sitting there with a gigantic grin on my face. Everyone is just so sweet and their subjects become so confident, you can't help but smile wide during every episode. The sweet moments, not to mention the jokes and banter, just keep coming. Check out more of their silliness below!
3. It challenges stereotypical masculinity.
"Queer Eye"'s approach to masculinity in Season 2 is aimed at education, as the Fab 5 attempt to teach their makeover subjects and their viewers that old ideas about masculinity can stifle their subjects' growth.Tan France and Jonathan Van Nessoften repeat that taking care of yourself is not "feminine" or "girly". They know that there's no one version of masculinity. The Fab 5 remind us gently that society's old ideas about masculinity and self-care are simply not cutting it anymore.
4. You can watch their friendships deepen.
Besides featuring some adorable romances, Season 2 features that powerful friendship and love that the Fab 5 all share, and are quick to share with their subjects. You can tell that the guys are more comfortable around each other. They crack more jokes, they share their stories, and they care for each other. These friendships are another example of how the Fab 5 are fighting back against assumptions that men can't have close, loving friendships with other men. I think everyone wants in on this wonderful five-way friendship.
5. You'll root for the men AND women.
That's right, this season has a woman participant. Get ready, because she's gonna make you cry. The Fab 5 give Tammye the respect she deserves—in this episode Antoni Porowskilearns a recipe from her instead of the other way around. This woman touches all five of their hearts, and she'll touch yours too. The rest of the male subjects are sweet, caring, and complex men who you'll love to root for. Watching their quiet moments of confidence at the end of each episode, after all their vulnerability, is touching.
6. Plus, learn more about self-care.
You will genuinely learn something new during this season, whether it's home decor, fashion, food, beauty, or personal growth-related. In Episode 2, I learned what a "French tuck" was and it's all I've thought about since. These guys have so many tips and tricks, you'll start to feel like maybe you should be writing all of this down. Besides the practical stuff, you will learn about the power of love, strength, and confidence, from both the Fab 5 and their subjects. You will be reminded to never judge a person before getting to know them, which you can think about as you rush to the store to buy your first-ever jar of pomade. Who knew it was so important?
Before you dive into a fun, emotional, fabulous new season, check out this fun music video with the Fab 5 and Betty Who as they reimagine the iconic theme song from the show. Like the song says, in "Queer Eye" Season 2, things just keep getting better.
(Image via Netflix)
- Meg Spaulding, YH Contributing Writer