5 Things You Need To Know Before Coachella Weekend!
Written by Jordan Cioppa. Published: April 11 2019
(© Kevin Mazur/Getty Images)
We are approaching what has basically become an annual holiday for music-lovers, Californians, and celebrities alike. That's right, it's Coachella 2019! The Coachella Valley Music & Arts Festival is a world-renowned musical celebration known for its dreamy Bohemian aesthetics and, as of late, star-studded gatherings both on and off the stage. Coachella started out as an ordinary music fest and has blossomed over the years into a whole experience and state of mind. That sounds dramatic, but it's true. Coachella is more than just the music that it stems from. It is a place for people to express their inner free-spirit and to dress however they feel best allows them to do so. So, on this Coachella Eve, I am going to explain everything there is you need to know about the festival!
1. Where is it?
The Coachella Valley Music & Arts Festival takes place at the Empire Polo Club in Indio, California. Even the name of this place sounds like it was made for Coachella. This Southern California city is located in the Coachella Valley of the Colorado desert…basically making it the most ideal grounds for a music festival. It has the space for the layout, and the weather is almost guaranteed to be beautiful for the April dates. Indio has even become known as the City of Festivals, for being the home to other large celebrations all year-round.
2. When is it?
Coachella is a 2-weekend event, and this year, it begins tomorrow, April 12. Weekend 1 will last until this Sunday. The festivities will start all over again next weekend on April 19 and come to a close on the 21. In order to buy a ticket to Coachella, you must buy one for the entire weekend. Not sure which of the two to attend? The truth is, it doesn't really matter, because the line-up is the exact same both weekends. So, no matter what, you are NOT going to miss your favorite artist working it up on the stage.
                                                                                                                                                                                         (© Rich Fury/Getty Images)
3. The Line-up
This year's line-up is amazing and includes some show-stopping headliners which include… drumroll please… Childish Gambino,Tame Impala, and Ariana Grande! Amazing, right?! I won't name every performer on the list (So. Many. Performers.), but some of the other names to look out for at the festival are The 1975, DJ Snake, Kid Cudi, Khalid,Zedd, Billie Eilish, Wiz Khalifa, Juice WRLD, Kacey Musgraves, and Bazzi. And the list goes on and on. Um, I can't begin to explain the amount of FOMO I am going to have these next few weeks. If you listen to the radio at all, it seems like everyone who has had a hit these past few years is going to be in attendance. That's not to mention the many up-and-coming artists featured too! There really is something for everyone at Coachella -- Even a Sunday Service that is included on Easter. Of course, being that it is Coachella, this won't be your typical Sunday Service. Nope. In fact, Kanye Westrecently announced that he is taking his usually-private services to the festival this year on the second Sunday, and will lead it. He really is living up to the Yeezus nickname! To find out the rest of the line-up, you can find a full list of the performers right here!
                                                                                                                                                                              (© Christopher Polk/Getty Images)
4. Two Decades
2019 marks the 20th year since the 1999 birth of Coachella. In those 20 years, a lot has changed! It started out as a music festival that focused on, well…the music. Its line-up included a combo of indie-rock, electronic, and hip-hop genres and included bands likeWeezer and the Chemical Brothers. Celebrities were spotted, but not sporting the elaborate outfits they do now. Also, the tickets were about $400 cheaper back in the day… crazy! As I mentioned before, Coachella grew up to be a whole experience that goes beyond the music.
5. The Outfits
To those who haven't attended (including me), Coachella is a probably most recognizable by the amazing outfits the festival-goers show up in. And how can it not be?! If you think about it, there are more social media posts about what people are wearing as opposed to the performances themselves, giving distant onlookers only a small glimpse of what goes on in Coachella Valley that weekend. You simply cannot show up to Coachella in a regular pair of jeans and a cute cropped top. Nope, you have to go ALL out! Outfits range from overly Bohemian attire, to more of the typical music fest neon rave look, to basically anything you can think of. Literally anything goes. This is a time to wear the outfit you were slightly hesitant about wearing to your family reunion because it's a little much, and then multiply that by 100!
                                                                                                                                                                               (© Frazer Harrison/Getty Images)
                                                                                                                                                                               (© Frazer Harrison/Getty Images)
                                                                                                                                                                               (© Frazer Harrison/Getty Images)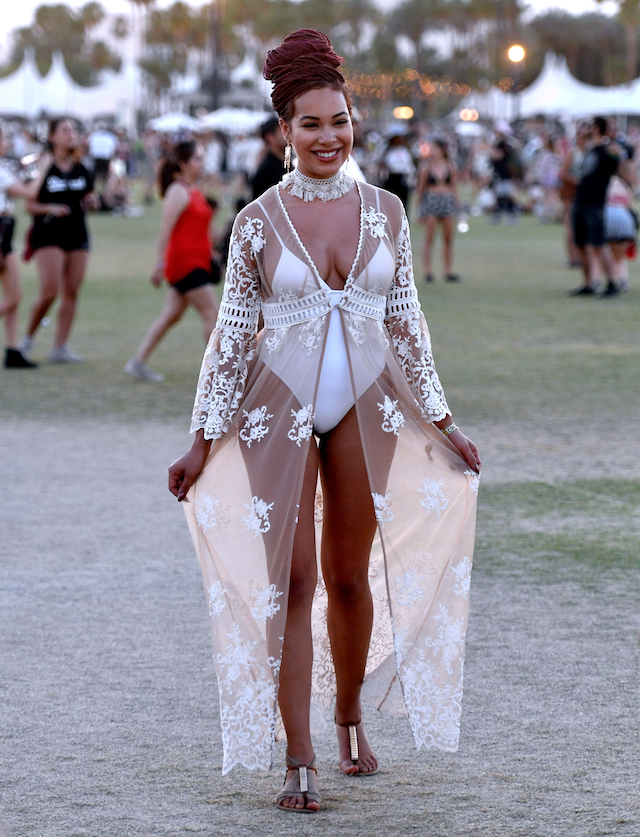 (© Frazer Harrison/Getty Images)
Coachella 2019 is already sounding like it's going to be the best one yet. Between the line-up, the venue, and, of course, the fashion, I am so ready for the Coachella takeover on my Instagram this weekend. FOMO who? We don't know her, because if you aren't attending this weekend or next, there will be a livestream on YouTube of the performances. Amazing!
(Top image © Zachary Mazur/Getty Images)
- Jordan Cioppa, YH Contributing Writer