5 Things To Expect In Season 2 of "The Handmaid's Tale"!
Written by Katie Marzullo. Published: April 25 2018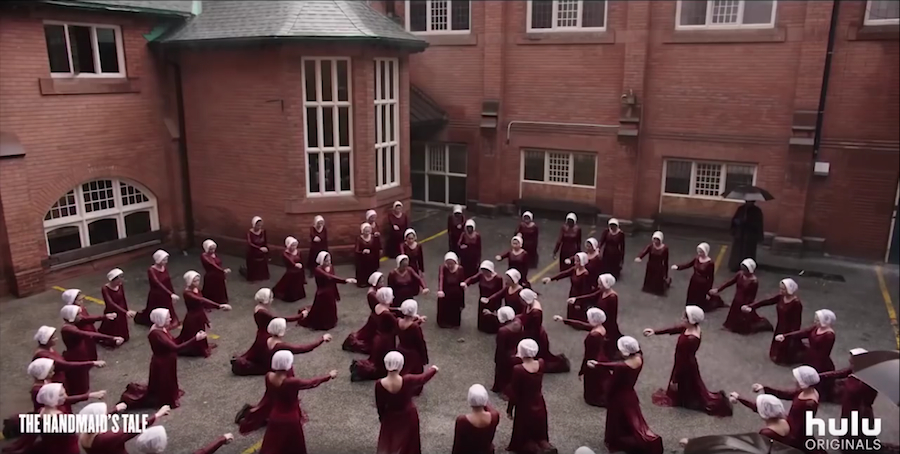 The highly-anticipated second season of Hulu's Every Award-winning series "The Handmaid's Tale" kicks off today with the first 2 episodes available to stream. Since the first season pretty much exhausted the source material, we've all been curious to see how the writers will be continuing the story beyond Margaret Atwood's novel. If you've read the book, you know that there is an epilogue that vaguely hints at Offred/June's fate after her arrest at the end of the main story.  Because it is so vague, there is a lot of room for the writers to work with to get to the (presumed) resolution that the epilogue hints at. The real challenge for the writers, in my opinion, is to not stray so far from the author's original intent that the new material feels like fanfiction.
Having had the opportunity to view the first 6 episodes of Season 2, I can say with confidence (and no spoilers) that I think they do a great job remaining faithful to Atwood's vision of this awful world and Offred/June's existence in it.
Here are 5 (spoiler-free) things to look forward to this season!
1. Performances
Right off the bat, we're immediately reminded why Elisabeth Mossand Ann Dowd won Emmys for their performances in this series. Dowd's Aunt Lydia continues to be a fascinating conundrum – a cruel shill for this oppressive society while also displaying glimmers of kindness and compassion. This woman would give you the shirt off her back… as long as you play by the rules. If not, prepare for the horrible consequences. Dowd plays up this dichotomy effortlessly. All due respect to Moss, but Dowd is the standout of this series, in my humble opinion.
2. Twists & Turns
This is not a series to get comfortable with at any point, as there is always something new and unexpected around the corner. Situations and relationships can change on a dime. Just when you think certain things seem to be improving for the better, the rug is pulled out from under you (and the characters) so that you're never far from being reminded that Gilead is a fascist regime being run by truly horrible people. Complacency means death.
3. Backstory
We get to see more of June's life prior to the overthrow, and how she dealt with being "the other woman" in her eventual-husband Luke's life. This is contrasted with June's current situation, of being somewhat of a "state-sanctioned" other woman for a well-to-do family. One situation was her choice, and the other was forced upon her, but both situations bring a certain amount of shame and guilt for her, and it's interesting to see how she reconciles her past with her present. In addition, we get to learn more about Serena Joy Waterford's (Yvonne Strahovski) previous life as a controversial and outspoken public figure, and the price she had to pay for exercising a voice that she no longer has in Gilead.
4. The Colonies
We finally get to see what happens on the Colonies, the place where citizens that the state deems useless to their society are sent to be worked to death. The inhabitants of this harsh environment come from all walks of life and they all deal with their inevitable fate in their own way.
5. Relationships
In this season, more so than in the last, we get to see how even those in "power" in Gilead don't always have the same motives and ideologies in mind. There is, in particular, some interesting tension between Aunt Lydia and the Waterfords that I'm very interested in seeing how it progresses. And, of course, how Offred/June's relationship with her keepers develops is always fascinating, if not mostly frustrating and horrifying.
Hope that doesn't give too much away and makes you excited to see how the rest of the season plays out! It's definitely been a bumpy ride so far and just goes to show how much of a slippery tightrope Offred/June is constantly walking…
(Image via Hulu)
- Katie Marzullo, YH Staff Editor